'Areas of mutual interest': U of T looks at ways to further deepen its ties with African universities and partners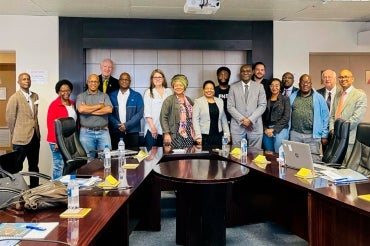 On a recent visit to Ghana, University of Toronto Scarborough alumnus Efosa Obano met with a small group of young African entrepreneurs – a meeting he later described as a highlight of his trip.
The entrepreneurs – three Ashesi University students representing three separate startups – are all connected to Obano through the African Impact Challenge, a pitch and incubation program he helped launch with fellow African U of T students in 2020.
"These startups are all doing amazing work," says Obano, who was joined at the meeting by Dave Fenton, assistant director of external relations in the department of management at U of T Scarborough.
"It's been incredible seeing these companies grow from incubation right to the point where they are making a significant impact in their communities."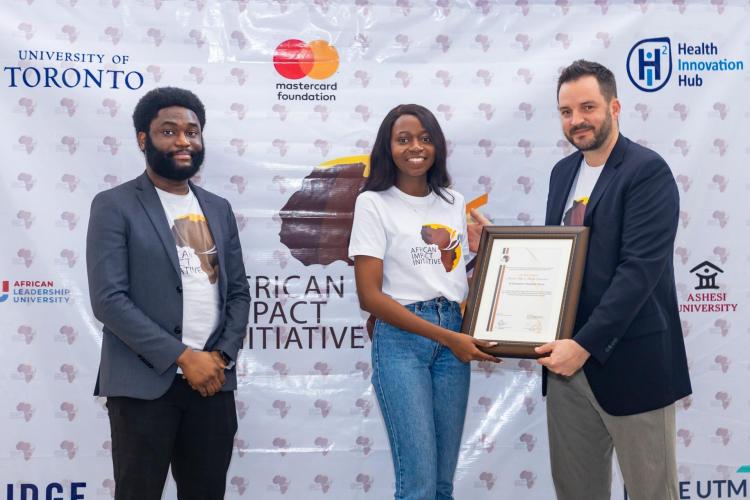 Obano and Fenton were part of a nine-member delegation from U of T that recently visited various higher education institutions in South Africa, Botswana and Ghana. The trip focused on ways U of T can partner with universities and organizations across the continent on three main areas of interest: student and faculty mobility; research collaborations; and entrepreneurship.
Professor Wisdom Tettey, U of T vice-president and principal of U of T Scarborough, says many of the topics were first discussed last summer when various diplomats, scholars and African academic leaders visited U of T. The trip offered a chance to follow up on many of those topics with concrete actions, while also exploring new areas for further collaboration.
"Our primary goal was to strengthen and expand our existing relationships, but also cultivate new ones in areas of mutual interest," Tettey says.
"We're approaching our relationship with African universities through a lens of true partnership – one driven by co-creation and co-learning. There are so many opportunities for U of T students and faculty to collaborate with peers in Africa through student exchanges, collaborative research projects as well as courses and conferences, just to name a few."
Tettey points to work being done by African researchers on climate change, energy and trans-border issues surrounding water management – similar to what is playing out between Canada and the United States – as a prime example for potential research collaborations.
Alexie Tcheuyap, associate vice-president and vice-provost, international student experience, says another avenue for collaboration is through U of T's Global Classrooms Initiative, which allows faculty to work closely with peers abroad and connect classrooms in different parts of the world for co-teaching using online tools.
"With their institutional and infrastructural resources, South Africa, Botswana and Ghana offer exceptional and unique opportunities for students and faculty mobility in a changing global world," Tcheuyap says.
Bill Gough, U of T Scarborough's vice-principal academic and dean, who was also part of the delegation, adds there is potential for greater opportunities for experiential learning in international development and co-op placements for U of T students, too.
The 19-day trip, which wrapped up in April, included meetings with delegates from the University of Cape Town, the University of Western Cape, the University of Botswana, Ashesi University, Kwame Nkrumah University of Science and Technology, the Association of African Universities (AAU) and the African Research Universities Alliance, among others.
U of T's Office of the Vice-President, International has a team working in Ghana, Kenya and South Africa to facilitate diverse collaborative initiatives between the university and its African partners, notes Penina Lam, U of T's director of international relations, Africa.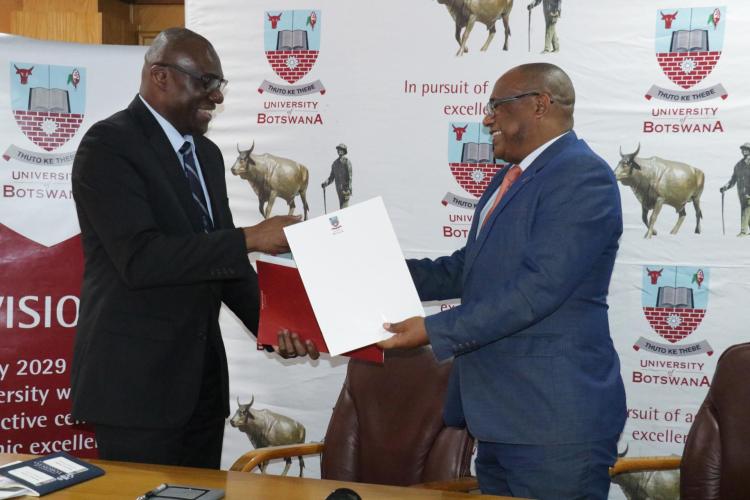 Carlos Vargas, U of T Scarborough's director of international and global engagement, says an important highlight of the trip was a memorandum of understanding (MOU) signed between the University of Botswana and U of T Scarborough. Another was an MOU that U of T signed with the AAU, an organization that advocates for African higher education with more than 400 member institutions. 
Both of these agreements will help guide future collaborations in a range of areas including joint research collaborations, undergraduate and graduate student exchanges and internships, entrepreneurship-based training, joint conferences, seminars and graduate student training, adds Irena Creed, U of T Scarborough's vice-principal, research and innovation. 
Obano, a Nigerian-born U of T Scarborough business grad, says he learned a lot through the first-hand conversations he had with academic leaders about the strategies of African universities when it comes to the role of entrepreneurship in economic development. He says many of those conversations focused on the incubator model used by U of T's top-ranked entrepreneurship ecosystem.
He says he's also mindful of the importance of promoting "brain circulation" as a core philosophy in partnering with African universities.
"Our motivation isn't a brain drain – we don't want to pluck talented entrepreneurs away from Africa and bring them to U of T or Canada," says Obano, who is also manager of U of T's Black Founders Network.
"There are things that are working well here and there are things that are working well in Africa. Our goal is brain circulation – we want to leverage the best of both and learn from one another."  
USTC