In a bid to promote global 'brain circulation,' U of T expands partnerships with African universities
From ChuChu sanitary pads in Ghana to on-demand digital mental health care in Kenya, more than a dozen young entrepreneurs from across Africa recently took part in a virtual "pitch day" to make their cases for a wide range of health innovations.
The 16 teams (80 per cent of which have female founders) that participated in the Health Innovation Challenge event – organized by the African Impact Initiative, which counts the University of Toronto as a key partner – will later spend three months in Toronto to expand their entrepreneurship networks.
"Our goal is to help African students to develop their countries," says recent U of T Scarborough grad Tolu Faromika, who was born in Nigeria and helped organize the pitch day in early December. "We provide various kinds of training, mentorship and tech support that they can use long after we're out of the picture and we customize that to each African country. 
"But it doesn't only work one way. I've learned so much from this experience. It's helped me to learn how to generate practical ideas – ideas that will make a real difference back home and here in Canada. 
"Being able to see the outcome of those ideas has been amazing." 
It's just one of many examples of how U of T is deepening its longstanding, mutually beneficial relationship with countries in Africa – part of a carefully co-ordinated program that is informed by consultation with such groups as the President's International Council on Engagement with Africa. 
"The council is composed of people who understand the continent," says council chair Wisdom Tettey, U of T vice-president and principal of U of T Scarborough. "Africa is a continent of 54 countries, so for U of T to make a meaningful contribution, we need to have a detailed understanding of its diversity, nuances and how best to effectively engage."
In June 2022, the university hosted a two-day summit that brought together representatives from organizations engaged in initiatives in Africa to discuss ideas for partnerships that address some of the most important issues facing Africa and Canada. Participants included scholars from U of T, Academics Without Borders, Mitacs, and the Mastercard Foundation, as well as representatives from African Development Bank Group, Association of African Universities, African Research Universities Alliance, various African universities, African diplomats from Canada and the United States, and representatives from Global Affairs Canada.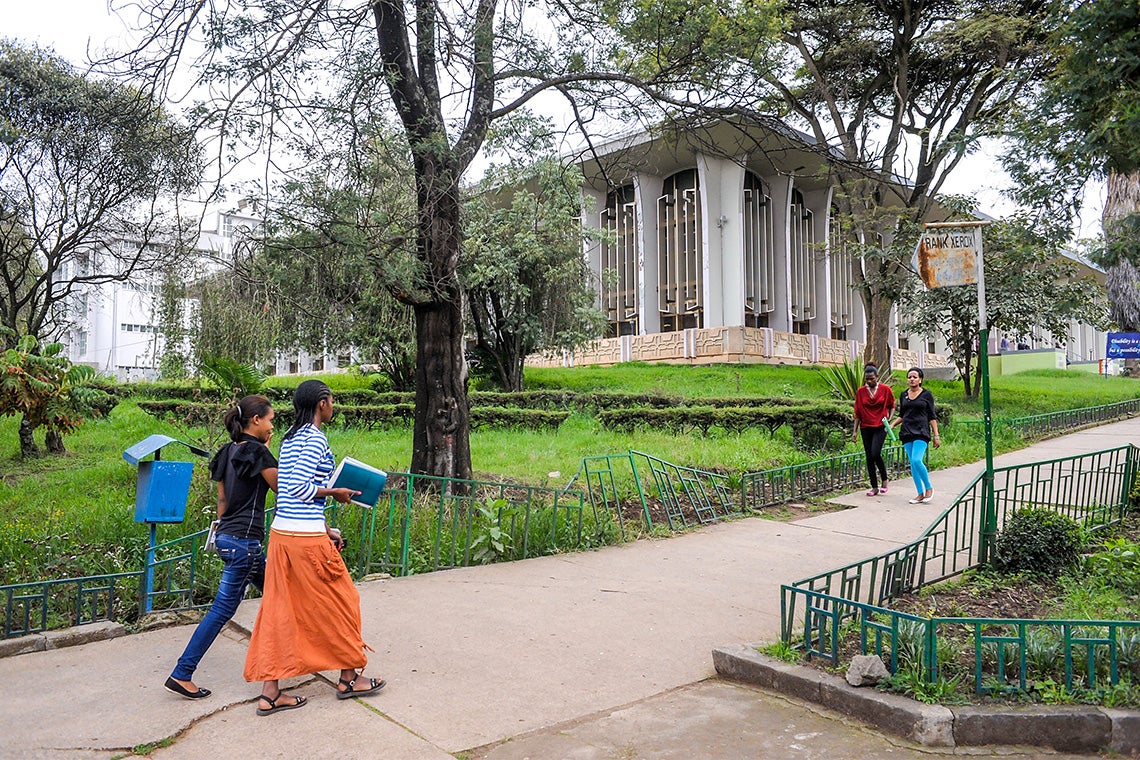 Addis Ababa University in Ethiopia and U of T share a longstanding partnership (photo by Giorgio Cosulich/Getty Images)
U of T's connections with the world's second-largest continent go back decades. 
In 2013, U of T became one of the first universities in the world to partner with the Mastercard Foundation's Scholar Program, which has funded students from across Africa to study at U of T. A decade before that, U of T and Addis Ababa University in Ethiopia forged a relationship to address a serious health-care crisis: the population of Ethiopia was about 72 million, but there were only eight psychiatrists in the entire country. 
Dr. Dawit Wondimagegn, then a young psychiatry resident at Addis Ababa University, says U of T's department of psychiatry answered a call that the AAU put out around the world to help create Ethiopia's first residency training program in psychiatry. From there, U of T and Addis Ababa University formed the Toronto Addis Ababa Academic Collaboration (TAAAC). 
TAAAC has since expanded well beyond psychiatry. There are now 29 U of T departments and divisions contributing from six faculties – Faculty of Dentistry, Faculty of Law, Faculty of Applied Science & Engineering, Faculty of Information, Temerty Faculty of Medicine and Factor-Inwentash Faculty of Social Work.
The collaboration sends faculty members from U of T and partner hospitals to Addis Ababa University for a month as part of teaching teams that co-develop graduate programs under the leadership and guidance of faculty. Once trained, graduates from the collaboration are hired to expand faculties at universities throughout Ethiopia.
The results of the partnership, Wondimagegn says, have been remarkable. 
"Where we once had nothing, we now have thriving programs in areas like family and emergency medicine," says Wondimagegn, who is co-director of TAAAC.  "We've slowed the brain drain. We used to send people abroad for training and they wouldn't return. Now, our people can receive their education and training in Ethiopia and then find work here. There is no need to leave."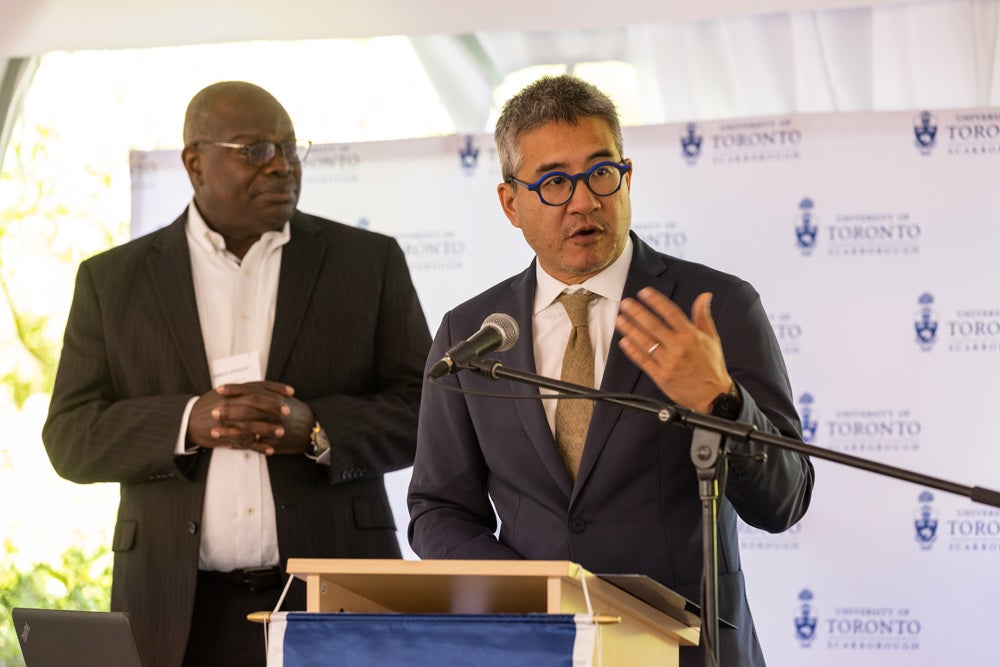 Professor Ernest Aryeetey, secretary general of the Africa Research Universities Alliance, looks on as Professor Joseph Wong, U of T's vice-president, international, addresses attendees at a summit held at U of T in 2022 (photo by Ruilin Yuan)
As TAAAC has grown, so has the range of partnerships between U of T and African institutions, including a recently launched collaborative network with eight leading African universities called the African Higher Education Health Collaborative. The initiative has a similar goal to TAAAC – create programs to prepare young professionals for work in, and contribute to, the continent's health sector development – and integrates a substantive partnership between U of T's Dalla Lana School of Public Health and the School of Public Health at Moi University in Kenya.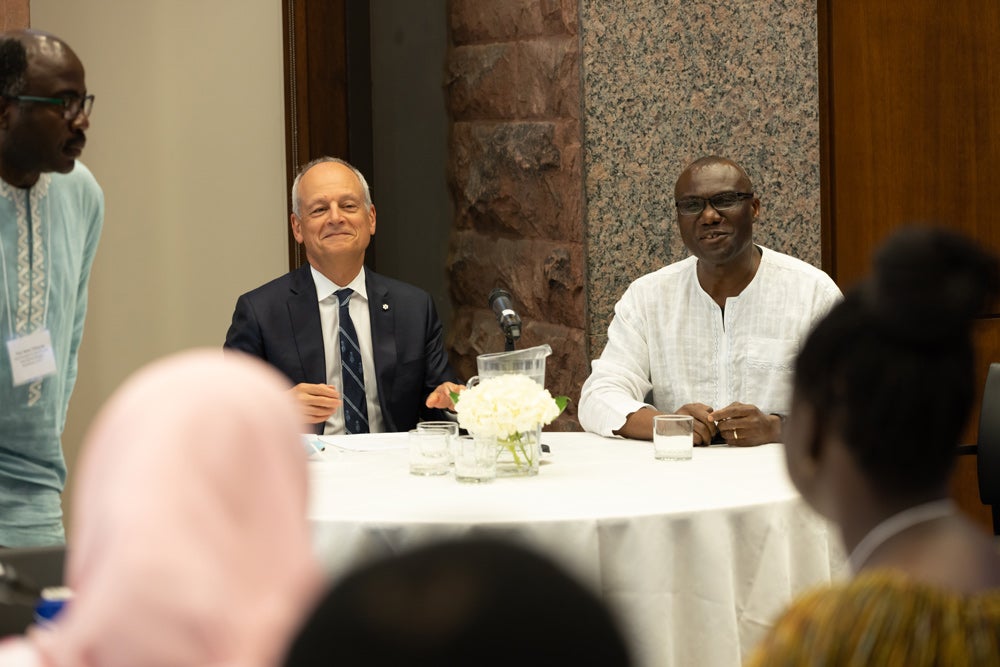 U of T President Meric Gertler, left, shares a table with Wisdom Tettey, vice-president and principal of U of T Scarborough, at the 2022 summit (photo by Ruilin Yuan)
U of T's ongoing efforts to partner with African institutions are part of a larger partnership program the university plans to pursue through its recently published International Strategic Plan 2022-2027, which encompasses 10 objectives across three broad themes: Global Learning, Global Reach and Global Impact. 
"There are many benefits to these international partnerships, but it all comes down to U of T engaging with the world," says Joseph Wong, U of T's vice-president, international and a professor of political science in the Faculty of Arts & Science and the Roz and Ralph Halbert Professor of Innovation at the Munk School of Global Affairs & Public Policy. 
"The key is building relationships that are reciprocal.  Each partner contributes to the partnership and each learns from the other." 
That's certainly how Faromika sees it. 
Faromika and her family immigrated to Prince Edward Island from Nigeria in 2011. She began her undergraduate studies at U of T in psychology in 2018 and is now a research assistant and Mitacs Accelerate Fellow in the lab of Brian Levine, a U of T professor of psychology and senior scientist at Baycrest's Rotman Research Institute. She has been involved with the African Impact Initiative throughout most of her U of T journey – and says it's contributed immeasurably to her education.
"I used to just read articles about the issues facing Nigeria, but my work through the African Impact Initiative is more tangible," she says. "I'm interacting with people who have their feet on the ground.  It's really enabled me to learn a lot about planning and co-ordinating these activities in African countries."
Erica Di Ruggiero has seen this same reciprocal benefit in the partnership between U of T's Dalla Lana School of Public Health and Moi University in Kenya. 
An associate professor and director of the school's Centre for Global Health, Di Ruggiero says U of T's partnership with Moi began through the late Paula Braitstein, a professor of epidemiology who moved to Kenya to live and work in 2007. 
"Paula really got things going in terms of establishing a reciprocal relationship with Moi University where we would learn from each other's experiences," she says, adding that the goal is "to de-colonize what we mean by global health research and practice."
As an example, Di Ruggiero points to the two institutions' work on advancing knowledge about universal health care, a shared desire of both Canada and Kenya, through a framework that dispels the notion that equitable solutions come only from high-income countries.
"That discourse promotes a wrong idea – that Canada can't learn from a country like Kenya because we are high income and they are more middle income," she says, noting that the two sides engage in discussion and sharing of experiences and co-production of knowledge that enable them to learn from each other. 
Tettey, who is from Ghana, similarly emphasizes the two-way nature of U of T's partnerships.
"This is about being able to work together to create a world community," he says. "It's important for people to understand that Canada has been a happy beneficiary of a lot of African talent. We have created a brain drain on the continent. These partnerships enable us to create brain circulation – Africa can learn from Canada, and we can learn from Africa.
"There's a reason why the world's gravity is toward Africa now," he adds. "There is a lot of potential that is untapped. The youth in Africa are going to be huge players. If we can collaborate in a way that allows our students here to network with potential leaders in Africa, that will enrich all of us."
UTC