Amid third wave, U of T's Homer Tien takes over province's COVID-19 vaccine task force: CBC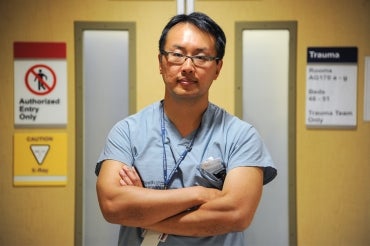 Homer Tien, an associate professor in University of Toronto's department of surgery in the Temerty Faculty of Medicine, was recently named the head of Ontario's COVID-19 Vaccine Distribution Task Force.
Tien, who's also a surgeon at Sunnybrook Health Sciences Centre and the president and CEO of Ornge, Ontario's air ambulance agency, replaced retired Gen. Rick Hillier, whose contract expired at the end of March. Tien has been a member of the task force since its inception and was instrumental in executing Operation Remote Immunity, a mission to immunize remote and isolated Indigenous communities.
The province's vaccination campaign continues to roll out amid supply challenges and a mounting third wave of COVID-19 infections – and Tien is no stranger to high-stress medical operations. In 1996, he was the first medical officer posted to the Canadian military's counterterrorism team during the NATO mission in Bosnia. A decade later, he was deployed to a field hospital in Kandahar, Afghanistan, where he often treated the victims of roadside bomb blasts.
Tien did his surgical training and obtained a master's degree in clinical epidemiology at U of T.
"Homer Tien is a fantastic physician and colleague with enormous experience with logistics and planning in his prior roles as director of trauma services at Sunnybrook and at Ornge," his U of T colleague Hannah Wunsch, a professor in the department of anesthesiology and pain medicine, recently  told the Toronto Star.
UTC