Bioethicist and conservationist Kerry Bowman teaching a human biology class at U of T, exploring the ethics of emerging technology (photo by Noreen Ahmed-Ullah)
The University of Toronto's Kerry Bowman was on CBC's The Current  this week talking about his research into uncontacted people – isolated Indigenous tribes in the Amazon – who came under the spotlight this past week after 10 members were reportedly killed by gold miners in Brazil.
Last year, though, you may have heard Bowman talking about ethical questions emerging from physician-assisted deaths. And before that, genetic engineering or maybe even the initial cause close to his heart – protecting the great apes.
For the bioethicist and conservationist, it's all connected.
"I've had parallel careers for about 25 years, in which I've done medical ethics and environmental work," says Bowman, who is an assistant professor at the Faculty of Medicine and is affiliated with the School of the Environment and the Joint Centre for Bioethics at the Faculty of Arts & Science. "There's now an interface between the two. By protecting the Amazon, you're protecting human health because climate change has massive implications to human health. And, the issue of the uncontacted is both an environmental issue and a human rights issue."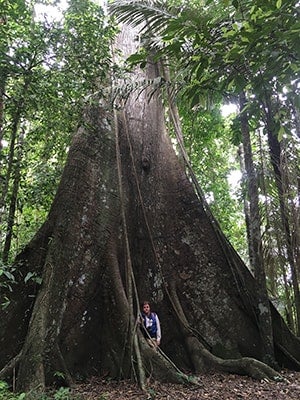 Bowman (pictured left) has been travelling to the Amazon since the late 1980s, making it an annual trip for the last five years.
In his most recent trip in August, he delved deep into the remotest parts of the western Amazon, steering clear of uncontacted people thanks to Google Earth images of the tribes' villages and meeting members of other Indigenous communities in the forest, who do not avoid contact, as well as miners, loggers and others living in the area. He's working on a paper for the United Nations Environment Program on the ethics of "contacting" or not contacting South America's uncontacted people.
While members of a specific tribal group, the Mashco Piro, have surfaced recently, the uncontacted are aware that other people exist, Bowman says, adding that on his most recent trip his group's machete was stolen, meaning the uncontacted were nearby. They also found footprints coming out of the forest. Their isolation, likely beginning 100 years ago when Indigenous people were enslaved to work in rubber plantations, may come out of a need to protect themselves from the outside world, he adds. 
Bowman is also working on another paper for UNEP, this time about how Peru and Brazil's protection of Indigenous lands, at least on paper, is helping climate change resilience because it's keeping the area free from mining, the oil industry and extreme logging. 
"I don't romanticize their lives, but I would argue that the contact or continued isolation of the uncontacted is not just a social and anthropological question," he says. "It's an ethical and moral question.
"From a human rights point of view, this is crystal clear. They have a fundamental human right to choose to live the way they do. Collectively, societies have done tremendous damage to Indigenous people. We're just beginning to get a sense of how serious – and Canada is just waking up to this – the damage has been to Indigenous people. Here, we have really the last chance to respect and leave uncontacted people alone, and we're still possibly getting that wrong as well."
It's not the first time Bowman has tackled knotty moral issues.
He works full time as a clinical ethicist at Mount Sinai Hospital, seeing patients regularly and helping research teams tackle contentious questions related to in vitro fertilization and emerging technologies dealing with genome mapping and consent for genetic testing.
He's carved out a career for himself straddling his two career paths, working at the hospital and teaching at U of T during much of the year, and then venturing into Africa and the Amazon during his vacation time.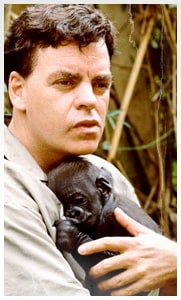 Like much in life, it was kind of serendipitous how he fell into this.
He had recently completed a bachelor's degree in clinical psychology and was a young man backpacking in Indonesia, when he met researchers at a bar. They were looking for volunteers to observe and study orangutans. He took them up on their offer.
"I learned very quickly with orangutans that the line between what's human and what's not is extremely vague," he says. "As you look into the eyes of an orangutan or any of the great apes, you realize very quickly that you're dealing with a sentient-focused being."
That led to research in Africa on the great apes and the bushmeat trade. Since then, he has helped to bring the Jane Goodall Institute's Canada headquarters to U of T. He serves as an ethics consultant to Goodall (pictured below with Bowman).
In 2000, he started an NGO in the Democratic Republic of Congo, in partnership with U of T's Faculty of Medicine. The Canadian Ape Alliance runs a number of projects, including a school and an agricultural project.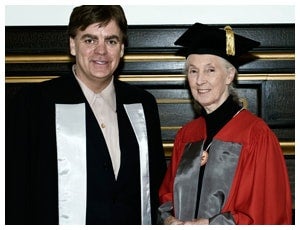 As he reflects on his multi-dimensional career, Bowman says that he often gets asked why he doesn't just focus on one interest.
"People have said to me where does your heart lie, is it in the environment? Is it in bioethcis? It's in both places. One side sort of enhances the other – kind of a yin and yang. When I'm in Africa or the Amazon, I'm stepping away from living in a big city. The converse is true as well. The Amazon and Africa are tough. There's been dangers there as well. But having both keeps me focused."