Amazing journeys and lyrical goodbyes: Here are U of T's top 6 videos of 2018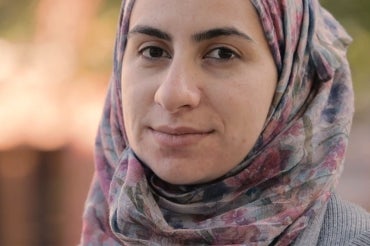 From a woman at the centre of Syria's revolution to a production designer who teaches students to build their artistic vision – the University of Toronto is full of inspiring people. 
Our videographer Lisa Lightbourn has spent the past year bringing these stories to life in ways that will make you laugh, cry – or want to sign up for new courses.
Get comfortable and grab some tissues. Here are our favourite videos of the year:
Noura Al-Jizawi: Syrian revolutionary

"I don't know why I'm still alive, but I feel like it's only by chance," says Noura Al-Jizawi, a master's student at the Munk School of Global Affairs & Public Policy.
Al-Jizawi was one of the young leaders who kick-started the peaceful revolt in Syria in 2011, which became a deadly civil war. After being detained and tortured, she fled to Turkey where she became the vice-president of the Syrian opposition.
In 2017, she came to U of T through the scholars-at-risk program, which offers financial support to graduate students and academics who have fled war or persecution in their homeland.
Jooyoung Lee on gun violence and teaching empathy
 

Meet Jooyoung Lee, an associate professor in the U of T's department of sociology. He is also a pop-locker, jiu-jitsu master and a pre-eminent expert on gun violence, hip hop, serial homicide and health disparities in the U.S. and Canada. 
Lee says he hopes his students come away from his class with a sense of empathy after learning about the mechanisms that reproduce inequality and suffering for people of colour.
"When we allow people to tell their stories, we honour them, we validate their experiences, and we give them the space to begin healing."
Rose Patten becomes U of T's 34th chancellor 
 

Rose Patten was officially installed as the University of Toronto's 34th chancellor during fall convocation.
An influential businesswoman and a former chair of U of T's Governing Council, Patten plans to use her new role to further the university's mission as one of the world's top research and academic institutions.  
"I get the opportunity to be an advocate for all the university does," says Patten, who is an Officer of the Order of Canada and has been lauded for her efforts to champion women in leadership roles.
"It's pretty inspirational – pretty exciting."
Wali Shah says farewell to U of T 
 

Spoken word artist Wali Shah wrote and performed "Thank you U of T," dedicated to 2018's graduating class.
Shah, who graduated this year from U of T Mississauga, speaks at schools, empowering youth and raising awareness on issues like anti-bullying, mental health and social change. He's currently the poet laureate of Mississauga.
Dr. Toni Zhong reconstructs hope
 

Dr. Toni Zhong is an assistant professor at University of Toronto's department of surgery and a plastic surgeon specializing in reconstruction within the University Health Network. Her work has taken her to Bangladesh to help burn victims.
In Toronto, her focus is on working with breast cancer survivors, specializing in breast reconstruction.
"I think hope is all around us and that's what drives us," says Zhong.  
Jay Pooley on building ideas from the ground up 
 

Jay Pooley has long had a passion for making things.
He was a construction worker and did welding and plumbing before attending architecture school. Now, among his many other hats – architect, production designer and art director – he is also a lecturer in the University of Toronto's John H. Daniels Faculty of Architecture, Landscape, and Design.
At U of T, he co-ordinates first- and fourth-year design studio courses in which he encourages students to work as a team to bring their ideas to life.
"It's absolutely empowering for a student to tell them, to say, that thing you're drawing, you can build that," he says. "You can absolutely build that. Go make it."
UTC