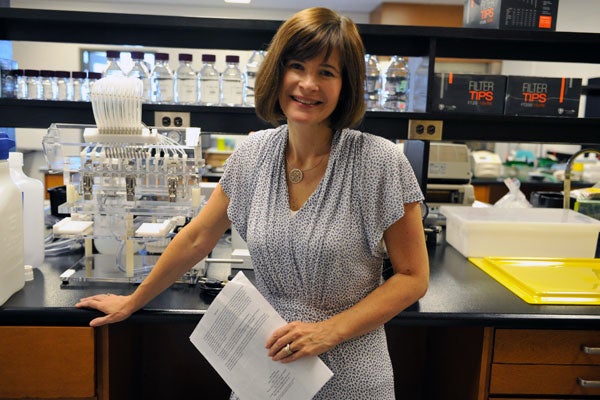 Alzheimer's, mood disorders: U of T partners with industry for open source collaboration
Working with Johnson and Johnson Innovation and Janssen to find neuroscience therapies
A new collaboration aimed at developing therapies for mood disorders and Alzheimer's disease – known as the Neuroscience Catalyst – launched on November 6.
The new public-private partnership brings together the University of Toronto with Janssen Inc. and the Johnson & Johnson Innovation Center in California to support collaborative, open-source research.
"Mood disorders and Alzheimer's disease are chronic illnesses that affect millions of people worldwide," said Catharine Whiteside, U of T's dean of medicine and vice-provost, relations with health care institutions. "By 2040, these debilitating brain diseases could surpass cancer as the second-leading cause of death.
"Finding solutions that bring relief to those who face these aliments, and the family and friends who care for them, are what makes this partnership so important."
Researchers at U of T and its affiliated hospitals through the Toronto Academic Health Science Network (TASHN) are welcome to submit collaborative proposals. Scientists from Janssen will work with U of T researchers to provide the drug-discovery expertise required to rapidly develop new medicines from basic science innovations. The open nature of the research means the findings can be published and researchers are free to commercialize their work with any company they wish. 
The Neuroscience Catalyst is based at the Centre for Collaborative Drug Discovery (CCDR), which is a multidisciplinary initiative bringing together researchers from U of T's Faculty of Medicine, the Leslie Dan Faculty of Pharmacy and the Centre for Addiction and Mental Health (CAMH).
    
"There is a tremendous amount of incredible blue sky, curiosity-driven research being conducted at U of T," said Ruth Ross. The Centre's inaugural director, Ross is a professor and chair of toxicology and pharmacology in the Faculty of Medicine and senior scientist with the Campbell Family Mental Health Research Institute at the Centre for Addiction and Mental Health (CAMH).
"When we launched the CCDR, we began by looking across the fields of research in Toronto and asked 'Where is there an opportunity and a need for us to add real impact in drug discovery?'" 
Neuroscience is one area where Ross and partners saw CCDR could help to create a collaborative network to accelerate the translation of bench research into new treatments. In addition to the Neuroscience Catalyst, there will be other venues for researchers to share information and meet as a community.The first meeting will be held on November 27 when the Centre hosts Neuroscience Research Day on New Targets in Neurodegeneration and Neuropsychiatry. 
Ross said the focus in neuropsychiatry and neurodegeneration highlights the "…urgent and compelling need for scientists, government and industry to work together in partnership, using their collective expertise to seek safe effective new interventions for debilitating conditions such as depression and Alzheimer's disease." 
The Neuroscience Catalyst is overseen by a joint steering committee with representatives from U of T, CAMH, St. Michael's Hospital, Sunnybrook Hospital, University Health Network and Janssen Inc. Ross believes the partnership is an example for future open innovation consortia with additional industry partners. 
Liam Mitchell is a writer with the Faculty of Medicine at the University of Toronto.