'Always dare to dream,' says U of T grad Kehkashan Basu, who started an environmental non-profit at age 12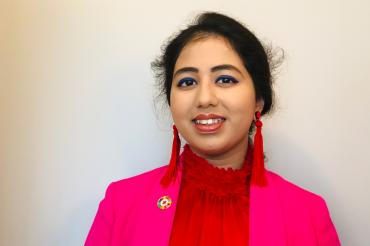 At just seven-years-old, Kehkashan Basu already felt concerned about the state of the environment and wanted to contribute to a greener – and more equitable – future. In 2013, she was elected a UN Environment Programme global coordinator for children. At the age of 12, she founded Green Hope Foundation, now a UN Economic and Social Council-accredited not-for-profit with operations in 26 countries and outreach of 300,000 people.
Last year, she received Canada's Meritorious Service Medal. 
Basu, a member of New College at the University of Toronto, graduates this June with an honours bachelor of arts, majoring in environmental studies and minoring in women and gender studies, and physical and environmental geography.
Basu spoke with writer Susannah Cao the Faculty of Arts & Science. 
---
What was your inspiration behind the Green Hope Foundation?
I began my green journey after I saw an image of a dead bird with its belly full of plastic at the age of seven, which was deeply disturbing for me. Around the same time, I attended a lecture by environmentalist Robert Swan, whose words: "The greatest threat to our planet is the belief that someone else will save it," really resonated with me. I planted my first tree on my eighth birthday, which is also World Environment Day, June 5.
I worked on the ground for many years and, at the age of 11, I was invited to speak at my first UN conference. At the age of 12, I was invited to speak at the Rio+20 Earth Summit, where, as one of the youngest delegates, I realized the sustainable development process was not inclusive of young people, women and those from vulnerable communities. Thus, on my return home, I founded Green Hope Foundation to provide a platform for learning that turns into ground-level action.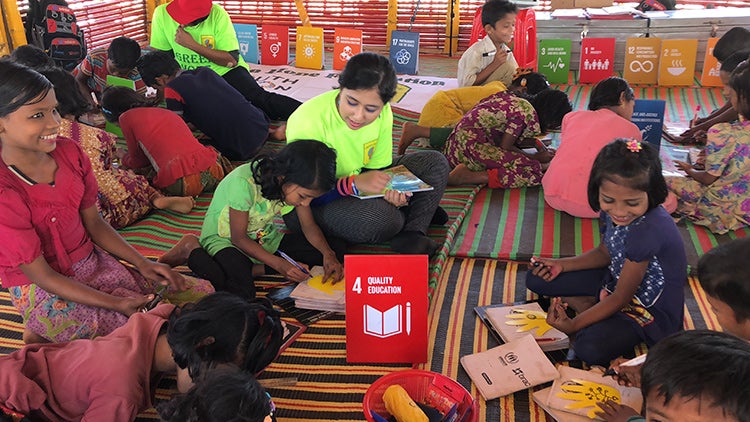 Working with Green Hope Foundation, Kehkashan Basu teaches Rohingya refugee children about hygiene, sanitation and environmental conservation. Since none of the children could read or write, the team engaged them through art (photo courtesy of Basu)
Now that you've graduated, what do you hope to accomplish through your work?
I hope to continue turning my education into ground-level actions. We are amid multiple crises and now, more than ever before, we need to step up and do our bit to build a better future. That is exactly what I hope to accomplish with Green Hope Foundation, acting as a catalyst for change to empower communities that need us the most and encourage them to become leaders in their zones of influence.
What advice would you give to incoming students with similar aspirations?
My advice to incoming students is to not be afraid to step out of their comfort zone. For women and girls, it will not be a bed of roses. At every step, people will try to stop us, but it's up to us to keep that fight going. I have faced so many challenges as a young woman leader, but I have not stopped. I would also say that this fight for gender equality is not just for women and girls – people of all genders have a very important role to play as our allies. The road to this emancipation must be built on the pillars of sustainability. Be fearless and always dare to dream.
As you set off into the world, what is a favourite memory from your time at U of T that you will take with you?
My favourite memory at U of T was when our Green Hope Foundation club hosted its first sustainable development goals conference at U of T in 2018. It was wonderful to see students, staff and faculty from multiple disciplines at U of T come together to discuss how interconnected the sustainable development goals are and how every single person, community and field of study can contribute to the localization of the goals and recognize their myriad intersections.
Arts & Science