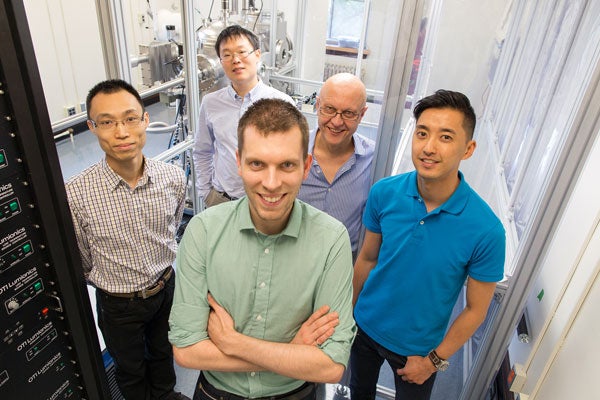 Alumni startup OTI Lumionics awarded $5.7 million to produce energy-efficient lighting solutions
It's about to get a whole lot brighter in Toronto thanks to a significant investment from the Canadian government in a University of Toronto engineering alumnus' sustainable lighting company.
OTI Lumionics, a company co-founded by alumnus Michael Helander, has been awarded $5.7 million from Sustainable Development Technology Canada (SDTC). The goal: to implement a pilot production line capable of producing high volumes of organic light-emitting diode (OLED) lighting panels.(Read more about OTI Lumionics.)
"We can make large, flexible OLED panels in about an hour with our rapid prototyping module," said Helander. "This new pilot production line will be the same process, except it'll be ten modules next to each other, cutting down the production time from an hour to minutes."
OTI is one of seven clean technology projects in Ontario announced to receive investments totalling more than $26.8 million from SDTC's SD Tech Fund™, part of Canada's Economic Action Plan, supporting jobs, economic growth and the environment.
Founded in 2011, OTI Lumionics was created by Helander and several of his U of T engineering colleagues to commercialize their major breakthrough in OLED technology made during their doctoral studies. Today, OTI employs about a dozen employees – most of them U of T engineering alumni – and is located in a 3,300 square foot office and lab space in the Banting & Best Centre for Innovation & Entrepreneurship across from the MaRS Discovery District.
Their inaugural product – the world's first OLED table lamp, aerelight – was launched to market in 2014.
"Congratulations to all of our U of T Engineering alumni at OTI Lumionics. This is a well-deserved recognition of the important work they are doing," said Professor Jun Nogami, chair of the U of T department of materials science & engineering. "This investment shows that our federal government has a strong commitment to supporting leading edge technologies that will help grow Canada's green research and development knowledge base as we all work towards a more sustainable future."
(Read more about Helander and OTI Lumionics' story in 'The Glow of Confidence' feature in the U of T department of materials science and engineering's recently released Impact magazine.)
Luke Ng is a writer with the Faculty of Applied Science & Engineering at the University of Toronto.