Alumni Reunion is the largest alumni gathering of the year with a series of events from May 30 to June 3 (photo by Geoffrey Vendeville)
Ho Sung wanted to be a scientist after learning who Einstein was when he was a boy. But while pursuing a bachelor's degree in science at the University of Toronto in the late 1970s, he dipped his toes in a variety of subjects: anthropology, zoology, anatomy, mathematics and more. 
He returned to the university later to study architecture and now heads his own firm in Toronto. Although it's been some time since he was a student, he still comes to U of T once in a while to learn and reconnect with fellow alumni. He's signed up for Stress-Free Degree lectures, one highlight of Alumni Reunion, the largest U of T alumni gathering of the year with a series of events from May 30 to June 3.
"It's important, especially today, to learn things that are being taught at the univeristy that are evidence-based," he says. "On social media, there are half-truths and untruths being disseminated and folded into everyday life."
Susan Fine, manager of signature and established alumni programs, says that a lot of people think of the reunion as a way to relive their U of T memories.
"It's also about everything new the university is doing and seeing what we have to offer you, not just this weekend but throughout your life," says Fine, who adds that many of the past events appeal to members of the U of T community who are looking for fun family-friendly events on the weekend. 
"You can still learn so much here, and you can invite your family to do it with you."
The reunion has something to offer all alumni, even those who came back to work for U of T as staff or faculty, Fine adds.
 "It's full of alumni who are reconnecting with friends they haven't seen in 50 or more years," she says. "There is an inspiring energy on campus, and for me, as a staff member and alumna, it reminds me how the university connects us all and how fortunate I am to belong to this community."
The program this year includes Stress-Free Degree lectures by U of T experts on topics that range from whether there is life on other planets to how dinosaurs got their tails.
Jennifer Keesmaat, the former chief planner of Toronto and a visiting scholar at U of T this year, will deliver the keynote address about city-building at the alumni celebration in Convocation Hall, one of the flagship events. Another is the free alumni barbecue lunch in front of University College at the downtown Toronto campus.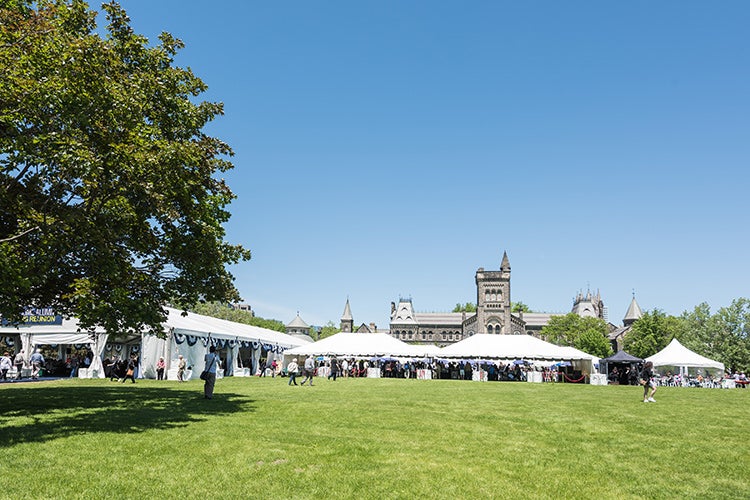 Alumni barbecue (photo by Grayson Lee via University of Toronto on Flickr)
The university is welcoming alumni back to campus with events in Mississauga and Scarborough as well. At U of T Mississauga, physicist Kent Moore, who has travelled to the Arctic, Greenland and Himalaya for climate research, is giving a "class without quizzes" on how to measure the Earth's temperature. Meanwhile, at U of T Scarborough, Hanno Rein, an assistant professor and director of the Centre for Planetary Sciences, will be discussing the Tesla Roadster, which was launched into space this year. Rein's numerical models suggest the roadster will collide with Earth or Venus. But don't panic: It's highly unlikely to happen in the next million years.
Alumni reunion isn't just for grown-ups. Kids are welcome to discover the university and its various departments through hands-on activities like making slime and uncovering artifacts.
---
Here's what a few graduates – including two current staff members – say about Alumni Reunion:
Terry Gardiner, Master of Social Work (2009); Manager, Diversity, Equity and Student Experience at U of T's Factor-Inwentash Faculty of Social Work:
"I went the year University Professor Janice Stein spoke, and she's a fantastic speaker, so it was wonderful to see her and to be around a lot of other U of T alumni... I'm one of those people who came here as a student and never left. But for many – from what I hear from my colleagues – they talk about the excitement of coming back to campus, revisiting the space and the people, and connecting to new people."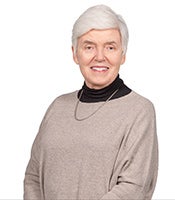 Nancy Graham, Bachelor of Arts in Philosophy and English (1958); Retired Teacher:
"It's a privilege to continue to feel at home on the campus. Maybe it means I've never grown up! It's lovely to have a base down there... Somtimes I go to a lecture, the Stress-Free Degree classes. This year I'm going to see (Canadian history professor) Robert Bothwell because he's brilliant and he's speaking on Trump."
Natasha Smith, Bachelor of Arts with a minor in Music History and Culture (2009); Marketing and Publicity Officer for U of T's Faculty of Music:
"I attended Alumni Reunion for the first time a few years ago and loved it. Lectures without stress? Yes, please! It was lovely to meet loads of people and experience the campus through fresh eyes. I was raised in the Annex, so U of T has been a part of my life for as long as I can remember. This year I am especially looking forward to having my daughter attend for the prospective student campus tour. She's got her sights set on the Daniels Faculty."
Dorinda So, Bachelor of Business Administration at U of T Scarborough (2009); Research Director and Conference Director at the Institute for Competitiveness and Prosperity, an independent, non-profit organization that focuses on Ontario's economic performance:
"What I find interesting about all the different events is you really do see the different facets of the university... The barbecue is really cool because there are lots of different kinds of people there, and it's a great way to meet your friends."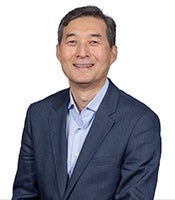 Ho K. Sung, Bachelor of Science (1980) and Bachelor of Architecture (1986); Principal, Ho K. Sung Architect:
"For me personally, what I find really interesting is connecting with older alumni and hearing about their experiences and trajectory. Some of the older alumni, in their late 80s, they're fascinating to chat with because they're like a living bridge to the past."