Alexander Graham Bell is calling – in a U of T-developed opera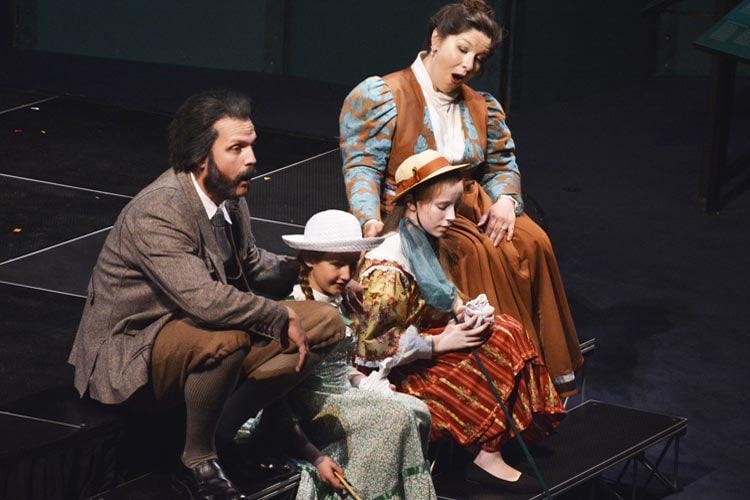 Rehearsing The Bells of Baddeck: left, Geoffrey Sirett, right, Allison Angelo (photo Warren Gordon Photography)
Though Cape Breton Island has recently made worldwide headlines for welcoming Americans fleeing Donald Trump, the Nova Scotia island has a long history of attracting Americans, including telephone inventor Alexander Graham Bell and his wife Mabel Hubbard, who made their summer home in Baddeck, Cape Breton in 1885.
And now a University of Toronto Faculty of Music professor has made the couple's story of moving to Canada into an opera, The Bells of Baddeck – the Alexander Graham and Mabel Bell Story, thanks to the largest individual SSHRC grant the Faculty has ever received. 
Lorna MacDonald, voice studies professor and the Lois Marshall Chair in Voice, created the music-drama, which will run for a second season in Baddeck, Nova Scotia in July. She wrote the libretto, produces the show, and commissioned doctoral candidate and composer Dean Burry to compose the music.
"Alec and Mabel came to Cape Breton to escape the heat of Washington, DC," says MacDonald. "They had read about Cape Breton in a travel book, and because he was embroiled in lawsuits over the patent for the telephone, they were only too happy to escape to Cape Breton to get away from it all. Of course, little did they know that a summer visit would lead to 38 years!"
Bell is most well known for the telephone, but his innovations are legendary in aviation, teaching the deaf, the National Geographic Society and as MacDonald points out, "he was also an avid pianist." Much of his work was influenced by Hubbard, who was deaf. The pair met as speech professor and pupil in 1873. Hubbard took charge of the finances in the early Bell Telephone business, and in Cape Breton, she established herself as a pioneer for women and education when she created opportunities for local women making rugs, started the second public library in eastern Canada and sponsored Canada's first Montessori school.  
The Bells and their children started vacationing in Cape Breton in 1885 and spent increasingly more time there until Bell's death in 1922. The family left a mark on Baddeck, leaving a provincial heritage site called Beinn Bhreagh and a museum, the Alexander Graham Bell National Historic Site, to their legacy. The museum is used as the opera's theatre.
Thankfully, the Bell family kept great records of their lives – from photographs to letters to the music they loved to play in their home. MacDonald used that text and music in the opera. Burry, who has written numerous operas for the Canadian Opera Company and Canadian Children's Opera Company, wrote most of the original music.
"The goal was to create something fun and accessible but with a certain level of sophistication," Burry says. "Many people in the region would be seeing opera for the first time and I wanted it to be a positive experience. It was wonderful to bring these incredibly rich characters to life. It's always magical to allow an audience to see people like that as more than just entries in a history book."
As MacDonald developed the opera, she included as many U of T connections as she could. Besides Burry, many of the cast is comprised of Faculty of Music students and alumni. Her former student Geoffrey Sirett (MMus 2011) plays Alexander Graham Bell and Allison Angelo, an alumna of voice studies and opera (MMus 2004, ArtDip 2002), plays Mabel Hubbard.
"I was in Lorna's head when she was writing the libretto," Angelo says. "You can't overstate the importance of connections in the music industry – I feel so lucky to have had first-rate training at U of T. Lorna gave me the opportunity to create a role in a Canadian premiere, which is a rare and precious gift. It was inspiring to try to recreate Mabel's thirst for knowledge and zest for life."
MacDonald, who grew up in Cape Breton, has been enchanted with the successful entrepreneurial couple since she was a child. Opera Canada called its first season, "a tour de force production."
"I think it was successful because it reached so many directions: they affected the sciences, arts and our entire culture," she says. "Their love story is as interesting and operatic as any other."
The Bells of Baddeck runs from July 2 to August 2 at the Alexander Graham Bell National Historic Site. Vacationing to Nova Scotia this summer? Get your tickets now: http://www.bellsofbaddeck.com/tickets/