Akwasi Owusu-Bempah on the legacy of George Floyd and anti-Black racism in Canada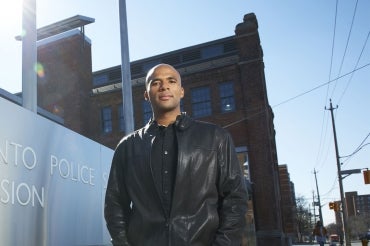 George Floyd, a 46-year-old Black man, died in Minneapolis one year ago this week after a white police officer knelt on his neck for over nine minutes. The killing, recorded on video and viewed widely on social media and the news, sparked a wave of protests across the U.S. and around the world.
It also prompted renewed dialogue about anti-Black racism and the experiences of Black people in Canada, including through policing and the justice system.
A recent study published in the journal Race & Justice and led by Akwasi Owusu-Bempah, an assistant professor in the department of sociology at the University of Toronto Mississauga, found that Black men are disproportionately represented in Ontario's prisons.
Covered by the Toronto Star, the study noted that historical circumstances such as slavery and persistent institutional racism and health and social inequities have all contributed to the struggles faced by Black people in Canada today.
U of T News spoke with Owusu-Bempah about the legacy of George Floyd's murder and how anti-Black racism plays out in Canada's criminal justice system.
---
Why did George Floyd's murder seemingly become a tipping point in the struggle against anti-Black racism?
Undoubtedly the fact that it happened during the pandemic played a role since attention was being paid to racial disparities related to who was getting infected by COVID-19 and how seriously they were getting sick. The same goes for the fact that his death was captured on video and was shared so quickly on social and traditional media at a time when, in many ways, the world was standing still.
As well, there was a lot of momentum around related issues at the end of the Obama presidency. We had the Michael Brown shooting, the Eric Garner case, Philando Castile, Tamir Rice – there were all of these other cases that had started to move things in a similar direction.
And then Donald Trump was elected, in part as a response to that attention. But the pendulum was swinging and parts of the American population were quickly fed up with Trump's racist, anti-immigrant rhetoric.
In a sense, the pandemic and the recording [of Floyd's killing] all came together to produce what were the largest civil rights marches in American history.
How significant is it that the police officer who killed Floyd – Derek Chauvin – was found guilty of murder?
American police benefit from a lot of protections that absolve them of responsibility while on the job – so it is significant. I'm not going to hold my breath and assume now that every police officer who unjustly kills a person of colour is going to be held to account, but my hope is that it will spark some change. That includes the reforms to policing that have been proposed by U.S. President Joe Biden, although they will likely get held up in the U.S. Senate.
So, it is significant. But, given what history tells us, this is an anomaly. My hope is that it will become more normal – but, as of yet, I'm not holding my breath.
How much progress has been made in tackling anti-Black racism over the past year?
I think the biggest thing that I've observed is the awareness piece. Many people, especially white people, thought that racism was a thing of the past and took comfort in believing that we've seen lots of progress. Now, undoubtedly, we have seen some progress. But I don't think it was really what the general population thought it was. So, I think the attention is significant.
There's also been work to develop various task forces. We've seen governments making commitments to address racism and private industry making commitments to address inequalities, both internally and externally, through their corporate social responsibility efforts and their equity, diversity and inclusion initiatives.
But, as of yet, I can't say that I've seen anything concretely change, and I don't think one year is long enough to see significant changes. My hope is that all of the attention and preliminary moves that have been made thus far will – providing there's continued attention and commitment to addressing related issues – prompt a change, and we will see results down the road.
Your recent study found that young Black men in Ontario disproportionately experience incarceration compared to young white men. Why is this happening?
The disproportionate rates of incarceration facing young Black men in this province and in this country are deeply rooted in our nation's history of anti-Black racism.
The way in which this country was founded – and continues to operate – disproportionately excludes Black people from the education system and the employment sector, makes finding housing more difficult and concentrates young Black men in impoverished neighbourhoods in conditions that are conducive to crime. It also subjects them to various forms of discrimination – in part at the hands of police – and increases the likelihood that they come into contact with the justice system, whether or not they've actually done something wrong.
So, when we look at the correctional statistics, we need to look at them in the context of a society that treats young Black men unequally and criminalizes them before they've engaged in any kind of criminal activity.
What is the relationship between the criminal justice system and anti-Black racism in society more broadly?
The over-representation in the correctional system should be of no surprise given the experiences in other areas of social life. High levels of incarceration of young Black men in this province are a manifestation or end result of the discrimination and marginalization that they experience in other parts of their lives and across the social spectrum.
One of the most important things to convey is that incarceration does nothing but further harm the life chances of these individuals and those around them. People who experience incarceration have difficulty integrating back into society. For example, if they've not completed their education, they have a harder time doing so. Formerly incarcerated people also often struggle to find work and to secure housing. The families of incarcerated people and especially their children suffer, too, being more likely to experience difficulties with their own education and to experience psychological problems. These problems also extend into communities that experience concentrated incarceration. Large numbers of people from the same neighbourhoods, many of working age, being imprisoned damages social bonds and distorts social norms, which can have devastating effects. So, the experience of incarceration further entrenches the forms of marginalization that contribute to incarceration in the first place. One of my main concerns is that this fuels a cycle of poverty, incarceration and marginalization and we see this in America.
In my undergraduate and graduate classes on equality and criminal justice, I challenge students not only to think of the various ways the justice system responds to inequality – in terms of how it treats marginalized populations – but also how it produces inequality. Racially concentrated incarceration will serve to further reproduce the inequalities that Black people experience.
What do these findings say about the notion that Canada fares better on racial justice and policing than the U.S.?
I live in Canada for a reason. It's a good place to live and we can take some comfort that our current and historical experiences are different from the United States. But we are not that different when it comes to aspects of race relations in the way in which we treat racialized populations.
The historical and contemporary treatment of Black and Indigenous people in this country is not something we should be proud of – and we do ourselves a disservice by trying to favourably compare ourselves to the United States.
These figures should give us reason for pause.
Looking to the future, what steps can we take to leverage the current momentum in the fight against anti-Black racism to achieve meaningful change?
I think there's still more that needs to be done to raise awareness. We need to have a more fulsome understanding, especially in the Canadian context, of the ways in which the history of this country has led to experiences in the present. We can't fully understand why it is that Black people and Indigenous Peoples have the contemporary experiences that we do, and experience the marginalization they do, without a fulsome understanding of the historical processes that got us here.
We're increasingly recognizing that in the Indigenous context. Truth and reconciliation has done a decent job of increasing awareness, but we haven't had the same in the context of Black Canadians – so the realities of slavery, segregation and the legacy that they've left are not fully acknowledged. One of the key things is that when we look at this in a historical context, we like to think that colonialism, slavery and segregation are features of the distant past. It's important to recognize that segregation existed on the books until the 1960s in Ontario. The last segregated school in Nova Scotia closed in the 1980s. The last residential school closed in the 1990s. This is all within our lifetimes. The historical reality of deep-seated structural racism in our society is much closer to the present day than many people like to acknowledge.
We need to change the way in which our society views Black, Indigenous and other racialized populations. We see very clearly that, socially, economically and politically, certain groups are not fully integrated into Canadian society. Efforts need to be made to fully integrate marginalized groups into our society – for example, by changing school curriculum and the way in which schools treat Black and Indigenous Peoples; changing the way employers operate; the opportunities afforded to members of different groups; increasing representation in universities, colleges and trades programs; in jobs; and, importantly, throughout the hierarchies within both public and private sectors.
We've got a lot of work left to do. I think it's going to take time and effort to get us to where I would like to see us be.
UTC