Air sampling shows Medical Science Building "safe for general occupancy" report finds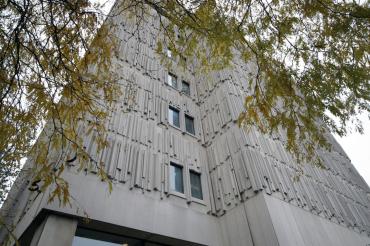 The Medical Sciences Building is "safe for general occupancy," concludes a new report that looks at more than 200 air samples taken in and around the building from February 4 to March 24, 2017.
The report by Safetech Environmental Ltd. is part of the university's response to recent incidents where testing showed asbestos fibres in samples of dust found in five research labs in the Medical Sciences Building (MSB) on the St. George Campus.
"The Medical Sciences Building air quality is not being negatively impacted by the presence of asbestos-containing building materials existing within the building," the report states. "The building is deemed to be safe for general occupancy."
The report also finds the building's heating, cooling and ventilations systems are free from airborne fibres from construction sites.  
"These air sampling results are key because we know asbestos is only harmful when it is airborne," said U of T Vice-President Operations Scott Mabury, also a professor of environmental chemistry. "That's why we plan to continue to take samples in and around areas where construction is taking place and also throughout the building."  
The university is conducting a thorough review to trace the source of the three localized incidents where asbestos fibres were found in dust in research labs. Two of these incidents are linked to the escape of dust from sites in the building where asbestos remediation work was taking place in preparation for lab upgrades.  
A third incident was traced to a hole drilled in a wall that was not related to the remediation work.  
In all cases, the labs were immediately closed, tested, thoroughly cleaned and retested. No classrooms or public spaces were affected.  
A major renovation of labs at MSB – part of U of T's $190 million LIFT project to improve labs across all three campuses – began in November 2016 with a construction project to safely remove asbestos in seven locations on the third, six and seventh floors of the approximately 50-year-old building, which is standard practice for this type of work at U of T.
Mabury said air testing is done using "approved, regulated methods." Results of the tests are available on the university's Environmental Health and Safety Portal with a UTORID.  (Information on how to register can be found on the EHS website).  
"All the evidence we have shows the building is safe to be working in and that's supported by the reports we've received from the Ministry of Labour," he said.  
The provincial Ministry of Labour has visited the site three times and has not issued any orders or given direction for the university to take further actions other than those already in place. 
The Joint Health and Safety Committee at MSB also has issued a statement.
Two labs remain closed while the university awaits the results of additional tests and a report from another external expert in asbestos-related cleanup and monitoring. 
"This issue has been of great concern to members of the U of T Medicine community," Faculty of Medicine Dean Trevor Young said. "The health and safety of our employees and students is a priority for the university and the university also is taking measures to minimize the risk of any possible recurrence.
"I am very reassured by the efforts of many units within the university to address these issues and ensure the safety of students, faculty and staff." 
UTC