The AI Taxman: Documentary focuses on U of T law prof who launched legal-tech startup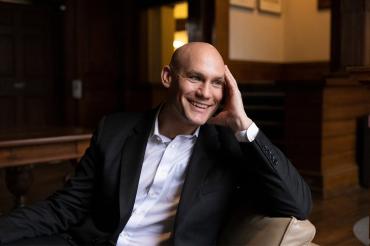 Benjamin Alarie is an expert in taxation law who set on a path several years ago to change how legal research is done.
A professor in the University of Toronto's Faculty of Law, Alarie co-founded legal tech startup Blue J Legal in 2015 with fellow U of T Law faculty members Anthony Niblett and Albert Yoon. The company's software draws upon artificial intelligence to provide instant and comprehensive answers in complex areas of tax, labour, and employment law.
Now, Alarie is the subject of an educational documentary.
"Artificial intelligence is not going to take your job – professionals who use artificial intelligence will replace professionals who don't use artificial intelligence," says Alarie in the trailer to A.I. Taxman, which premieres at the Isabel Bader Theatre on Sept. 29.
The event is co-hosted by Blue J Legal, the filmmakers, UDocs and U of T's Future of Law Lab at the Faculty of Law.
UDocs – in partnership with Hot Docs, the largest documentary film festival in North America – produces "edutainment media content to advance the rule of law, professional ethics, social justice, and corporate social responsibility".
The film is part of UDocs's Continuing Professional Education (CPE) program and is available through its online platform. The purpose of the film is to provide legal and accounting professionals with a better understanding of the fundamentals of artificial intelligence, including ethics, security of information, productivity and efficiency.
"The whole idea behind [Blue J Legal] is to use machine learning to give taxpayers certainty that they're not overpaying their taxes, and to give the tax authority clear boundaries where the amount of tax is owed," says Alarie, who earlier this year was named one of 50 emerging leaders reinventing how Canada does business by the Globe and Mail.
"We think the right way to run a tax system is to provide very clear, transparent rules – to provide access to justice."
The screening will be followed by a keynote address by Osler tax litigation partner Marshall Rothstein, a retired justice of the Supreme Court of Canada, and an expert panel discussion featuring Bruce Ball, vice president, taxation at CPA Canada; Susie Cooke, a partner and national tax transformation leader at KPMG Canada; Heather Evans, executive director and CEO of the Canadian Tax Foundation; and Maxime Guénette, assistant commissioner, chief service officer and chief data officer of the service, innovation and integration branch of the Canada Revenue Agency (CRA).
The panel will be moderated by Abdi Aidid, a newly appointed assistant professor in U of T's Faculty of Law, who served for years as Blue J's vice-president of legal research.
"This discussion is a chance to hear how some of the top minds in the tax world are thinking about these massive technological changes," says Aidid. "If you're nervous, hopeful or even just curious about AI, this is a discussion that's well worth attending."
Law