At age 101, Hazel McCallion renews role as U of T Mississauga special adviser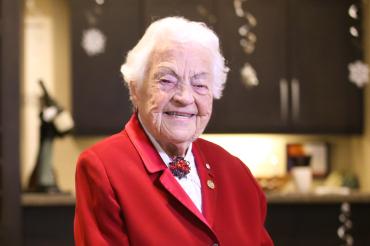 At age 101, Hazel McCallion has been reappointed as a special adviser to the University of Toronto Mississauga.
Serving as mayor of Mississauga for 36 years, McCallion is an occasional guest lecturer, advises on strategic development and has been working with U of T Mississauga's Institute for Management and Innovation to develop a master's degree in urban innovation and development, as well as a non-credit training course for those aspiring to enter public service.
"I am delighted that we are continuing our partnership with Mayor McCallion," said Alexandra Gillespie, vice-president and principal at U of T Mississauga. "Her encyclopedic knowledge of politics and Mississauga is an invaluable resource as we continue to build for the future."
A long-time advocate for U of T Mississauga, McCallion is also the namesake of the campus library and was awarded an honorary Doctor of Laws degree from the University of Toronto in 2010. In her final year as mayor, the university paid tribute to her service with an original musical based on her life called She Shoots! She Scores!
In her 12 terms as mayor, Mississauga grew from a suburb of 250,000 people to Canada's sixth-largest city with a population of more than 800,000 and more than 50 Fortune 500 company headquarters.
In addition to her U of T Mississauga reappointment, McCallion also received a second honour to mark her recent birthday on Feb. 14: Mississauga Mayor Bonnie Crombie and Ontario Premier Doug Ford announced the 18-kilometre Hurontario LRT line linking several local transit systems will be named the Hazel McCallion Line.
"Everyone knows Hazel," said Ford, praising McCallion as a "true icon."
McCallion was first appointed to the U of T Mississauga position in 2015 under then-vice-president and principal Deep Saini, following McCallion's retirement from public office in 2014.
Saini praised her at the time as having "long been a champion of higher education and its role in building a globally competitive local economy."
McCallion's term as special adviser runs until Feb. 8, 2023.
UTM