A stranger put a U of T student in an Uber so that she would get to her final exam on time, according to a commuter (photo by Chris Tyler via Flickr)
"TTC delays bring out ugliness in people but on this morning, compassion and care won out"
A U of T student – late for a final exam – benefited from the kindness of strangers on the TTC on Friday, a commuter told U of T News.
Ana Laing said the subway had stalled around 8:30 a.m. on the Bloor-Danforth Line when she noticed a young woman in tears. 
Passengers stopped their grumbling to ask the woman what was wrong, Laing said.
"She lets us know that this delay was going to make her late for an exam that was worth 50 per cent (of her grade) – she was obviously distraught," Laing remembered.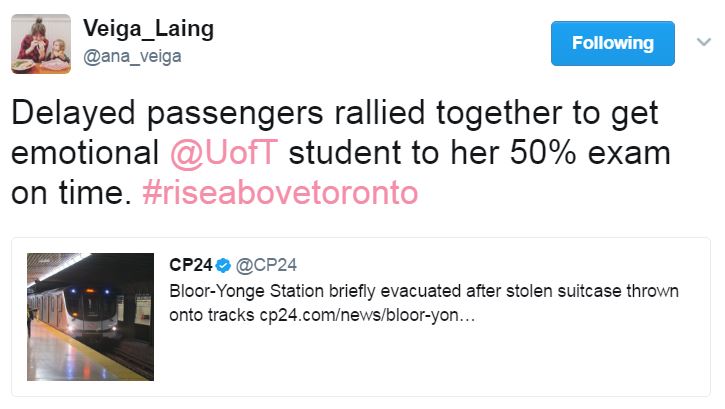 The student who said she went to U of T didn't give her name or the name of her course, Laing said. 
One person offered the student a tissue, while others offered sympathy. And as the train pulled into Chester Station, another woman offered pay for an Uber to take the student to class, Laing said.
"A few of us clapped, and later wished we could learn if she ever made it," Laing said.
"Everyone who was involved wished each other good day, and suddenly the TTC delay wasn't so bad."
What to do if you're late for an exam
If the TTC or the forces of nature are conspiring against your academic success, don't panic – there is hope.
For students on the downtown Toronto campus, college and faculty registrars offer advice.
"If you're late for your exam for whatever reason... go to the exam hall anyway," says Donald Boere, assistant principal and registrar at U of T's Innis College. "Someone there will be able to explain what your options are.
"You may be able to write the exam on the spot, write it somewhere else, write it later," he added. "If you have missed your exam entirely, go straight to your registrar's office, and they can give you some options."