After studying women role models, Tokyo 2020 hopeful Gabriela DeBues-Stafford became one herself
'Eventually, just working hard and being resilient translated to some pretty crazy results'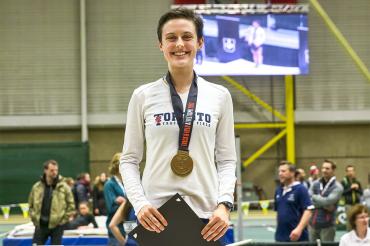 Gabriela DeBues-Stafford is having a good year. 
The University of Toronto alumna, who graduated from the Faculty of Arts & Science with a degree in psychology earlier this spring, is quickly becoming one of Canada's greatest middle-distance runners.
"I wasn't a young phenom when I started running, but I always wanted to get the most out of myself with every race," says DeBues-Stafford, who was a member of Victoria College. "Eventually, just working hard and being resilient translated to some pretty crazy results."
Those crazy results?
Breaking five Canadian records in a single season – more if you count the multiple times she broke the 1,500-metre record this season alone – and becoming the first Canadian woman to run 1,500 metres in under four minutes. 
Most recently, DeBues-Stafford finished sixth in the women's 1,500 metres at the International Association of Athletics Federations (IAAF) World Athletics Championships in Doha, Qatar, shattering her own Canadian record with a time of 3:56.12.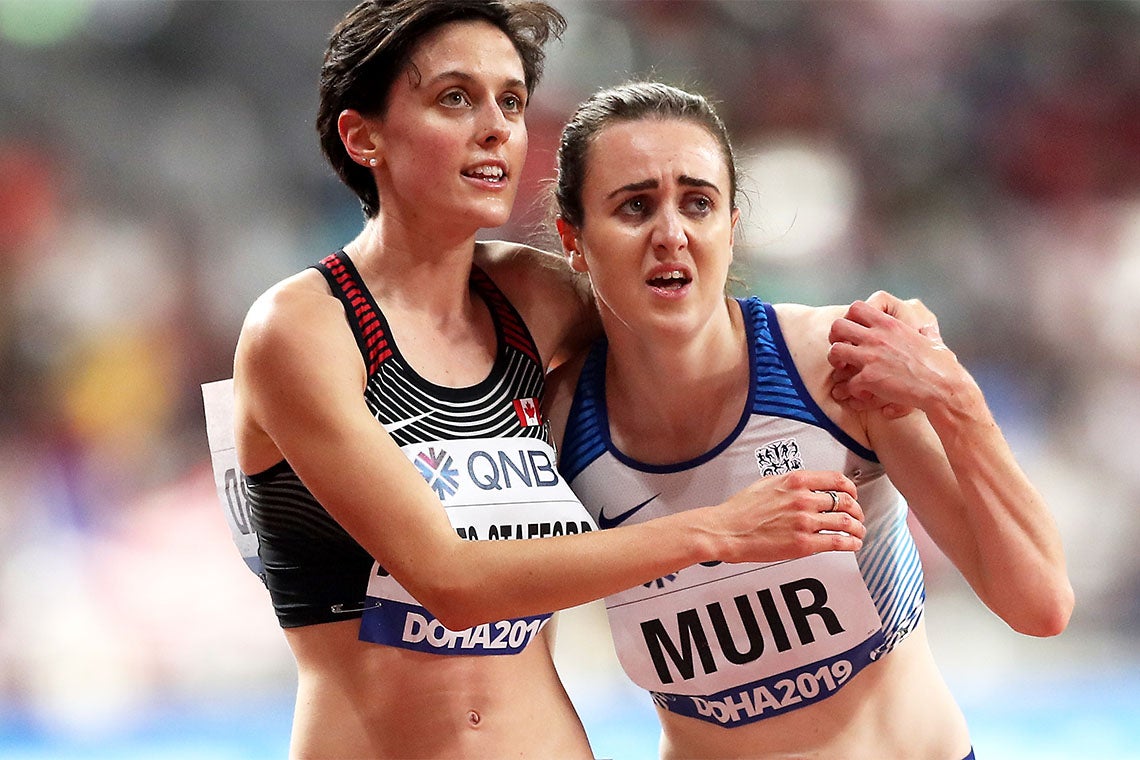 Canada's Gabriela Debues-Stafford (left) and Great Britain's Laura Muir after the 1,500 metre women's final at the IAAF World Championships in Doha, Qatar (photo by Martin Rickett/PA Images via Getty Images)
While the performance didn't earn her a medal, it did land her the 21st spot on the IAAF's all-time 1,500-metres list, a plethora of media coverage and even a nomination for the Canadian Sport Awards' People's Choice Award for Performance of the Year, where she went up against tennis champ Bianca Andreescu, among others.
Being in the spotlight for her accomplishments is something Debues-Stafford understands intimately, particularly after completing her undergraduate thesis on women as role models in sports. 
Working alongside Poppy Lockwood, an associate professor in the department of psychology and vice-dean, academic planning in the Faculty of Arts & Science, DeBues-Stafford explored the tendency of athletes to select same-gender athletic role models and the extent to which gender-matching influences an athlete's motivation.
"What's fun about social psychology research is that we'll notice a trend out in the world, like the lower visibility of female athletes in the media, and then we'll ask questions surrounding the importance of same-gender role models, which we can then test empirically in the lab," DeBues-Stafford says. 
"Being part of the process of designing an experiment and collecting data and seeing what we find is really interesting and exciting."
For Lockwood, watching DeBues-Stafford's career take off in such a "spectacular way" has been exciting to watch.
"Gabriela is a great role model for aspiring women athletes and U of T students both," says Lockwood. "She illustrates the kind of achievements that are possible for women athletes in Canada.
"I watched her recent run in the IAAF 1,500 metres final with my two daughters and think it's great for them to think about their own future possibilities. They were also really excited that their mom knows someone famous."
DeBues-Stafford says the research taught her about the importance of seeing women in sport highlighted in the media more often.
"Having visible female role models in sport is important for women because it provides an exemplar of what girls and women can achieve," says DeBues-Stafford.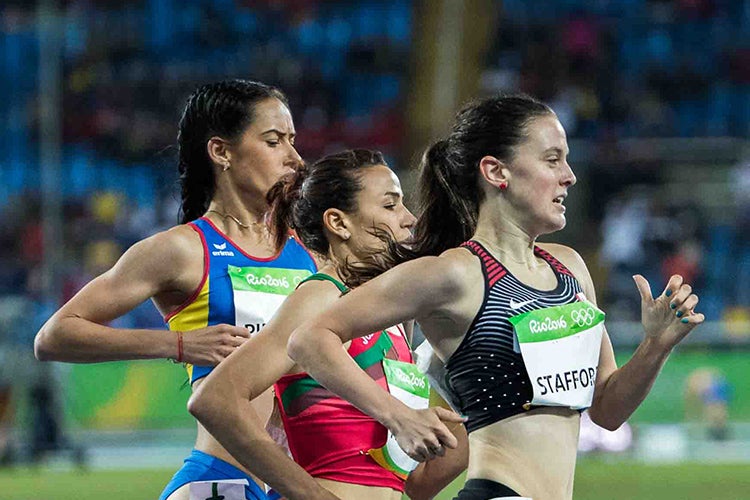 Gabriela DeBues-Stafford competes in the first round of the women's 1500 metres at the 2016 Olympic Games in Rio de Janeiro, Brazil (photo by COC/David Jackson)
She says that media coverage often leads to increased public interest, noting that after the success of the Toronto Blue Jays' 2016 season, youth baseball registration in Toronto rose 25 per cent. 
And she says it's something we'll likely see in Canadian tennis next spring thanks to Bianca Andreescu.
"How many Canadian girls do you think are going to try tennis now?" asks DeBues-Stafford. "I'd bet a lot. And given that young girls are at a higher risk of dropping out of sport, some of those girls who are inspired by Bianca to try tennis may have stopped being active otherwise. 
"Women succeed in sports all the time, they just don't usually get the same kind of airtime as men." 
As for DeBues-Stafford's time at U of T, she says balancing athletics and schoolwork wasn't always easy.
"I wish I could say that I was a master planner and had everything under control, that I got straight As while nailing workouts and races, eating well and getting enough sleep. But the honest answer is that I struggled to balance my athletics and my academics." 
While DeBues-Stafford says there were not enough hours in the day to do everything she wanted as well as she wanted to, being able to take summers off from classes allowed her to focus solely on the track during what she calls the most important and busiest part of the track year.
"Somehow, I managed to do well in both my studies and my running as a student at U of T, but I certainly wouldn't say it was thanks to balance – more like really bad juggling," says DeBues-Stafford.
But even with that juggling, DeBues-Stafford made her Olympic debut in 2016 while still an undergraduate and has quickly become a role model in her own right on the road to Tokyo. 
"I take the role very seriously and strive to be a positive and authentic role model and only promote positive and healthy messages – not only surrounding sport but also surrounding greater issues," says DeBues-Stafford, who often takes to social media to talk about social issues.
As for what advice she has for first-year students just starting their academic careers, DeBues-Stafford says to surround yourself with people who encourage and inspire you to be the best version of yourself and be a good friend in return.
"Prioritizing the important relationships in one's life is key to being happy and fulfilled." 
Arts & Science