After recent award in Elon Musk's XPRIZE contest, U of T students discuss next steps with National Observer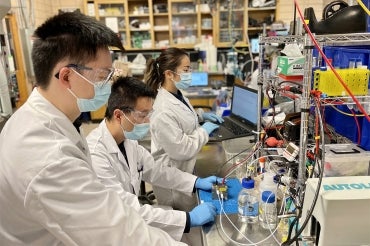 University of Toronto engineering students Celine Xiao and Shijie Liu are part of a team from the Faculty of Applied Science & Engineering that is gaining national recognition for being among the winners in Elon Musk's XPRIZE carbon removal competition.
The National Observer reported on team E-quester's $250,000 win for developing a strategy to capture and store carbon dioxide directly from the atmosphere. The seed funding will go towards the team's carbon capture technology, which involves using an innovative electrochemical process to dramatically lower the energy cost of capturing atmospheric CO2.
"The fundamental principles of the design have been proven to work, now we just need some funds to combine all the subsystems together and experimentally show our design works," Liu, a master's student in the Faculty of Applied Science & Engineering, said in the National Observer article, which was reprinted in the Toronto Star.
"One of the main goals in our project is we try to minimize the energy cost of that carbon dioxide liberation process," added Xiao, a PhD candidate in the deparment of mechanical and industrial engineering.
XPRIZE carbon removal is a four-year global competition funded by Elon Musk and the Musk Foundation. The team is now preparing for the next phase of the competition that could see up to 15 teams secure $1 million each. E-quester will also have a shot at the $50 million grand prize.
UTC