After a 20-year hiatus, U of T grad dedicates his degree to his late mother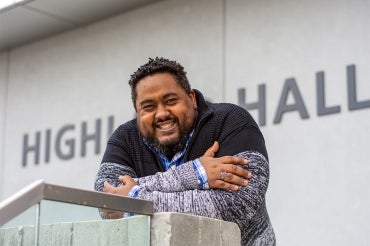 Keon Priestley's mom, Marie, always encouraged him to finish his degree. 
But in 1998, as Priestley's first semester at the University of Toronto Scarborough wrapped up, his health deteriorated. 
"Diabetes runs in my family, but at 18 years old I didn't think it would be something I'd have to struggle with," he says.
After two weeks in the hospital, Priestley's doctors struggled to find the right treatment. His medication made him sleep for 16 to 18 hours every day, forcing him to drop out of school.
Once his health improved, Priestley spent a decade at telecommunications giant Telus, working his way up from a customer service representative to a national training specialist, before eventually landing a job with the Canada Revenue Agency. Yet, Priestley felt something was missing. His mother knew it, too.  
"My mom always reminded me, 'You still have that U of T situation you haven't quite finished,'" he says. "I always told her, 'I'm making good money and I have a decent job, so why do I need to go back?'"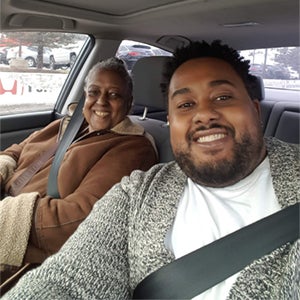 Priestley's mother instilled in her three kids the importance of education. She immigrated to Canada at age 18 and then worked to bring the rest of her family over from Jamaica.
"She didn't really have the opportunity to go to school," Priestley says. "Being in Canada, she found out from a very early age that education was the way to become more than you were."
Three years ago, Priestley was laid off due to budget changes. As he mulled his next steps, his mother was there to remind him: "It's never too late to go back to school."
At 40 years old, Priestley returned to finish the bachelor of arts degree he'd started 20 years earlier. He visited his mom every other day, who was "over the moon." She encouraged and supported him as his course work piled up. 
Then, halfway through his first reading week, Priestley's mother died. 
"That was rough," he says. "That was really rough."
Priestley was tempted to drop out. He knew he could get a decent job, and even found one in his second year of study as a financial aid assistant in the registrar's office. But he kept going through it all: 3 a.m. study sessions followed by 9 a.m. shifts at work; a global pandemic and online courses that became online semesters. He says it always came back to honouring his mom. 
"I really used my mom's passing as a push to keep going," he says. "I don't think I would have been as motivated to stick out the hard times without her."
Priestley also leaned on one of his professors, Donna Gabaccia, who teaches historical and cultural studies at U of T Scarborough. Gabaccia regularly called to check on Priestley and share information about on-campus resources that could support him.
"She opened all these doors and resources to me," he says. "We actually maintained a relationship after her class was done, which was really awesome."
Priestley encourages students to make use of campus resources like he did. He received support from Accessibility Services and often visited the Health & Wellness Centre's counsellors.
He also received the Get Finished Scholarship earlier this year, which covers the tuition cost of one course for domestic students nearing the end of their degree. 
"The scholarship made it easier in terms of feeling the support of the school, [and] I actually felt a human component," he says. "It's like the school is saying, 'Hey, we realize it's tough to finish and we're going to help you.'"
To mature students, his advice is two-fold: Embrace discomfort and don't be afraid to be wrong. 
"You learn so much from your mistakes. You also learn so much when you're in uncomfortable situations."
As the 22-year journey ends with his convocation this week, Priestley says his mom remains close at heart.
"I feel like my degree belongs to the both of us," he says. 
UTSC