Students Anne Ageh and Nuha Siddiqui, who are Enactus U of T members, toss prototypes of EcoPackers' eco-friendly packing peanuts in the air (photo by Geoffrey Vendeville)
Budding social entrepreneurs are empowering women, supporting local startups and saving the planet from the dreaded packing peanut
The foam peanuts that protect fragile deliveries can pile up in landfills.
Concerned about packaging waste, University of Toronto students redesigned the pellets using potato starch, which is biodegradable and still squishy enough to protect fragile objects. The material is so natural you can even eat it – the prototype tastes like flavourless popcorn.
EcoPackers is one of the many initiatives springing out of Enactus U of T, a student group of 80 entrepreneurs who value making a difference in the world.
"Interest in social entrepreneurship has been rising for years, especially among younger generations who seek to contribute to a more conscious capitalism," said Keri Damen, managing director of U of T entrepreneurship and lead advisor to Enactus.
U of T News checked in with the local chapter of Enactus ahead of the first of three Entrepreneurship 100: Conversations run by the Impact Centre.
The event on Thursday March 16 will host a social entrepreneurship panel featuring some of Toronto's leaders in this growing sector, including Luke Anderson of the StopGap Foundation, Ilana Ben-Ari of Twenty One Toys and Heather Payne of HackerYou and Ladies Learning Code.
Later this month, U of T startups created by students and researchers are invited to take part in workshops and showcases during the first-ever Entrepreneurship@UofTWeek, which runs from March 27 to March 31.
1. Catapult
How do you begin saving for the future without a bank account?
U of T students found that teaching financial literacy helped lift low-income and Indigenous women out of poverty. Since last year, 40 women have attended the workshops on budgeting, tracking expenses and banking. The students invited professional accountants from the likes of Meridian Bank and Investors Group to lead the sessions, said Enactus U of T President Nuha Siddiqui.
"All the women we actually worked with never had a bank account. After our workshop they opened their first ever bank account," she said.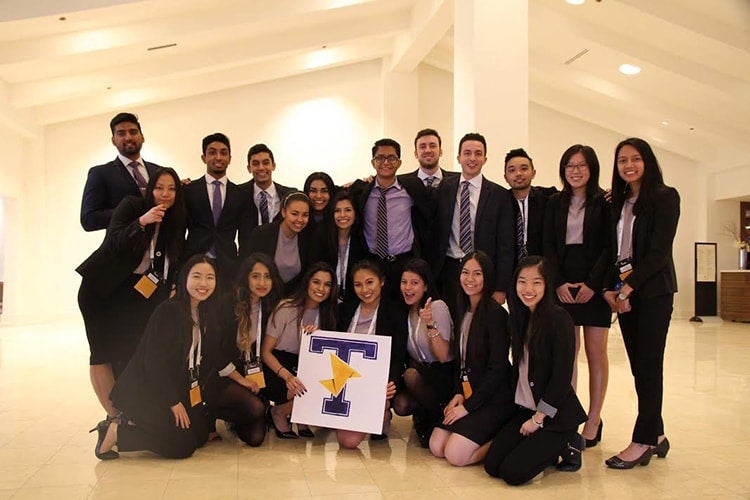 A team picture of the Enactus U of T team (courtesy of Nuha Siddiqui)
2. Enact-a-preneur
There are ten official startup accelerators across U of T's three campuses. Some of these fledgling companies – and startups outside the university – could use the help of professionals in accounting, law and business development, but don't have the resources to pay for them yet.
Enact-a-preneur links new companies with professionals and co-op students ready to volunteer their time. They boast that in seven months, their six clients have seen a 40 per cent growth in gross revenues.
3. YouElevate
If lifeguarding has lost its appeal, high school students can find summer work through YouElevate, which sets them up with positions at local startups.
In connection with Enact-a-preneur, YouElevate gives young students the opportunity to intern at up-and-coming business ventures, where they can learn valuable skills. Current job openings including a graphic design internship at digital storytellers Arc + Crown and a research internship at the folding-bike maker Revelo.
4. Lumifi
Last year, Enactus worked with the charity, Power to Be International, and Jamaican schools to turn old routers into "virtual libraries" that could contain hundreds of textbooks.
The devices operate through a local area network, giving users access to material without an Internet connection.
U of T students travelled to Little London, on the western tip of Jamaica, to equip two schools with the routers, Siddiqui said. The project has since become self-sustaining, she added.
5. EcoPackers
The little packing peanut can have a big impact on the environment, said Siddiqui, who is also an accounting student in the Rotman School of Management.
"They're used in large volumes and these things really do get into our environment, harm our oceans, farms and so on," she said.
Some companies have already switched to green alternatives. For example, U-Haul phased out the traditional polystyrene peanut years ago.
Enactus U of T students have designed another green version of the peanut. They say they have raised about $33,000 in funding so far.
Any profits will be reinvested in environmental awareness programs in elementary schools, Siddiqui added.