With $3-million chair, U of T and GSK focus on enhancing pharmacist-led vaccine care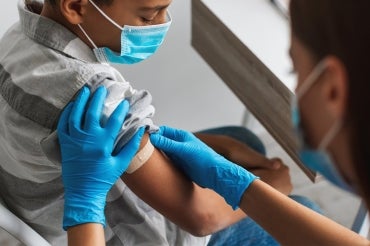 The University of Toronto and biopharma company, GSK are investing a combined $3 million – $2 million from GSK and $1 million from the Leslie Dan Faculty of Pharmacy – to create a new chair that will enhance and develop vaccine education programs and practice tools for pharmacists and other health professionals.
Based at the Leslie Dan Faculty of Pharmacy, the GSK Chair in Vaccine Education and Practice-Oriented Tools will build on current knowledge and training to equip pharmacists with the skills and tools to adapt to the rapidly evolving clinical scope of practice and the needs of patients and communities.
The chair will also develop evidence-based models of vaccine care that build trust, expand access and improve health outcomes.
"Community pharmacies are increasingly seen as health hubs for primary-care services and pharmacists are ideally suited to promote the best health outcomes for vaccine-preventable diseases at all stages, from childhood to older adults," said Lisa Dolovich, professor and dean at U of T's Leslie Dan Faculty of Pharmacy.  "The support from GSK to establish this chair is vital to advancing our education and research in this important area of practice."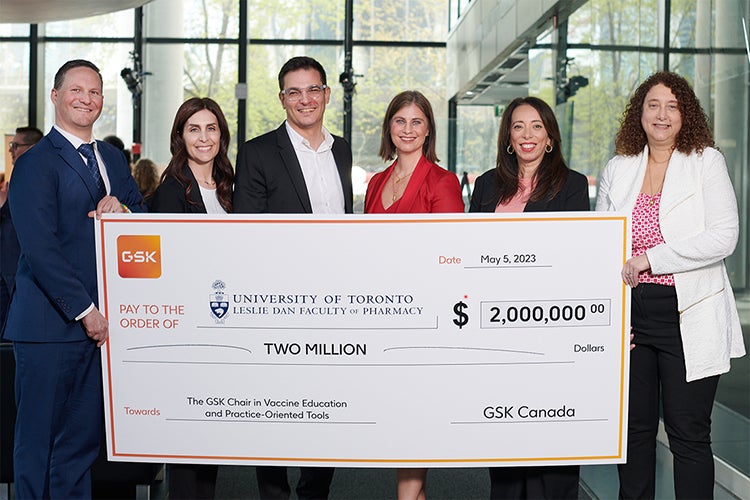 As one of the most accessible primary-care providers, pharmacists engage in health promotion, identify indications for vaccines, provide education to patients, administer vaccines and deliver follow-up care.
"At GSK, we believe strong collaborations, such as this one with U of T, are key to driving innovation and excellence in research and education with the goal of improving patient experiences and health outcomes," said Dr. Bryan Tennant, scientific director, vaccines, at GSK Canada. "We believe that the Leslie Dan Faculty of Pharmacy and the new GSK Chair in Vaccine Education and Practice-Oriented Tools will lead the way in equipping the next generation of pharmacists for an always evolving world and set new standards in education across Canada and around the globe."
During the mass rollout of COVID-19 vaccines, pharmacy teams across Canada demonstrated the ability to mobilize to meet public health needs in times of crisis. As the impact of the pandemic continues to stretch our health system, pharmacists are taking on an increased role in primary care, filling care gaps with pharmacy clinic services that include vaccinations. "But we need to ensure pharmacists are continually supported with evidenced-based tools to provide the best possible care over time," Dolovich said.
As a result of limited access and other barriers brought on during the height of the pandemic, many children and adults are behind on routine immunizations.
A 2022 survey led by Campaign Research showed that one in five Ontario adults missed or delayed their routine immunization for preventable illnesses like shingles and pneumonia. Pharmacy teams can help address gaps in care like this and have demonstrated the ability to be nimble enough to implement new, innovative ways of providing critical health services.
"Further supporting and enhancing the role of pharmacists as vaccine-care providers expands access for patients and helps support the health of our families and communities," said Dolovich. "The creation of this chair provides an exciting opportunity to focus on how pharmacists can continue to play an important role in managing vaccine-preventable diseases."
The Leslie Dan Faculty of Pharmacy will soon begin recruitment for the chair through an open call for applications and submissions outlining proposed research programs that will drive the vision and impact of this initiative forward.
Pharmacy