Twelve new U of T fellows join Royal Society of Canada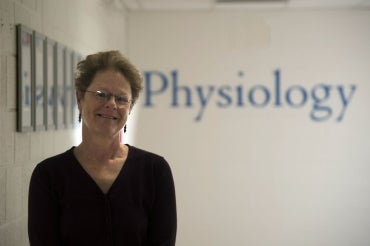 Great discoveries in the lab really do happen through "serendipitous observation," says Patricia (Pat) Brubaker.
Twenty years ago, she and colleague Dr. Daniel Drucker were injecting intestinal peptide hormones into mice. They were on the hunt for something else when they noticed their booster shot of the naturally occurring hormone GLP-2 was triggering growth and improved bowel function in their furry subjects.
It was our bingo! moment, she recalls. Their discovery of GLP-2 as an intestinal growth factor opened up an entirely new frontier in the treatment of disorders such as short bowel syndrome and possibly the inflammatory bowel diseases Crohn's and colitis.
Today, the outstanding scholarly, scientific and artistic accomplishments of Brubaker and 10 other U of T researchers have been recognized by the prestigious Royal Society of Canada, which has named them as fellows.
"I was deeply honoured that I was nominated in the first place. The fact that I'm receiving it [the fellowship] is really wonderful news," says Brubaker, a professor in U of T's department of physiology and faculty of medicine, as well as the Canada Research Chair in Vascular and Metabolic Biology since 2001.
This year's U of T inductees come from four faculties and their research interests range widely, from thermal spray coatings and conservation biology to pioneering social history and probing the fundamentals of quantum mechanics. See the full list below.
They're joining more than 2,000 active fellows in the Royal Society of Canada, which was established in 1883 to promote learning and research in the arts, the humanities and the natural and social sciences.
"As one of the top research universities in the world, the University of Toronto's primary mission is to create new knowledge. We are incredibly proud of these 12 scholars — U of T's newest Royal Society of Canada fellows — who embody that spirit in their exemplary work as they continue to blaze new trails in their fields," said Vivek Goel, U of T's vice-president of research and innovation.
In Brubaker's case, the fellowship recognizes a "lifetime's work" spent investigating intestinal peptide hormones and how they help the body repair itself. In addition to her pioneering work with GLP-2, she and her colleagues have found boosting the levels of its sister hormone GLP-1 in people with diabetes can help improve blood glucose control.
This research has already laid the foundation for others to create new drug therapies and diet regimens to treat — and someday hopefully prevent — these diseases.
"It's very humbling to know that people think well of your work," Brubaker said, thanking her colleague and principal nominator Dr. Drucker, as well as the researchers from Canada, the United States and Britain who supported her nomination by writing letters of support.
The 2016 U of T fellows of the Royal Society of Canada are:
Faculty of Applied Science & Engineering
Javad Mostaghimi, department of mechanical & industrial engineering
Faculty of Arts & Science
Marie-Josée Fortin, department of ecology & evolutionary biology
Smaro Kamboureli, department of English
Anne Lancashire, department of English
Natalie Zemon Davis, department of history
Stevo Todorcevic, department of mathematics
Jeremy Quastel, department of mathematics
Aephraim Steinberg, department of physics 
Faculty of Medicine
Patricia Brubaker, department of physiology
Julie Forman-Kay, department of biochemistry
Gordon Keller, department of Medical Biophysics and UHN
Ontario Institute for Studies in Education
Normand Labrie, department of curriculum, teaching & learning               
This year's new fellows will be officially inducted into the academies of the Royal Society of Canada at a ceremony on Friday, November 18 in Kingston, ON.