'We all have a responsibility': Meet six U of T essential staff members keeping our campuses running despite the pandemic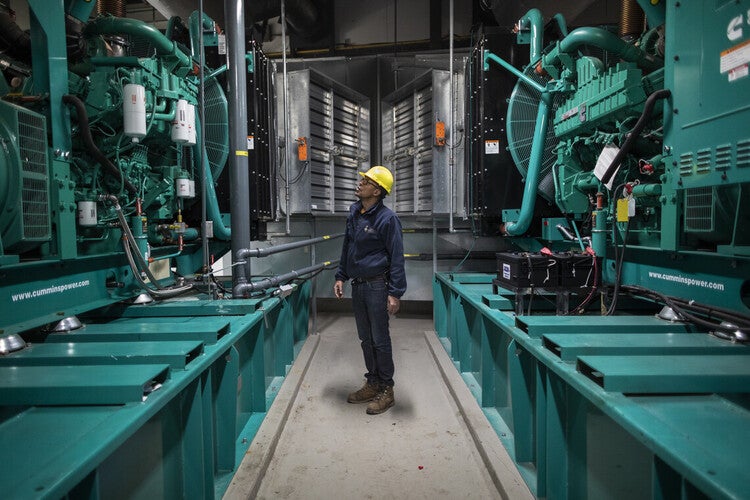 Building operations team member Genene Assefa checks on generator room equipment in the Central Utilities Plant at the University of Toronto Mississauga campus (photo by Nick Iwanyshyn)
When the novel coronavirus forced the university to close non-essential spaces in mid-March, many staff, faculty and librarians had to adapt to remote work – sometimes while homeschooling or caregiving. 
Essential staff, such as those who keep our campuses secure, clean and operational, continued to come to campus, ensuring workplaces are safe and ready to welcome everyone back once restrictions lift. In addition, residence staff and researchers have continued to come to campus to support students and conduct time-sensitive research.
"Our many essential workers are working hard to keep our facilities running," says Ron Saporta, chief operating officer of property services and sustainability. "From responding to emergencies to fixing critical equipment to cleaning and disinfecting our physical spaces, essential staff across the university's campuses have truly risen to the many challenges of operating during these times and adapting to new circumstances and new realities."
The facilities and services department alone has more than 400 essential staff who continue to work on-site at the three campuses. These dedicated staff members include caretakers, tradespeople such as plumbers and electricians, building operators and engineers, property managers, fire prevention and hazardous materials specialists, switchboard operators, building patrol and campus police, recycling and waste management, campus movers, shipping and receiving and more. 
In addition to maintaining the campus grounds, essential staff support on-campus residences that have remained open to house students, as well as offices and labs conducting time-sensitive or COVID-19-related research.
On any given day, hundreds of staff deliver vital services on-site and they will play a critical role in creating and supporting a safe environment once more people and activities return to campus.
Meet six essential staff members who have continued to work on campus during COVID-19.
Ryan Dow and Anastasia Shimansky: St. George Campus Police
Ryan Dow is a staff sergeant with Campus Police (photo by Johnny Guatto)
Ryan Dow, staff sergeant of the Campus Police's Resource Unit, says there was uneasiness among the police force when the lockdown was announced.
"When this started, we were scared. Everybody was. Nobody really understood how dangerous this virus could be," he said. "But it came down to leadership. We all agreed to be positive instead of dwelling on the what-if scenarios and ensuring that we kept communication open to stop officer burnout."
As staff sergeant, Dow hadn't donned a uniform in years, but he and other police managers didn't hesitate to wear them again in order to cover shifts for officers who had to self-isolate or had to care for their children at home. His responsibilities during the pandemic include ensuring staff have enough personal protective equipment and developing procedures to allow for physical distancing while maintaining security on campus.
Dow notes that there has been a heightened sense of unity since the pandemic began. He emphasizes the dedication of the officers and says this is something that he attributes to the university culture – one which is inclusive, approachable and supportive. 
"We have each other's backs to keep this university safe," says Dow. 
Anastasia Shimansky is a special constable with Campus Police (photo by Johnny Guatto)
Special Constable Anastasia Shimansky echoed Dow's initial feelings of uncertainty but adds that she has found that we are all resilient.
"The new lifestyle we've had to live for the last couple of months is difficult and unusual. But we've learned that it is doable and we can do it," she says. "But I know it's not easy for everyone."
Shimansky says with less activity on campus, people have been more open about approaching the officers with questions or asking for support.
"It's important now, more than ever, for us to be a physical presence that can provide a sense of security and comfort for the people who are still on campus," she says.
Tarun Patel: U of T Mississauga Building Operations, lead hand engineer
Tarun Patel, a lead hand engineer, monitors the building automation system in the Central Utilities Plant at U of T Mississauga (photo by Nick Iwanyshyn)
The job of a building engineer involves a lot of behind-the-scenes work. For the last 20 years, Tarun Patel, a lead hand engineer, has been helping to maintain the heating, ventilation and cooling systems – among other responsibilities – of the 29 properties on the U of T Mississauga campus.
As the team of 15 engineers manages major changes to their work as a result of the pandemic, such as staggering shifts to accommodate physical distancing, they must also manage regular yearly challenges such as the switch from heating to cooling as warmer weather approaches. 
"This changeover season is a busy one," he says. "Some of our staff members are immunocompromised so they're in self-isolation. We're a bit short-staffed but we're doing our best to keep everyone comfortable, especially in the spaces where researchers are still coming in."
Patel notes that with a smaller crew, he's been grateful to see upper management take a hands-on approach. 
"They could be working from home, but they come in every day to help us manage the load," he says. "Everybody was anxious when the lockdown began, but our managers have always supported us from the beginning. They told us to take care of ourselves first and have provided us with extra sanitizing supplies and PPE."
Patel says he feels less anxious now. With strict distancing and sanitizing protocols in place, plus fewer people on campus in general, he says he feels comfortable going into work.
Kwame Bloomfield: U of T Scarborough Facility Operations, assistant manager
Kwame Bloomfield, an assistant manager with U of T Scarborough Facility Operations, labels supplies (photo by Nick Iwanyshyn)
A largely empty campus isn't new for Kwame Bloomfield. As the night supervisor overseeing trades on the U of T Scarborough campus, he usually doesn't see much of the typical campus hustle and bustle. But he says things feel different now.
"It feels a bit eerie," he says. "Not because campus is empty, but the reason behind it."
Now that he's working day shifts, Bloomfield says he feels reassured to see an empty campus, knowing that people are adhering to shelter-in-place orders.
Bloomfield and his team of caretakers and tradespeople have increased their disinfecting protocols to go over each area multiple times in a day. They have also increased the number of hand sanitizer stations by 40 per cent and have ensured disinfecting wipes are available to essential staff.
He says keeping these spaces safe for university leaders, students, staff and researchers is important, but the impact goes beyond the campus.
U of T Scarborough has opened up space on campus to the disaster relief organization GlobalMedic, which is organizing food distribution to those in need in the community.
"We're also cleaning and maintaining the space that GlobalMedic is using, so that they can continue to operate and reach those people," Bloomfield says.
According to Bloomfield, a large part of why his job is rewarding is because he can see the impact it makes. "There's a special sense of appreciation at U of T Scarborough – there always was," he says. "It's part of what makes it such a nice place to work."
"Nowadays, everyone is thinking about everyone else's health, even in the way they sign off on emails. There's a lot of well-wishing and checking in on health. It's unusual, but it's welcome."
Matthew Malcolm: U of T Mississauga Stores/Shipping & Receiving, supervisor
Matthew Malcolm, supervisor at U of T Mississauga Stores, hauls in a shipment (photo by Nick Iwanyshyn)
When Matthew Malcolm first heard news of a potential lockdown, he started to think ahead. As the supervisor of shipping, receiving and stores at U of T Mississauga, he knew he had to stock up on supplies for researchers and other essential staff who needed them.
With many workplaces shutting down, some courier companies assumed that shipping and receiving on campus was closed and diverted supplies back to their warehouse.
"Not only was I finding alternate suppliers for our stock, but I had to contact all our couriers to let them know that we were open and accepting packages," he says.
Malcolm, a 25-year veteran U of T staff member, knows that undelivered shipments could make a big impact on research.
"We have to ensure that we have enough supplies for researchers to reopen their labs with minimal disruption once it's safe to do so. Being designated as 'critical staff' means it's my job to make sure all of this is taken care of," he says.
Like many, Malcolm felt a sense of uncertainty at the start of the pandemic. "It's only natural," he says. "But I think I've adjusted fairly easily and now, the out-of-the-ordinary has become ordinary."
Stanley Czerniec: St. George campus, lead hand caretaker
Stanley Czerniak, a lead hand caretaker, poses with a new sterilizing gun that the caretaking team has recently begun using (photo by Johnny Guatto)
In his 35 years of working at U of T as a caretaker on the St. George campus, Stanley Czerniak says the COVID-19 pandemic is unlike anything he's experienced. But despite some concerns expressed by his family and neighbours, he isn't worried.
"If you have work to do, then you have to go to work," he says. "We all have a lot of responsibility to take care of these buildings."
He says it was a bit of shock when the campus became mostly vacant before the end of the spring semester, but he and his fellow caretakers quickly adjusted by implementing stricter disinfecting processes and using a new sterilizing gun. The caretaking staff have completed 3,400 projects in 75 buildings on the St. George campus, including deep cleanings and making necessary updates to lightbulbs and lamps in every room.
"I like that it's a little quieter on campus because we've been able to be more productive, but I hope that this virus goes away soon and things go back to normal," he says. "Whatever that may be."
Subscribe to the Bulletin Brief