U of T's new executive director of equity, diversity and inclusion seeks a culture shift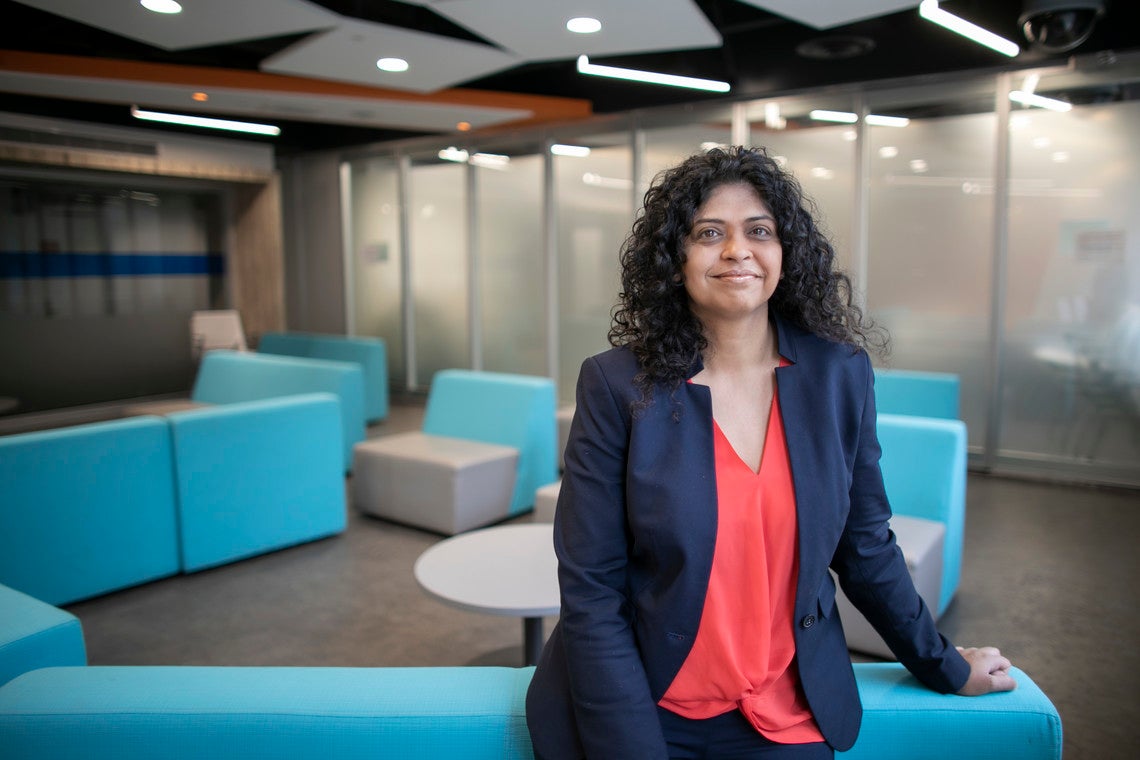 Karima Hashmani is the executive director of equity, diversity and inclusion at U of T (photo by Nick Iwanyshyn)
Karima Hashmani wants everyone to be accountable for inclusion at the University of Toronto.
The recently appointed executive director of equity, diversity and inclusion (EDI) is a passionate advocate for transformational change to advance the culture of inclusion on all three campuses.
"Being intentional is really the act of doing things deliberately to positively disrupt our systems," Hashmani says. "We do this by making changes within the university to increase access and pathways for under-represented students, creating a sense of belonging for the community and engaging in a rewiring of our systems. It's all part of the plan."
Hashmani comes to this newly created role with decades of experience, most recently as the director of equity, diversity and inclusion at U of T Scarborough. There, her focus was building EDI into processes and practices such as strengthening the recruitment process, designing a model for inclusion coaching and building a three-year strategy for the campus.
"The beauty of U of T Scarborough is that I didn't do all of this alone," she says. "The reason we could make an impact is because we have faculty, staff, students and affinity groups that believed it was a shared responsibility, and we were working together to make it happen."
Kelly Hannah-Moffat, U of T's vice-president of human resources and equity, says that Hashmani has extensive experience in addressing complex equity, diversity and human rights issues within U of T as well as the social housing and non-profit sectors, which equips her to take on this role. "Her commitment to these values reflects the university's commitment, and she will add to the hard work that is already being done to reflect the diverse and inclusive community at U of T," Hannah-Moffat says.
Hashmani has begun her tenure by encouraging systemic change at U of T. Her strategic initiatives are rooted in three priorities: foster an inclusive community, invest in people and shift our institutional culture. She believes these are the ingredients to becoming an institutional leader in inclusive excellence.
"I feel privileged to have the opportunity to provide strategy and oversight to the institution on EDI," she says.
Hashmani comes from humble beginnings – much like many other immigrant families – in Thorncliffe Park and later Scarborough. Her passion and commitment for access and inclusion comes from her family's personal and lived experiences.    
Going forward, Hashmani hopes that strategic initiatives focusing on transformational change will create a space for EDI to be deeply embedded in the culture at U of T. As an advocate for EDI, she says that education and training is only one part of the equation and there is a real opportunity to be more holistic.
"We need to focus on building inclusive leadership throughout our community and campuses, be more data driven, develop priorities for further systemic change and engage authentically as all of our divisions and campuses feel and look differently," Hashmani says. "We need to start thinking about EDI as part of everybody's shared responsibility for it to make a dent and a shift in culture.
"Culture change doesn't happen overnight. We're making the steps that need to be put in place. We still have a long way to go."
Subscribe to the Bulletin Brief