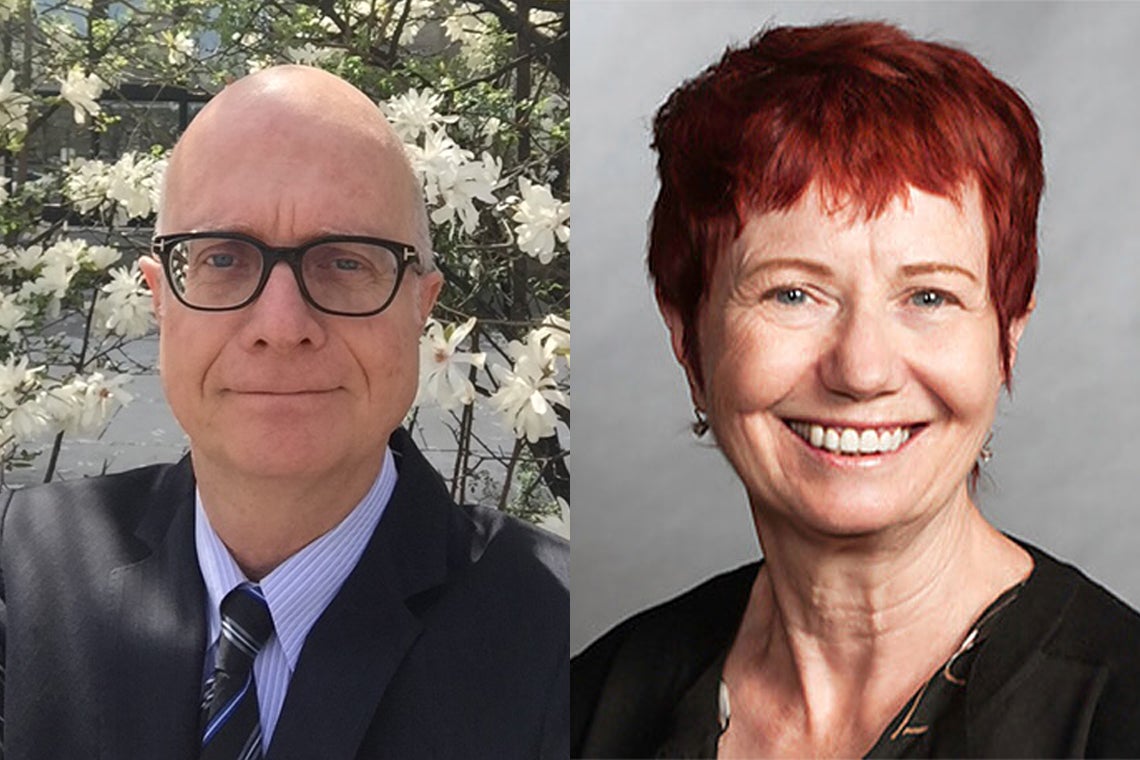 When the Landmark Project is completed, the plaza in front of Convocation Hall will include granite stones that pay tribute to the contributions to the University of Toronto of Chief Financial Officer (CFO) Sheila Brown and Senior Legal Counsel Steve Moate.
U of T celebrated the careers of Brown on June 28 and Moate on June 30 as they neared their retirement from the university. Colleagues, friends and family "gathered" by way of Zoom and presented Brown and Moate with the granite stones as a show of thanks for their decades of service.
"U of T's staff – who I often think of as our civil service – are essential to the operation and life of our university. Sheila and Steve are two giants of this community who have made an indelible and very positive impact over the course of their brilliant careers," said U of T President Meric Gertler.
Brown obtained a B.A. from McGill University and then joined U of T in 1973. "They put me in front of a manual typewriter and I got to work," she said. Over the next 48 years, she built her expertise in financial administration through a series of positions throughout U of T, including executive assistant to a former Chief Financial Officer, CFO in the Faculty of Medicine and Controller and Director of Finance for the university. During this time, she also earned her MBA from U of T and served on the board of the Canadian Association of University Business Officers (CAUBO), including two terms as President.
Brown was appointed the university's CFO in 2005 and "distinguished herself as a consummate professional who has consistently adhered to the highest standards," said Gertler.
Among her many achievements, she was praised for playing a key role in establishing the new University Pension Plan (UPP), which launched earlier this month after years of planning. The UPP – which includes U of T, Queen's University and the University of Guelph – is the first of its kind in Ontario's university sector.
"Sheila's work on the UPP will come to be seen as one of her crowning achievements," said Gertler. "You can imagine that effecting the transfer and management of our pension assets and management of member services to the UPP was an absolutely massive project. It has positioned us and our employees extremely well for the long term."
Scott Mabury, Vice-President, Operations and Real Estate Partnerships, called Brown a "trailblazer" in the Canadian university sector, noting her innovation in using the bond market to access external financing in support of the University's academic objectives.  "That strategy enabled U of T to build much-needed physical infrastructure and it inspired other Canadian universities to do the same."
Pierre Piché, Controller and Director, Financial Services, and one of Brown's closest colleagues, canvassed the staff of the Financial Services Division for their thoughts. Among the tributes – "Sheila has a passion for supporting the university's academic mission through administrative excellence." "She leads with integrity and compassion." "She helps us develop our own leadership skills, both internally and externally." "You can count on Sheila to develop a culture of trust, openness and inclusion." "She always encourages debate on various issues and takes the time to listen to points of view." "You have been a model for a generation of women in the financial world."
Moate attended University of Toronto Schools, obtained his B.A. at U of T's Trinity College and his law degree from the university's Faculty of Law.
He was called to the Bar in 1984, and practised employment law with the firm Hicks Morley until 2001. He was appointed as its first Director of Research, and later became a partner.  He joined U of T in 2002 as Employment Relations Legal Counsel and was appointed Senior Legal Counsel in the Office of the President in 2006.
"Steve has served this institution with dedication and distinction," said Gertler. "His loyalty to U of T stems from a deeply rooted commitment to the university's mission, a belief in the importance of what we are doing – and whom we are doing it for. This commitment is evident in everything Steve does, from expansive files like the University Pension Plan or free speech to those matters that touch on individual students and their lives. Steve's contributions have advanced the university's mission immeasurably."
All speakers at the celebration attested to Moate's ability to analyze legal matters clearly – and to do so with civility.
Said Provost Cheryl Regehr, "I have been exceptionally fortunate to have worked with one of the finest lawyers in the field in Steve Moate. His calm wisdom and strategic mind were invaluable to me."
Long-time colleague Nora Gillespie, Senior Legal Counsel, Division of the Vice-President and Provost said, "Steve is a consummate lawyer and a truly gentle person. It has been awesome to have him as a colleague. His brilliant legal mind, unimpeachable integrity, impeccable writing and total dedication to the university and his colleagues are unparalleled."
Kelly Hannah-Moffat praised how Moate could understand the nuances of university policy and its relevance to students, faculty, staff and librarians.
"You can cut through the complexity of any issue and define precisely and succinctly what the key elements are and what we need to address," said Hannah-Moffat, Vice-President, People Strategy, Equity & Culture.
"Beyond this, you have brought a sense of kindness to the workplace that I greatly admire. You've matched your commitment to this institution with a genuine concern for those you work with.  Thank you for doing everything you can to create a culture of caring at U of T."
And how are Brown and Moate feeling as they approach a new chapter in their lives? Both are deeply thankful to the U of T community.
"The university is a wonderful place to work and have a career," said Brown. "For administrative staff such as myself it's endlessly fascinating because U of T is large and diverse and there is such a wide range of opportunities. U of T creates environments where you're always finding something interesting to do. This has been a wonderful ride for me. To be part of this and to see the university change and grow and succeed, makes me feel privileged to have been part of it."
Moate referred to his long association with U of T, from high school through his post-secondary years and much of his career. "Some might say, 'That guy does not think far outside the box.' I prefer to say, 'If I have found a very good thing, I stick with it.' This is a great university. It has the highest standards because it is comprised of people with the highest standards. It is dedicated to the pursuit of truth and knowledge and I'm excited and optimistic about its future. It's been a great honour to have worked and studied here and to have been shaped by U of T in so many ways."
Search The Bulletin Brief