New upcoming Tri-Agency funding guidelines to be detailed at STAR conference, webcast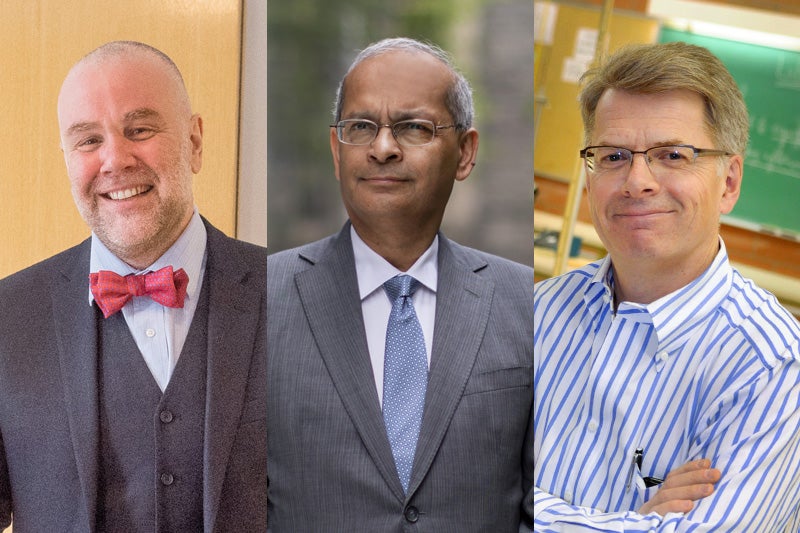 H. Bernie Kraatz, vice-principal, research, U of T Scarborough (left), Vivek Goel, vice-president, research, innovation and strategic initiatives (centre) and Kent Moore, vice-principal, research, U of T Mississauga will deliver the opening remarks at their respective campuses.
Behind the research and innovations by U of T's research community are the administrators, facilitators and business or financial officers that support this work. For a number of years, the Division of the Vice-President, Research & Innovation (VPRI) has organized and sponsored the STrengthening Administration of Research (STAR) program to provide learning, development and networking opportunities to these staff members.
A highlight of the program is the annual STAR conference, which in 2020 will be held on Feb. 19 at the St. George campus, Feb. 25 at U of T Mississauga and March 11 at U of T Scarborough.
Now in its sixth year, this year's conference theme will be "Guiding Success" and a key topic will be the updated Tri-Agency Guide on Financial Administration, which takes effect on April 1, establishing a 'principles-based' framework for the administration of Tri-Agency grant funds.
Details of this policy change pertaining not only to research administrators but also faculty members and researchers will be explained in an hour-long webcast on Feb. 19. Those who cannot attend the session in person are encouraged to register to watch the live-stream to better understand the implications of this change on Tri-Agency funded researchers and their teams.
"We are pleased to offer this live webcast to those who may not be able to attend the conference for the whole day," says Renee Brost, VPRI's chief administrative officer. "I invite anyone involved in Tri-Agency funded research to tune into the livestream to understand the change and how it will affect tri-agency research expense eligibility starting on April 1."
Supporting the administrative end of U of T's research and innovative activities is a key part of VPRI's mandate, according to Vivek Goel, U of T's vice-president of research, innovation and strategic initiatives.  
"VPRI is committed to supporting research and innovation at every stage," Goel says. "Staff across all three campuses are key to facilitating groundbreaking discoveries and are an integral part of our research teams."
Subscribe to the Bulletin Brief