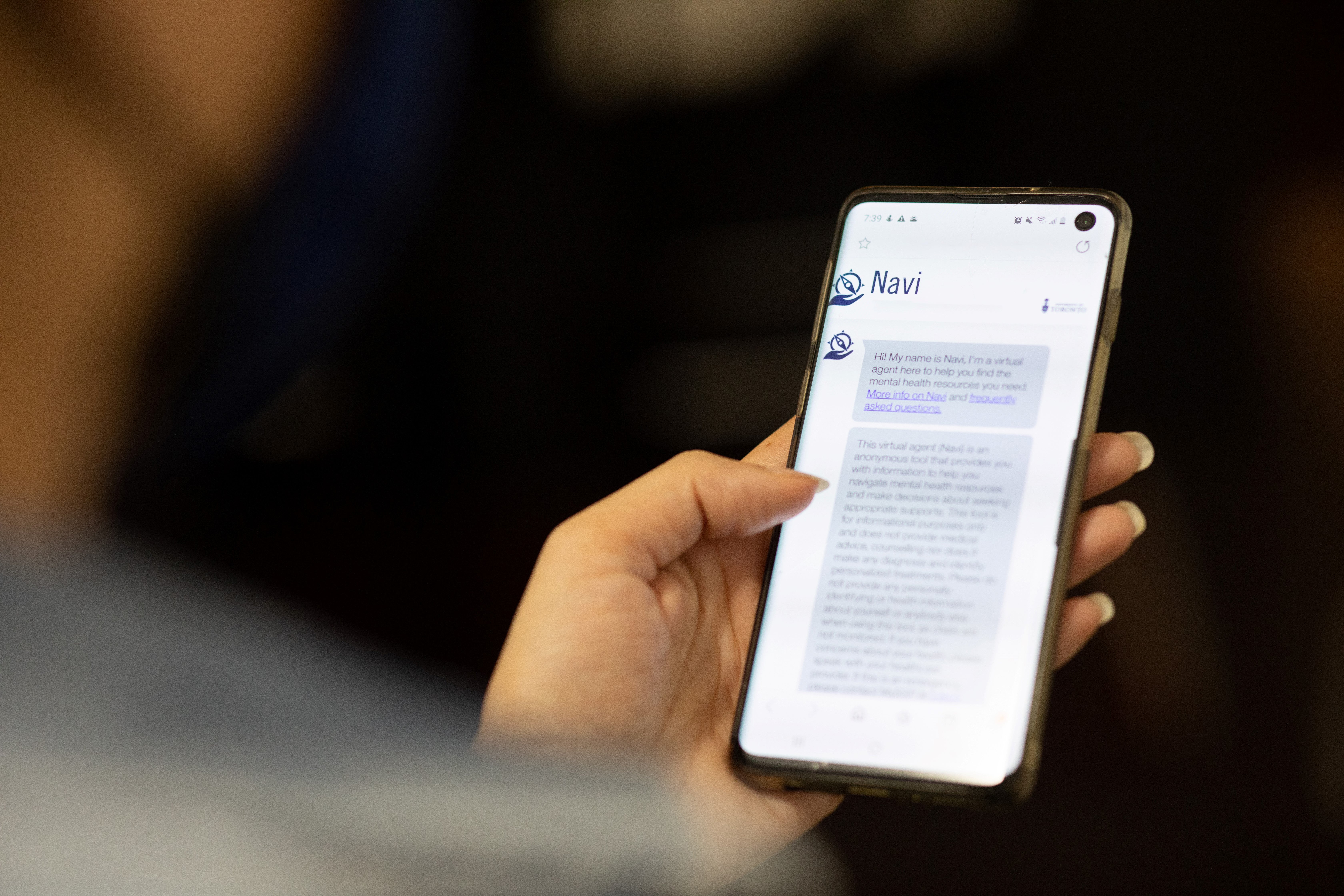 In August 2023, Navi is widening its scope to offer even more assistance to students, staff, faculty and librarians across the University of Toronto's three campuses.
The virtual assistant, originally implemented to help students access mental health resources on campus and in the community, is expanding to incorporate general U of T resources into its offerings, through the same easy-to-use chat interface.
"Navi has become a critical tool in helping students find mental health resources," says Sandy Welsh, Vice Provost, Students. "And now we have an opportunity to enhance the service it's providing. Allowing Navi to guide users to general, tri-campus resources helps Navi become a more robust tool that serves the U of T community on an even larger scale."
While Navi's commitment to connecting users with mental health supports remains, the tool will now include other on-campus resources such as study supports, finding community, how to connect with a registrar and more. The automated assistant uses a chat format, so users can communicate in full sentences instead of entering keywords. Typing phrases like "I'm having trouble sleeping" or "I want to learn how to take better notes" allows Navi to recognize what users need and quickly link to appropriate resources.
And it's not just for students, says Welsh.
"Navi is incredibly helpful for faculty and staff, staff, faculty and librarians as well. When a student or colleague asks for assistance, we don't need to have all the answers – we can use a tool that directs us to the appropriate resources. Navi can help us all become more familiar with the incredible programs and services offered across the University."
Welsh encourages all staff, faculty and librarians faculty to include the Navi widget on U of T webpages, and for student-facing staff, in their email signatures.
As always, information shared with Navi is completely anonymous and users are reminded that the resources and supports provided do not replace workshops or one-to-one conversations with experts.
To access the tool, visit uoft.me/navi.

 
Search The Bulletin Brief