How U of T squash coach, rock star and painter John Lennard hones his crafts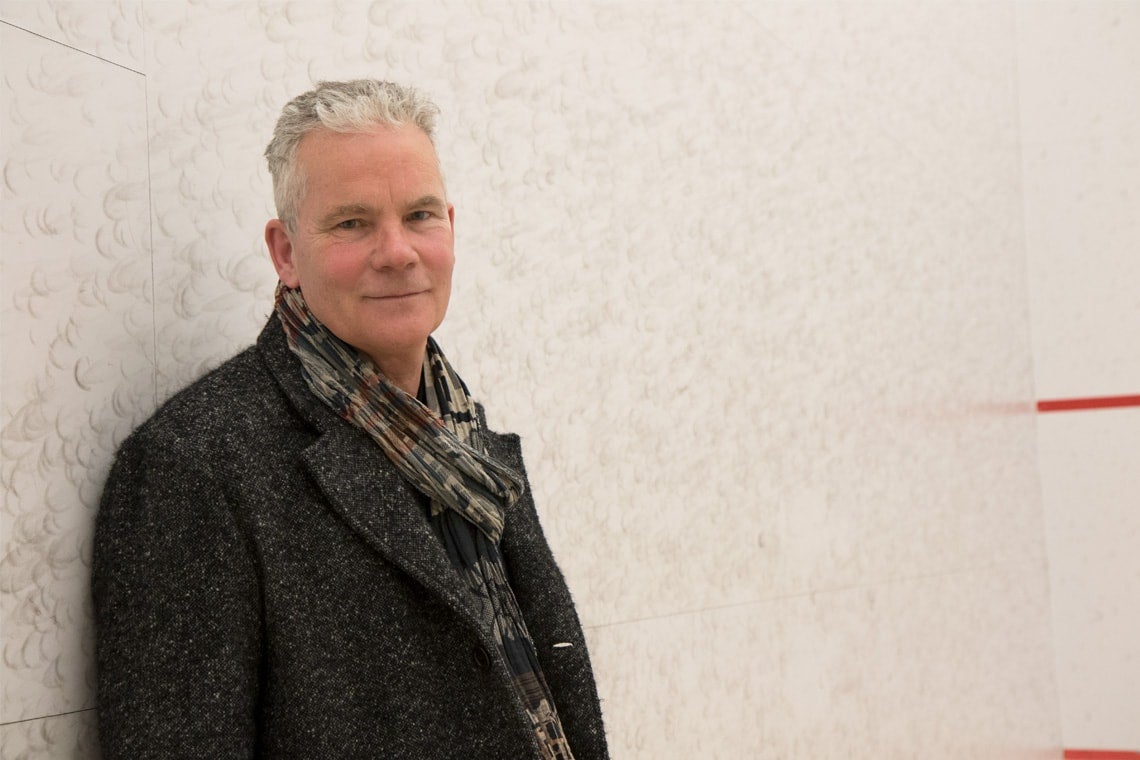 Varsity men's squash head coach John Lennard (photo by Romi Levine)
Finding fame as a musician, becoming a recognized artist and succeeding as a star athlete can be lifelong, singular pursuits – but John Lennard has managed to master all three.
Lennard is the head coach for University of Toronto's Varsity men's squash team, a member of the British post-punk band Theatre of Hate, which found success in the 1980s and continues to have a loyal following, and a painter whose art is on display in galleries across Canada.
Music and squash came early for Lennard. He began to play music when he was nine and squash when he was 14.
"I went for a lesson with this world-class [squash] player who phoned my mother and said I could be a great player if I worked at it," says Lennard. "I thought well, I was just watching TV so why not, and really quickly I was playing every day."
At 18, Lennard says he joined the national Canadian under 23 squash team and made the national men's team when he was 19.
Music remained his passion throughout high school and university, eventually luring him across the pond, the epicentre of the rock music scene at the time.
"If you wanted to be a musician in a band that was making waves, England was where it was at," Lennard says.
There, he found bandmates and formed Theatre of Hate, in which he played the saxophone. In a matter of months, the band was thrust into the limelight, quickly becoming a voice for disgruntled young Brits, he says.
"It's difficult to imagine here in Toronto what it was like in England because it was a time of real desperation," Lennard says. "The miners' strike, Margaret Thatcher, high unemployment, and youth were very restless so we were the band that kind of stood for all that."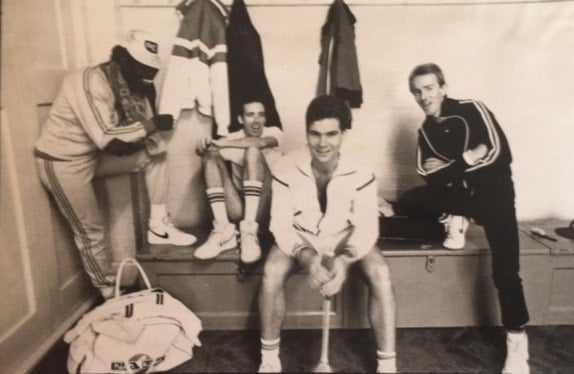 Lennard gave his musician friends a squash lesson (from left) bass guitarist Leo Williams, Mick Jones (guitarist for the Clash), Lennard, and Topper Headon (drummer for the Clash) (photo courtesy of Lennard)
Lennard, being a university grad and a competitive athlete, was the odd man out.
"I was used to being around students and these individuals had dropped out of school but they read more than I read, they questioned everything," he says.
"I always had a bit of a rebellious streak, otherwise I wouldn't have found it exciting."
Lennard says he loved the energy of being in the band, with which he toured Europe, enjoying the perks of rock stardom like staying at luxury hotels, playing alongside bands like the Clash, and appearing on the popular British music television show Top of the Pops.
While on tour, Lennard decided to visit the National Gallery in London.
"I turned to my girlfriend at the time and said 'you know something? I feel like I'm a painter'," he says.
Lennard had never before picked up a paint brush and wouldn't for another seven years when he was finally convinced to take a "class for terrified beginners," he says.
"I went in there and it hit me. I could see my whole life as a painter the first day," says Lennard.
He immediately started devouring art books and went on to study art in New York, Italy and Toronto.
Lennard's paintings can be seen at the Roberts Gallery in Toronto, the Theilsen Gallery in London, Ontario and the Masters Gallery in Calgary.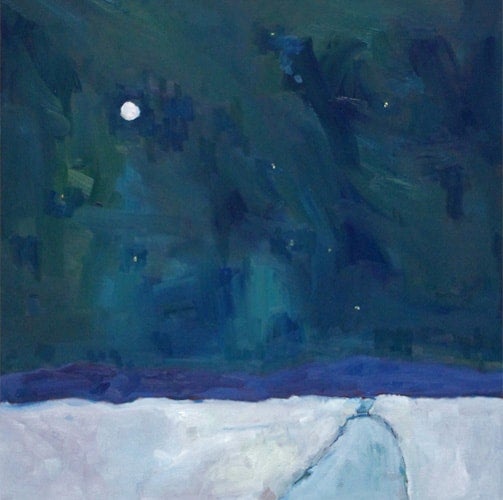 The Road Home, a painting by Lennard on display at Roberts Gallery
His paintings depict scenes from his travels and dreamy landscapes – but Lennard says his aesthetic is hard to define.
"I never try to define it because as soon as you define it it's standing still," he says. "There's certain elements of the classical language of painting that I like: Shapes, rhythms, forms, a sense of depth, a sense of tension – you take those and wherever you take them that's your own language."
Lennard continues to paint and play music, and for the past seven years, he's coached U of T's Varsity men's squash team. With Lennard at the helm, the team has ranked high at OUA tournaments and has won the Jesters University Squash League.
Despite embracing three very different pursuits, Lennard says he's "not the spontaneous kind of guy who flies off the handle."
His work ethic involves a great deal of discipline and says he often wakes up at 6 a.m. to train, paint or practice music.
Lennard shrugs off the rarity of finding success in multiple fields, owing it to a combination of luck and grit – the willingness to put himself on the line.
"You've got to be really comfortable out of your comfort zone – that's when it really starts to happen," he says.
"You have to not hang on to any kind of success," Lennard says, which reminded him of a silly, yet pertinent quote: "Your ego is not your amigo."
"If you start to think you're something special because you can do something well, that's where you stop," he says. "Some people spend a lot of time becoming something and spend the rest of their life defending what they are and I think that's fine but that will also keep you there."
Subscribe to the Bulletin Brief