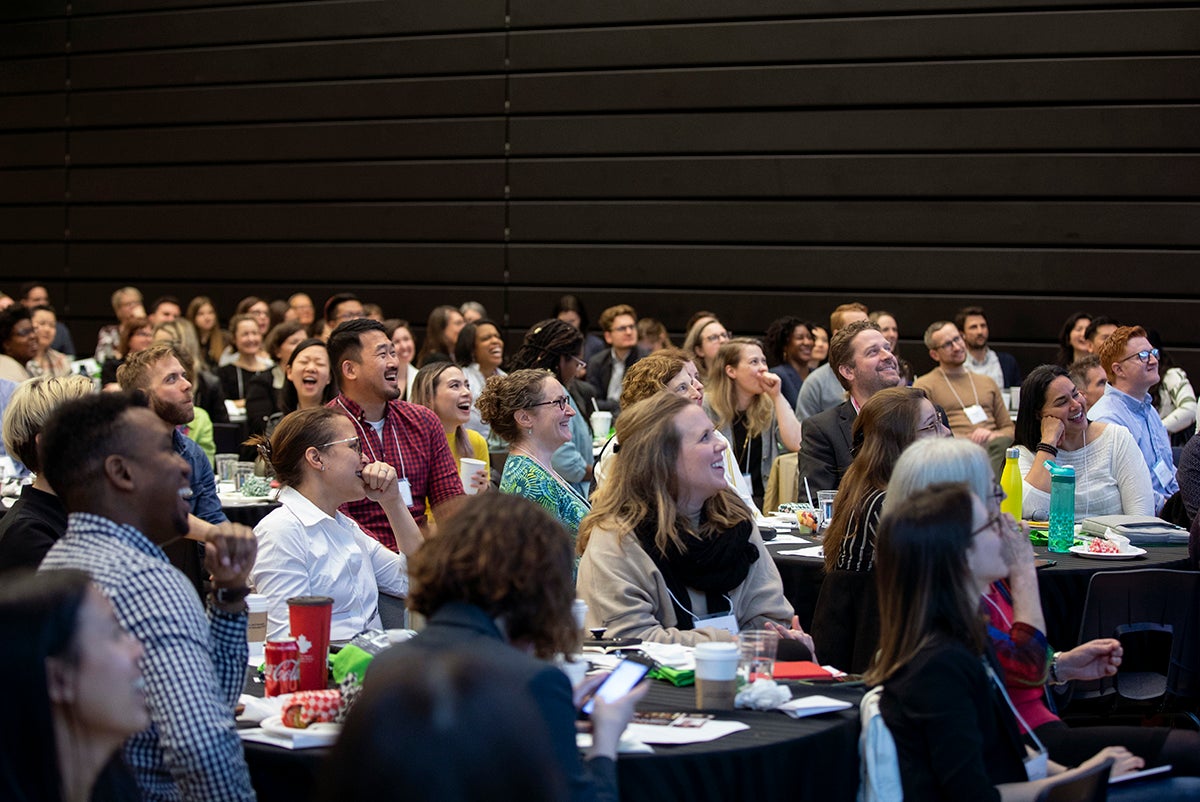 At the University of Toronto, the job of a communicator doesn't fit into a single box. From organizing events and publishing annual reports to handling media relations, U of T communications professionals perform many duties and are therefore constantly seeking to add to their skill set.
That is what U of T's annual Field Day conference – sponsored by University of Toronto Communications – is all about.
Now in its third year, the May 15 event at the Rotman School of Management's Desautels Hall boasted its highest-ever attendance, with more than 240 communicators representing all three U of T campuses sharing best practices and insights.
"Field Day has always been one of our favourite events as U of T communicators – it's such a joy to be a part of," said Larysa Woloszansky, a U of T media relations specialist who co-chaired this year's Field Day alongside Jesse Carliner, a communications and user services librarian at U of T Libraries.
"I thought that this was a really good opportunity to make an impact on how we learn across the university."
The pair added that the conference, which included keynote speakers and "caselet" presentations by U of T staff, is a chance to put names to faces of the many communications colleagues who may only know each other through email, while amplifying professional development within the university.
In his opening remarks, David Estok, vice-president of communications, noted the unique challenge and importance of communication in 2019.
"When 'fake news,' the 'deep web,' the fabrication of misinformation and the weaponization of content continues to grow, it is getting harder and harder to know what is actually true," he said.
"That is just one reason why our institutions are so important, why content with a purpose matters, why we continue to learn, grow and evolve to respond to the historic shifts in understanding, communicating and working with stakeholders.
"No mission can be achieved until it is communicated, understood, challenged and accepted."
This year's theme focused on the many aspects of storytelling, including how we tell stories and how we build trust and cut through the noise.
Jodie Glean, the director of U of T's Anti-Racism & Cultural Diversity Office, delivered a keynote talk on the importance of acknowledging our differences while maintaining a lens of inclusion.
"Every word, every photo that you use matters," she said, stressing the importance of representation and the value of considering diversity, equity and inclusion during a project's initial stages.
Journalists Elamin Abdelmahmoud from BuzzFeed Canada and Daniel Dale from the Toronto Star also delivered keynote talks – Abdelmahmoud on how to stand out in a crowded digital media environment and Dale on how to build trust in an era of fake news and misinformation.
Abdelmahmoud, who curates BuzzFeed's daily newsletter, highlighted the importance of "taking the internet seriously" in order to rise to the top in what he called "the attention economy." Dale, the Toronto Star's Washington bureau chief, stressed the value of confronting dishonesty face-on to foster trust with readers.
"Truth is a story in itself," said Dale.
Participants said they walked away from the conference with valuable insights and applications.
"I look forward to Field Day every year – the quality and the relevance of the sessions just get better and better, and the keynotes are so insightful," said Nicolle Wahl, director of content at U of T Mississauga.
"At the same time, it's also such a phenomenal opportunity to meet our colleagues in person – it reminds me of the scope of our community and refreshes my excitement about our role in U of T's success."
Carliner echoed the sentiment.
"David Estok's goal was to get all of us together and to get us excited because we are such a large institution," he said.
"Everyone is really excited about the work that we do as communicators and that's what I think Field Day is all about."
Search The Bulletin Brief