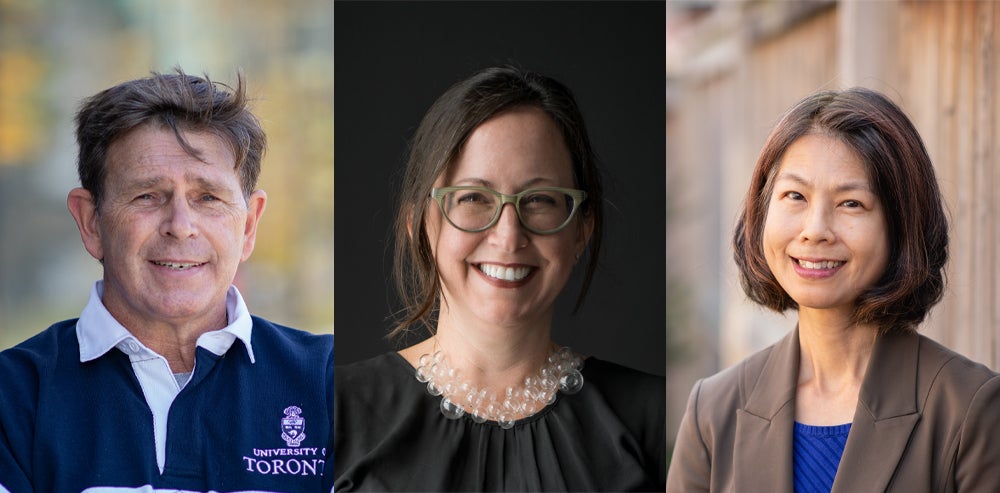 A recent policy change at the University of Toronto is bringing greater recognition of the teaching skills, leadership and enormous contribution of U of T's part-time teaching stream faculty.
Updates to U of T's policies approved by Governing Council in late October include an important title change for part-time teaching stream faculty members. Previously known as lecturers or senior lecturers, they will now be known as assistant professor, teaching stream or associate professor, teaching stream.
"The transition to professorial rank and title brings part-time teaching stream faculty in line with other teaching stream faculty at the university," says Heather Boon, U of T's vice-provost of faculty and academic life. "It acknowledges the enormous contribution our teaching stream faculty make to the university through superlative teaching skills, creative educational leadership and successful innovations in teaching."
Many of U of T's part-time teaching stream faculty members continue to practise in their professional fields and bring that expertise into the classroom. This real-world knowledge enhances the student learning experience and helps to provide a well-rounded education before they enter their fields.
"The strength of our teaching stream complement has made U of T a global leader in teaching innovation and a model for other universities provincially and nationally," Boon says.
More than 230 faculty members have now been appointed to a professorial rank. The Bulletin Brief spoke to three faculty members to find out more about their teaching philosophies and the importance of bringing their practical experiences to their classes.
Elise Shelley, assistant professor, teaching stream, John H. Daniels Faculty of Architecture, Landscape, and Design
For landscape architect Elise Shelley, teaching was always a part of her professional plan. As a student, she had found value in receiving instruction and insight from professors who continued to practise outside of academia.
"The question for me has always been about finding the balance between teaching and practice," says Shelley. "It's important for me to be able to continue to work on professional projects that allow me to keep up to date with all the technical requirements involved with being a landscape architect."
Shelley, who joined U of T in 2003 and is currently the director of landscape at multidisciplinary firm GH3, says the courses she teaches at U of T focus on the technical aspects of the discipline. With some of her work in plain view in public spaces, including on the St. George campus, her students are able to witness a concept from the drawing board to reality, which makes her role all the more exciting.
"Throughout my time at U of T I've had an amazing array of roles and chances to teach," she says. "It's a wonderful thing that I've had the versatility of practice."
Maintaining a balance between research and practice is one she acknowledges can be a challenge in a typical academic setting, which is all the more reason Shelley appreciates the professorial designation.
"It takes a special investment in the academic program to try to split oneself between the teaching and the practical component," she says. "It's not always easy, otherwise I think more people would try to do it. What's great is that this title change gives more stability and legitimacy to the role and value of part-time teaching faculty."
She adds that teaching at the university is something is something she's very committed to and this new institutional policy recognizes the critical role of part-time teaching stream faculty members. 
"It's a different type of expertise that is very important," Shelley says. 
Debbie Kwan, assistant professor, teaching stream, Leslie Dan Faculty of Pharmacy
As the academic lead for preceptor education and engagement at the Leslie Dan Faculty of Pharmacy, Debbie Kwan's focus is on creating an exceptional experiential program for students. Preceptors are clinical and non-clinical supervisors for fourth-year students in the doctor of pharmacy program.
By teaching the teachers, Kwan understands the value in bringing her combined experience as a preceptor and educator to the program. 
"It's really important that if we are providing education to our preceptors, we have a good perspective on current practice, issues, pressures, opportunities and insights," Kwan says. "Being actually immersed in it as a practitioner is a really good way to experience first-hand what our preceptors go through day to day."
Kwan first joined the university in 1998 with an academic appointment through the University Health Network. Her experience in the Education Scholars Program through U of T's Centre for Faculty Development piqued her interest and caused her to shift her focus to preceptor education. In 2017, Kwan was appointed to a part-time teaching stream faculty position.
"The new professorial designation is great recognition for all our part-time teaching stream faculty and the work they contribute to the university," she says. 
Still, at the end of the day, Kwan's ultimate satisfaction is knowing that her students are learning in a meaningful way. She's focused on helping preceptors to hone their teaching skills, which is a new experience for some of them.
"In a clinical setting, you're working with real life patients at the same time that you're trying to teach a student – and both are important," she says.  "We want to ensure that everyone gets the best the educational experience, both preceptors and students. This really increases the satisfaction for everyone involved."
Wade Knaap, assistant professor, teaching stream, Forensic Science, U of T Mississauga
After a 35-year career with the Toronto Police Service, teaching has become a second career of sorts for U of T Mississauga's Wade Knaap.
"What I really enjoy, and this was true even when I was in the police force, is sharing knowledge, experiences and hearing stories from other people," says Knaap. "Everyone has a story to tell, including the students. It's great that I can contribute, in some small way, to their educational and personal growth that will benefit them as they go forward."
The former forensic identification training coordinator joined the university as a sessional instructor in 2010. When he retired from the force in 2013, he was brought on in a part-time teaching stream role.
Knaap, whose courses focus on the technical and practical aspects of forensic science, says he believes students value someone who has "walked the walk and talked the talk" in order to apply theory into reality. Using real examples of cases that he has worked on has helped drive home what field work is really like.
"I talk to the students about how there's no one person responsible for solving all the crimes," Knaap says. "It's a collaborative effort and as a forensic investigator you're one cog of that team. Working in harmony with one another to successfully to conclude a case is what's very rewarding."
What Knaap finds ultimately rewarding is observing students' progress over the years: witnessing their graduation, employment and other life changes. 
"And what's heartening is that sometimes they come back," he says. "They continue to have a great relationship with us as faculty members."
Knaap was recently recognized with the U of T Mississauga Teaching Excellence Award for Sessional Instructors – an honour he refers to as the "pinnacle" in both his policing and teaching careers.
"It was such an honour for me to have that distinction and to now be designated with a professorial rank," he says. "It's a thrill to teach and be associated with U of T and U of T Mississauga."
Search The Bulletin Brief