Eager to learn new things and stay connected, U of T's Senior College goes virtual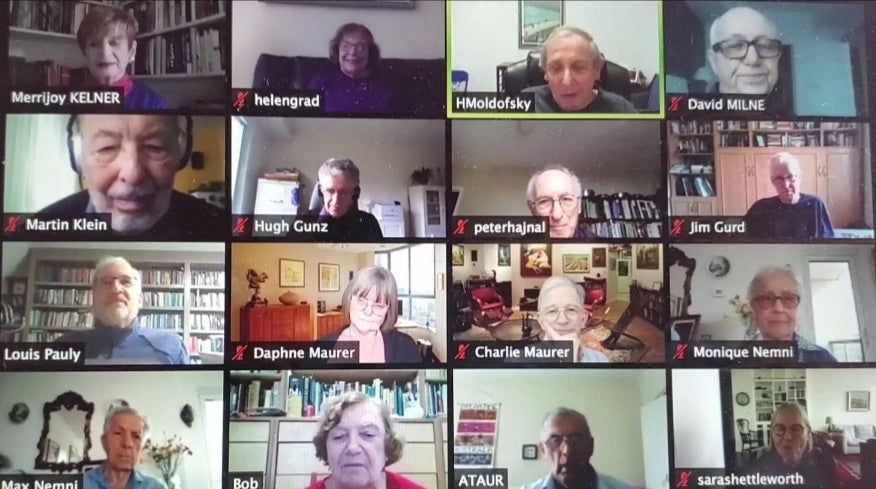 The Senior College book club recently met online as seen in this Zoom screenshot.
For many retired librarians and faculty, the University of Toronto's Senior College provides a welcome opportunity to continue a journey of lifelong learning – through weekly seminars, excursions, book clubs and more.  All retired faculty and librarians automatically become members of Senior College upon their retirement from the University. 
But when the COVID-19 outbreak was declared a global pandemic in March, all in-person events were cancelled, including the group's final two weekly seminars and annual colloquium scheduled for April.
"We were disappointed, of course, but we took it in stride," says Harold Atwood, principal of Senior College. "We had to do it protect our members. We're all retirees and in the age group that's particularly vulnerable to the virus. We realized we couldn't put people at risk."
For Vennese Croasdaile, who has been the group's administrator for the last six years, it was most disappointing not to be able to see the group's members in person regularly. "I've gotten really fond of them and they of me," she says. "They're a great group of people. I love speaking to them."
Croasdaile wasn't going to let the year's big events fizzle away as the doors on campus were shut to non-essential activities. She was already accustomed to the "new normal" of video conferencing, thanks to her church, which had moved its meetings and services online. Leveraging her professional background in information technology, Croasdaile was able to convince Atwood and the rest of the members that they could continue their activities via video conferencing platform Zoom.
Vennese Croasdaile.
A number of training sessions were quickly set up and Croasdaile and Atwood found that the majority of the members were eager to learn the technology.
"It was a bit of a learning curve, but most of the group are happy to work and meet in this way," says Atwood. 
Croasdaile emphasized the tenacity of the members, many of them innovators in their fields.
"In one of my recent Zoom training sessions, we had a member who had recently turned 90 years old and she never gave up," she says.  "They may be retired, but they're librarians or professors. Many of them have paved the way for Canadians in their respective fields, so they're not hesitant to try new things."
According to Croasdaile, the members are still continuing to use email to communicate with each other, but are appreciating the ability to see each other. "When they come online and see each other, there's just a delight on their faces!" she says.
Although her job is technically administrative, Croasdaile makes it a point to keep in touch with and call members, especially if they're regular attendees but haven't been in touch for a while. 
"Vennese has been checking up on the older members to see how they're doing – the ones who are more vulnerable and isolated," says Atwood. "She sees how they're managing and keeps us all up to date on how everyone's doing. She really cares and has a genuine interest in making a connection."
"Senior College plays an important part in keeping retired faculty members active in our academic community," says Heather Boon, U of T's vice-provost, faculty and academic life. "It's wonderful to see them joining the rest of the U of T community by connecting and engaging virtually during these challenging times. My kudos to Vennese and the executive committee for taking the lead in the online transition."
Croasdaile says that continuing these online events for Senior College not only helps the members, but it enriches her life too. "These meetings are very important to the members and they're important to me too," she says. "Because we've been connecting in this way, the group members now feel more motivated to check in with everyone. It's inspired other ways that they can touch base with each other and enhanced our already strong sense of community."
Subscribe to the Bulletin Brief