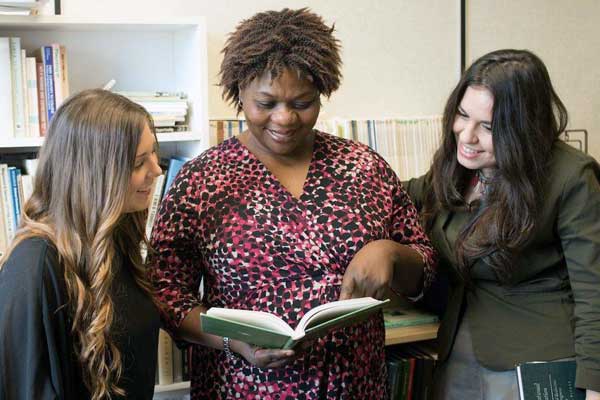 Zimbabwe journalist in exile finds a home at U of T
Scholars at Risk Network helped Farai Gonzo when she needed it most
As a girl in a rural Zimbabwe village, Farai Gonzo would wave at airplanes in the sky but never imagined flying in one.
Today, with the help of Massey College and the international Scholars at Risk Network, the former radio journalist is a PhD candidate at the University of Toronto.
Gonzo, now at the social justice education department of U of T's Ontario Institute for Studies in Education, put herself in harm's way in Zimbabwe by working as a radio broadcaster and drawing attention to the demolishment of areas occupied by homeless people who had no other places to settle.
"This was during a very volatile political era when new opposition political parties were emerging," Gonzo explains. Such investigative reporting eventually led to her arrest, imprisonment and torture.
But not before she had helped to mobilize NGOs and even government agencies with her broadcasts. One notable result of her radio work was a six-year commitment by a health company to supply sanitary towels for girls in four rural schools and condoms in rural beer halls.
Her radio programs also led to sourcing boreholes in six villages, relieving children of the need to travel five kilometers to fetch water. Another positive result was the dispatching of a mobile registration van to rural areas to issue birth certificates to undocumented children. Without such documentation, children cannot go far in school. 
The University of Toronto and Massey College have long been part of the international Scholars at Risk Network, which is headquartered at New York University. It promotes academic freedom and defends human rights where scholars "are attacked because of their words, their ideas and their place in society." The Network brings distinguished academics and students out of oppressive and violent situations and provides humanitarian assistance.
This is not the first time Gonzo has been recognized for her work as a journalist. In 1995, she was awarded a fellowship by the Dag Hammarskjöld Fund for Journalists. She was then seconded to the United Nations headquarters in New York where she was a reporter for United Nations radio.
The Scholars at Risk Network opportunity came at just the right time.
"They found me when I was at my lowest ebb in life and had lost all hope, especially being alone in a new country," Gonzo says. "They helped me build my confidence assuring me that my future would be bright – first attaching me to Centennial College and my subsequent junior fellowship at Massey College."
As an OISE PhD candidate Gonzo is investigating how radio may ease transition to life in Canada for new immigrants. In Zimbabwe and much of Southern Africa, the radio plays a prominent role in daily life, bringing people together, preserving language, promoting culture and disseminating information. 
Such stations, Gonzo argues, might aid those who feel lost, disconnected, and without community after immigrating to Canada. 
"I truly love OISE – the professors and my fellow students," Gonzo says. "They make me feel accepted and at home. It is like learning while you are in your own house. People are supportive. The classes that I have taken so far will definitely inform my thesis in a big way."
In September, U of T pledged to expand its Scholars at Risk program to include Students at Risk. The goal is to create a $1 million fund to support 100 new bursaries, with U of T matching all donations up to $500,000. The bursaries will go to undergraduate and graduate students with refugee status in Canada.
The 10-year program will first focus on providing bursaries to Syrian students at risk and then be broadened to help other refugees.
Gonzo can no longer travel to Zimbabwe, but she has not lost touch.
"Whenever I get the opportunity, I am happy to support girls in my own rural school area by buying materials for school uniforms and netballs," Gonzo says."Growing up in a village... for homework, we would level the ground and use our fingers to write. Still, life was full of joy. We would wave at airplanes in the sky but I never imagined flying in one. 
"Looking back at where I come from, I remind myself that I did know I would be here in Canada and therefore I am hopeful in anticipating even better opportunities in my life."
Read a report in the Toronto Star on the Scholars at Risk Network that brings to light the dangers Gonzo and others faced in their home countries.