'You cannot defeat me': U of T grad Noura Al-Jizawi, a leader of the Syrian uprising, takes on a new challenge
Syrian activist Noura Al-Jizawi forged a relationship with the University of Toronto's Munk School of Global Affairs & Public Policy long before she enrolled as a student.
Her introduction to U of T came via the Munk School's Citizen Lab in 2016, when researchers helped Al-Jizawi, at the time a leader of the Syrian uprising against the regime of Bashar al-Assad, thwart a hacking attempt on her email address.
The attack, Citizen Lab discovered, was part of an elaborate cyber-espionage campaign operating out of Iran, which they detailed in an explosive report.  When the investigation concluded, the researchers invited Al-Jizawi to participate in the Citizen Lab Summer Institute (CLSI), a workshop for practitioners working on Internet openness, security and human rights.
"It was an amazing starting point. The Munk School community is a welcoming community," says Al-Jizawi.
"I started meeting some professors and found myself saying 'I need to go to the Munk School.' I didn't apply to any other schools. I put all of my hopes in one basket."
Before U of T, Al-Jizawi had been pursuing a master's degree in comparative literature in Syria. But her duties were split between academics and activism. Al-Jizawi spoke out against the regime and organized pro-democracy protests, ran a blog and, at one point, became a vice-president of the National Coalition for Syrian Revolutionary and Opposition Forces. It was dangerous work; Al-Jizawi was arrested multiple times, detained and tortured.  
"I almost finished my master's, but without a diploma. They didn't allow me to defend my thesis because I was detained," she says. "My supervisor was detained as well. All the time, I was thinking, 'How am I going to continue my studies?'"
The answer was the Master of Global Affairs (MGA) program. In 2017, with help from U of T's Scholars-at-Risk program, Al-Jizawi arrived in Toronto for her first day of class, seven months pregnant and ready to shift her academic focus.
"I decided to challenge myself. In the first year, I tried to avoid anything focusing on Syria," she says. "I tried to avoid any classes related to justice or human rights because I thought 'I need to try something new.'"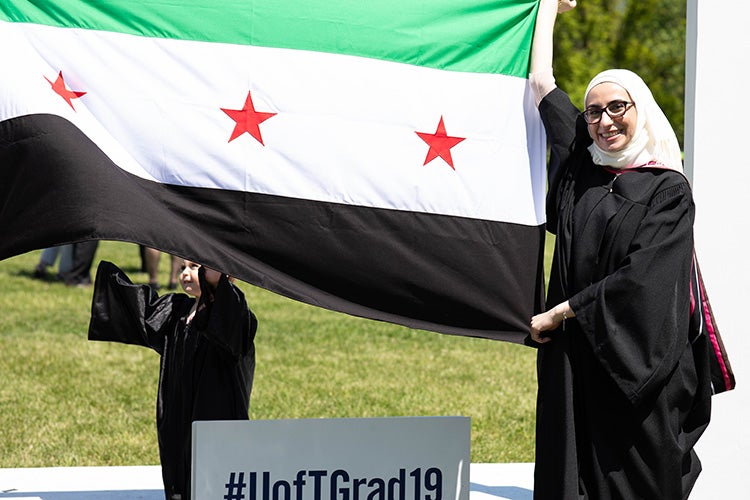 Noura Al-Jizawi and her daughter display the Syrian independence flag after convocation on June 7, 2019 (photo by Lisa Lightbourn)
The appetite for change led Al-Jizawi to study innovation and artificial intelligence for her MGA capstone project. She also became a student researcher with the Munk School's Reach Project, where she is studying Guinea's malaria program. She is scheduled to travel to Guinea this summer to conduct field research.
"It's my first trip to Africa," she says. "It's my first time focusing on health issues. Everything is new."
Although Al-Jizawi relishes her new experiences, she acknowledges the road to convocation has had its challenges. The MGA represents her first time studying in English; her previous lessons were taught in Arabic. She also gave birth to her first child, a daughter, in her first year of study, shortly after fall exams.
"I went to the hospital and told my doctor: 'I'm ready to give birth now. I'm done with midterms,'" she says.
Ten days after a caesarean delivery, Al-Jizawi was back in class. She used the winter break to catch up on the assignments she missed while she was in the hospital.
"I got a hand from the professors and support from all the people around me – it was amazing."
Al-Jizawi plans to cross the stage at convocation with her daughter, whom her classmates refer to affectionately as the 'MGA baby.'
"I imagine the moment I hold my diploma," says Al-Jizawi. "It's going to be the moment I defeat the dictators in Syria, because it's going to send the message: 'You cannot defeat me. I'm the one who's going to win.' I want my daughter to hold my diploma with me."
Al-Jizawi's time as an MGA student may be ending, but her relationship with the Munk School is far from over. Her winding journey has led her right back to Citizen Lab, where she currently works as a research assistant.
"Munk School is not only a school, it's an amazing journey for endless learning," she says. "At Munk School, we are home."
UTC