Yoga, Jane Eyre and self-actualization: U of T grad students use storytelling to explain their research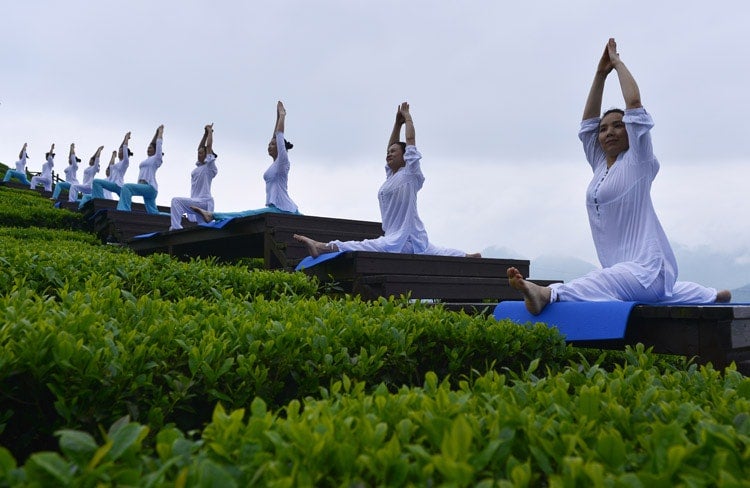 Does early morning yoga change the way you think? U of T grad student Nicholas Hobson thinks so (photo by VCG/Getty Images)
Does your early morning yoga actually change the way you think? Yes, according to the research of Nicholas Hobson (department of psychology) into the effect of ritual behavior on cognition. Can that treasured copy of Jane Eyre inform current debates about sexual consent on campus? You bet, argues Elissa Gurman (department of English). Can social media make a difference in how trans people self-actualize? Kinnon MacKinnon (public health sciences) would say so: "Transitioning sexes is inherently an emotional and embodied process that, when described only in text, can be lost on the audience."
These three PhD candidates are attracting attention – and acclaim – not only for their research, but also for their ability to communicate that research to others. All three are finalists in the Storyteller competition funded by the Social Sciences and Humanities Research Council (SSHRC).
The competition, now in its fourth year, invites students to present a condensed explanation of their research. Out of 188 submissions, the three University of Toronto students' videos were among 25 chosen as finalists, winning the chance to participate in SSHRC's Storytellers' Showcase at the council's annual Congress in Calgary – and $3,000.
In the lead-up to this summer's showcase, SSHRC will be featuring five finalists on their website each week; Gurman will be in the spotlight on Tuesday, April 26; Hobson and MacKinnon take their bows on May 2.
Gurman is no stranger to explaining her research while a clock ticks; she was the university-wide runner-up in 2015's Three Minute Thesis contest, and her work has featured on CBC Radio's Ideas. Adjusting to a new medium was another matter: "I found it challenging to seek out and source images that would enhance my presentation; creating a dynamic visual presentation was essential for this competition."
For Hobson, using social media to disseminate his research is nothing new. "Beyond sharing my own research, Twitter instantly connects me with other researchers' newest findings," he says. The ritualistic aspect of storytelling, though, was new. "The ironic thing about the Storytellers competition is that the process itself is sort of like a ritual. Rituals evolved culturally out of the human ability to construct narratives – to tell stories."
The irony is even deeper for MacKinnon, a community-based researcher and activist who examines the use of video blogs by trans people to document their transitions. "Yes, my piece is intentionally quite meta, in that it's a video generating curiosity about the ways that trans men use video to document their transitions from one sex to another."
It seems fitting that all three master storytellers actually research how human beings use and understand stories. The competition is a part of a growing recognition that scholarship needs to be shared to have value. The Ontario-wide Three Minute Thesis contest is in its fourth year. And the National Science and Engineering Research Council has launched a video competition of its own, Science, Action!, won by Darius Rackus (department of chemistry), with his video Shrinking the Lab.
And it seems even more fitting to give these storytellers the last word. Gurman found the contest pushed her to consider the broad implications of her research. "Condensing my research down was all about making choices: what did I most want to share about my work?" Hobson concurs: "As grad students, we often get stuck down in those weeds, forgetting that there's a whole world out there interested in our research."