'Written in blood': U of T prof explores turbulent history of Caribbean in new literature seminar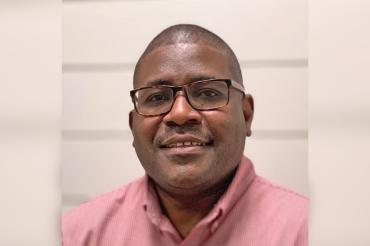 If there were a prize for the course with the most intriguing name, Conrad James's class would be a strong contender. 
The new associate professor in the Centre for Comparative Literature in the University of Toronto's Faculty of Arts & Science teaches "Written in Blood: Caribbean Readings in Conflict and Healing," a graduate seminar that explores bloodlines, bloodshed and even bloodwork as it relates to disease, as a means to examine the complex and often violent history of the Caribbean. 
"The course focuses on blood as a historical question, as a political question, but also as a methodological question – how you can use the concept of blood to make sense of history," says James. "We also talk about bloodshed and its pivotal role in shaping the consciousness of the contemporary Caribbean."
James, who previously taught at universities in the U.K. and the University of Houston, said he was impressed by the energy and enthusiasm of his students.
"The class is comprised of lively graduate students from different parts of the world, and they bring rich perspectives to the discussion of the material," he says. "They also make suggestions based on their lives which illuminate the texts in ways that I had not thought about."
Although interested in all Caribbean writing, James describes his area of expertise as the literature of the Spanish Caribbean – which extends beyond Cuba, the Dominican Republic and Puerto Rico. 
"I also focus on Colombia, Venezuela, Costa Rica, Panama and the Caribbean coast of Mexico," he says. "That allows for a much more expansive and far-reaching investigation of the influence of the Caribbean."
So how did James, who was raised in Montego Bay, Jamaica and obtained a PhD in Latin American literature from the University of Cambridge, come to adore Spanish Caribbean writers and literature?
"This might not sound very academic, but when I first encountered this literature, I found it delightful, extremely sensual," he says. "There's something specific about the Spanish Caribbean that draws you in at a very visceral level."
Cuba, which appeared to punch above its weight in global politics, became a subject of fascination for James. "I was interested in how this small island had effected a lot of change in cultural and political terms."
James aimed to fill a gap in the discussion of Afro-Cuban literature with his 2019 book, Filial Crisis and Erotic Politics in Black Cuban Literature, focusing on Black Cuban writing and the themes of family, love and erotic politics.
James has plenty of recommendations for readers interested in Spanish Caribbean literature – starting with writers who had a profound impact on him: Cuban novelist, essayist and musicologist Alejo Carpentier (1904-1980), for example.
"El reino de este mundo (The Kingdom of This World) was one of the books that was pivotal for me in my early training as a student, to understand how the Caribbean was a really important location from which to understand and reinterpret the history of the world," he says.
Another writer he recommends is the Dominican poet, writer and diplomat, Manuel del Cabral (1907-1999). His 1973 novel, El Presidente Negro (The Black President), pictured a world where the United States elects a Black leader.
Many of these writers express themselves in what James describes as a uniquely Spanish Caribbean voice. Cuban novelist Mayra Montero "is a fierce literary arbiter for environmental justice in the Caribbean," he says. "Her novel You, Darkness is spectacular."
And James calls Frank Báez of the Dominican Republic "a young poet who is a must-read."
"His work is richly musical and decidedly transnational. I highly recommend the bilingual collection of poems, Last Night I Dreamt I was a DJ," he says.
When he's not teaching, James is busy with exciting research projects, such as an upcoming book called In the Path of Sun and Snow: the Transnational Geographies of Caribbean Culture.
"It traces the construction of Caribbean cultures in places you would not expect to find it," says James, who explores pockets of Caribbean culture in areas of Spain, parts of South America such as Argentina and even Bavaria.
"I'm tracing the different patterns and trying to show that Caribbean cultures create their own geographies, and they defy the traditional expected bounds of limitations."
James is also working on a research project that explores African theatre and performance in Cuba, home to his favourite city in the Caribbean: Santiago de Cuba.
"It reminds me of when I was a young child growing up in Montego Bay," James says.  "It's really interesting because Cuba has an image of being highly Spanish – and by that, I mean Hispanic. But if you go to Santiago de Cuba, it's very African."
After the Haitian Revolution (1791-1804), many French landowners fled Haiti for Cuba for fear of their safety and took with them large groups of Haitians, James says.
"So you have an established Haitian culture. Then you have people from the English-speaking Caribbean, like Jamaica and Barbados, and they have their cultures there. And then you have the Spanish. So this is a tremendous mix in a small space, it's very vibrant.
"And that's what's so interesting about the Caribbean – how global it is, but also its position as a conduit through which we can reinterpret the world at large."
Arts & Science