When SJ Sindu was younger, she couldn't wait for her annual family vacations to Scarborough.  
"Scarborough was a completely different world to where I grew up," says Sindu, an assistant professor in the department of English at U of T Scarborough.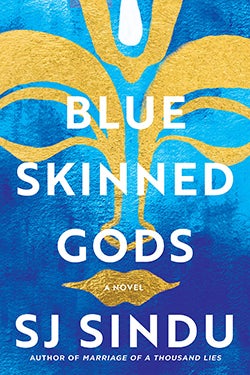 "You could go to Tamil stores, get Tamil food, and just be surrounded by Tamilness. That was very meaningful to me."
She says her early experiences – growing up in a conflict zone, immigrating to the U.S. and exploring her own identity as a Tamil living in the mostly white, suburban town of Amherst, Mass. – were instrumental in shaping her voice as an author.
Her first novel, Marriage of a Thousand Lies, tells the story of Lucky and her husband Krishna, who married to hide the fact they are gay from their conservative Sri Lankan-American families. Her new novel, Blue-Skinned Gods, follows Kalki, a boy born with blue skin and black blood who is believed to be the reincarnation of Vishnu. He begins to doubt his divinity as his personal life and relationships fall apart, then moves to New York where he becomes embedded in the underground punk scene.  
Published in Canada by Penguin Random House, the book was described by Roxane Gay as a brilliant novel "that will take hold of you and never let you go" and received glowing reviews in The Guardian and The New York Times among others. It will launch at Glad Day Books as part of their Naked Heart Festival on Dec. 18.
UTSC News spoke to Sindu about her early influences and how faith, identity and family continue to shape her writing. 
---
How have your early influences shaped you as a writer?
I was born and lived in the northeast part of Sri Lanka until I was seven years old. A lot of my childhood and early years were shaped by the war, and being a Tamil living in Jaffna during the war.
The other was immigrating to the U.S. I was very much isolated as a kid. There were other Indians around, but there weren't Sri Lankan Tamils. So I read a lot of books and escaped into stories. It was a way to cope with being taken out of a war situation and put into this very suburban American life without any peers or ways to explore my own identity.
Did you always want to be a writer?
I didn't really start writing until I was in university. In fact, I started out in computer science and then fell in love with creative writing. I just loved the potential that writing fiction had for communicating the ideas that were obsessing me.
Where did the inspiration for Blue-Skinned Gods come from?
Partly the inspiration came because I lost my faith in religion. I was raised Hindu, and as a teenager I started to lose my faith and began to explore atheism. At the same time, my family became increasingly religious. So I wanted to explore that relationship. 
I also saw a documentary by Vikram Ghandi called Kūmāré where he pretends to be an Indian guru and ends up gathering this large following. I was also closely watching the growing popularity of the BJP, a right-wing nationalist party in India, and interested in exploring what it meant to have a strain of fundamentalist Hindus on the rise in India and how that might affect the region.
In your first novel, Marriage of a Thousand Lies, you also explore themes of identity, sexuality, faith and family. Why do those themes inspire your writing?
There are things I'm still trying to work out in my own life. I'm trying to figure out my relationship with my family, especially my extended family now that I'm living in Toronto. How to be part of a family that fundamentally rejects parts of who I am – the queerness, the atheism, the progressive beliefs I hold. Negotiating that with the older family members has been interesting. I'm still trying to figure it out, and I think I explore those things in my writing.
Did you have a favourite book, or one that influenced you as a writer?
There are two. The first is The Things They Carried by Tim O'Brien. It was the first novel I read where I realized that I should and could write about my experiences with war. It's the book that made me want to be a writer.
The second is Funny Boy by Shyam Selvadurai. For the first time I saw Tamilness and queerness explored together, and that was very important to see, especially in my development as a writer.
What advice do you have for your students and aspiring writers?
Write the stories you want to read. Many of my students at UTSC are racialized, many are from immigrant families, and they haven't read a lot of stories that reflect that experience. I hope they can be inspired to write about their own experiences.