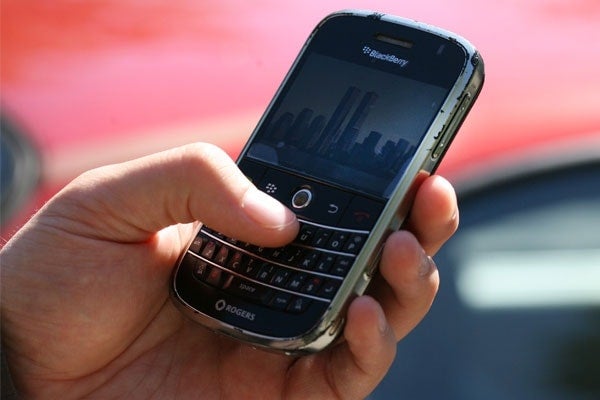 Would current technology have made a difference in our understanding of 9/11?
Two U of T professors discuss smartphones, social media
"Osama bin Laden is dead! Hurricane Irene is a Category 5! It's a Conservative majority!"
 These are just some of the news events that may have been on Twitter or Facebook feeds in the last year.  Many people access social media to receive their news today using technology that was not around in 2001 when the Twin Towers went down on 9/11. Had social media been available back then, the aftermath of this catastrophic event would likely have been different.
Professor Megan Boler, a professor of theory and policy studies at OISE whose research looks at the way different kinds of media were used to express dissent and question mainstream news propaganda after 9/11, says the way we remember 9/11 would have been somewhat different especially for victims' families, had social media been around.
"We would have perhaps had additional images; the speed and the glut of information that would have passed through social media would have been enormous," she said. While cellphones were used 10 years ago, she noted, social media provides an instantaneous way to access news and information that regular texting may not do as well.
"At the time there was a crisis of people trying to get information; it was a horrible process of trying to figure out who was in that building," said Boler.   "One thing that we would have had is a lot more instant communications of those images and information.
"Had there been cellphones with social media people could have sent those photographs and messages in a more instant manner.  I'm sure there would've have been more stories from the victims that might have gotten out before they lost their lives."
Tom Vassos, an instructor at Woodsworth College who has looked at the role of social media in election coverage, agrees that social media would have allowed for more immediate dissemination of information.
"The immediacy and depth and quickness of the information becoming public would have been different. When I saw the coverage, to me it was very sanitized because it was coverage from a distance, but if we had had social media we would have gotten more video and images up close from different angles. Even more of the horror would have been remembered."
He adds smartphones, which have a permanent record online, have added a new dimension to communications.
"One of the biggest changes since 9/11 is that we've moved from regular feature phones to smartphones, so 10 years ago our conversations were audio conversations and we have a permanent digital record of very few of those," Vassos said. "But in the move to smartphones, not only is the ability there, but today everyone very quickly knows how to use their camera on their smartphone. Capturing the digital information of what actually went on and creating that historical record is much more prevalent now than back then."
Vassos says the presence of social media would have also helped alleviate fears for families of loved ones looking for each others' locations during a big disaster like 9/11.
"People being able to tweet that this is their location and they're OK and knowing where their loved ones are can be captured today. Now we get real time information directly from the people involved."
Neither researcher was comfortable predicting whether instantaneous knowledge of what had happened would have saved more lives. They agreed that evaluation was best left to emergency personnel who had some firsthand knowledge of the event.