Course instructor Sheila Stewart and undergraduate student Bonnie Cuss with Toronto artist, Rowell Soller. Photo: Diana Tyszko.
University of Toronto undergraduate Bonnie Cuss could relate to the young people she met during her student placement at SKETCH, a community group that engages homeless and street-involved youth through the arts.
"I had been a teenager living on my own and struggling with poverty and at risk for homelessness myself," says Cuss, who was one of three New College students placed at SKETCH as part of the Community Engaged Learning program's NEW495Y course.
"Being poor and out of control, that's part of my past, and what SKETCH and this course successfully managed to do was bridge those worlds for me," adds Cuss, an Equity Studies student and single mother of a seven-year-old daughter.
NEW 495Y is a capstone course modelled on service work and experiential learning that sends students to work with community-based organizations, many of them focused on social justice and the arts.
Inspiring marginalized youth through art, music and dance
While it is often said that art imitates life, SKETCH encourages life to imitate art. The program hopes to inspire disadvantaged and marginalized youth through music, dance and a host of other activities to feel confident, set goals and improve their lives.
SKETCH left an impression on NEW495Y student Rita Alsalaq with its focus on creating a truly inclusive space that reflects the diversity of its members.
"The challenges that come with being an open and inclusive space are often glossed over, but SKETCH had the kind of inclusivity I have not experienced anywhere else," says Alsalaq, an English and equity studies student.
"I got to see that creating an inclusive space is not impossible, but it does take a lot of work and patience."
Sessions led by local artists
Most SKETCH programs — from movement classes, beatboxing and martial arts to yoga and drawing sessions led by local artists — are on a drop-in basis.
There are no requirements to participate in the art-focused groups, and many young people simply come in search of a dry space, a hot meal and a sense of community.
Just as importantly, SKETCH considers "living well" to be an art form on par with things like creative writing, says Alsalaq, which is why the program offers workshops on how to live on a limited budget in Toronto as well as making a living with art work.
"It's a community that doesn't judge or marginalize," she says. "I feel SKETCH made me a better person by allowing me to interact with a lot of people I normally wouldn't have had contact with."
Starting last September, Alsalaq and Cuss spent approximately 10 hours a week at SKETCH as part of their course work, which also included in-class discussions about the challenges and benefits of community work.
NEW495Y also included a year-end symposium where students shared what they've learned with an audience of faculty, community agencies and students from across U of T.
Sharing goes both ways
The sharing goes both ways: the student supervisor from SKETCH took part in a panel discussion on arts and social justice at a university conference last fall.
Alsalaq and Cuss say SKETCH staff were always willing to accommodate their schedules, and treated their mental well-being as seriously as their physical well-being, given the sometimes challenging and emotional environment they were working in.
Cuss (pictured below with course instructor Sheila Stewart) said the SKETCH placement and NEW495Y class work also taught her about collaboration and teamwork, and provided feedback and encouragement to pursue her goals.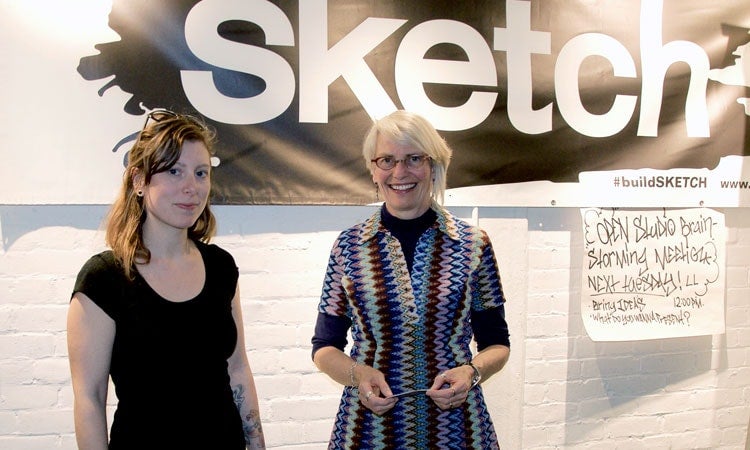 She's even staying on at SKETCH to help lead a new textiles workshop for young mothers.
"I am finding out through school and this space at SKETCH that I can be successful in a career and help people who have been in similar situations as me," says Cuss.
"I think this whole experience has inspired me to go for what I want to do."