Working across disciplines, U of T and UHN researchers are rapidly revolutionizing lung transplant surgery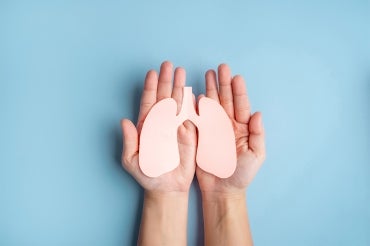 Hundreds of people in North America die each year waiting for a lung transplant – but it has little to do with a lack of donors.
About 80 per cent of donated lungs are deemed unsuitable for transplant, according to the International Society for Heart and Lung Transplantation. That's because lungs are much more vulnerable to damage and deterioration than other organs. 
But Shaf Keshavjee is working on a way to restore donated lungs – and help save lives.
He's the architect of a system called Ex Vivo Lung Perfusion (EVLP) that preserves lungs outside the body in a transparent dome, so doctors can better prepare them for transplant. The system keeps donated lungs intact for up to 12 hours.
"We've taken everything we know about lung ventilation, how to look after an injured lung and the perfusion of [blood through] the lung together, to create a protective system outside of the body," says Keshavjee, a surgeon-in-chief at the Sprott Department of Surgery at the University Health Network (UHN) and professor in the department of surgery at the University of Toronto.
"People have tried to do this for almost 100 years."
Keshavjee is continuing his work to refine the EVLP system as the lead investigator of the Organs by Design project. His research work is funded by U of T's Medicine by Design (MbD) – a strategic initiative that brings together researchers at U of T and its affiliated hospitals at the convergence of science, engineering and medicine, to advance regenerative medicine discoveries and improve health outcomes. MbD is supported by Canada First Research Excellence Fund (CFREF).  
To find solutions, each initiative draws on the breadth and depth of research at U of T, one of the world's top public research universities, by bringing together flexible, multidisciplinary teams of researchers, students and partners from industry and government. 
Increasing the number of healthy lungs for donation is one such challenge – and it's far from the only lung transplant-related innovation that's being advanced by U of T's strategic initiatives. 
Keeping lungs alive, outside of the body
Stored in a glass dome that maintains temperature, humidity and sterilization, the EVLP system gently maintains the lung with a ventilator and filter system that ensures an adequate supply of oxygen, blood, nutrients and protein to the organ. 
Prior to transplantation, the lung is reassessed for tissue elasticity, blood vessel pressure and oxygen capacity. 
Keshavjee built the EVLP technology alongside Marcelo Cypel, a thoracic surgeon at UHN and professor of surgery at U of T. The researchers are building on a legacy of ground-breaking research in lung transplantation in Toronto that stretches back decades. That includes a team of surgeons at Toronto General Hospital (TGH), led by the hospital and U of T's Joel Cooper, who performed the first successful human lung transplant operation in 1983. 
In addition to restoring damaged lungs, the EVLP system provides surgeons with more information that can improve their ability to achieve a successful transplantation.
Keshavjee's team is also working on a diagnostic tool that will allow surgeons to make rapid decisions based on crucial data collected by the EVLP system. 
Retrieving life-saving data in minutes 
Andrew Sage, an assistant scientist at UHN's Toronto General Hospital Research Institute and sessional lecturer at U of T, is building rapid diagnostics to swiftly supply doctors with a roadmap for lung repair.
The map is needed because lung transplant operations are a race against time – and doctors need to make rapid decisions based on the best available information.
"When we put lungs on the EVLP platform, we are able to generate a tremendous amount of information on the ability of the lung to properly function and, importantly, this data represents lung function in isolation – free from confounding signals that arise from the rest of the body," Sage says. 
"Our goal is to develop novel testing modalities that can provide detailed information to the surgeon to make enhanced decisions about the organ."
The rapid diagnostics tool – called the Toronto Lung Score – quickly details the injury status of the organ, inflammation and likelihood of ideal post-transplant outcomes, among other information, based on a small sample of solution that travels through the lungs on the EVLP system. It's being developed in partnership with SQI Diagnostics, a Toronto-based diagnostics development company. 
At present, the tool provides results in under 40 minutes, but the team is working to trim the response time to less than 15. 
The next step? Bo Wang, a professor at the Temerty Centre for Artificial Intelligence Research and Education in Medicine, is working with the team to explore how AI and computer science can further improve analysis so practitioners can learn more from the ex vivo circuits.
A new gold standard to store transplant lungs
Ana Cristina Andreazza is working on better ways to keep donor lungs healthy in the EVLP system – all of which promises to translate into better outcomes for patients.
Andreazza, a professor in the departments of psychiatry and pharmacology and toxicology in the Temerty Faculty of Medicine, is leading efforts to improve storage of donated lungs through her research work with the Mitochondrial Innovation Initiative (MITO2i).
Andreazza heads an interdisciplinary team as scientific director of MITO2i. Made up of a network of clinicians, advocates and researchers across the university, NGOs and strategic partners, MITO2i is an ISI that discovers and supports new technologies and integrative platforms to understand the role mitochondria play in a wide range of diseases and how treating mitochondrial dysfunction can be therapeutic – and transform how clinicians approach the diagnosis and treatment of disease.
While the gold standard to store a transplanted lung is currently 4 C, Andreazza says the temperature puts the organ's mitochondria – the powerhouses of cells – into a dormant state that could be impairing transplant outcomes.
"If we think through the lens of mitochondria metabolism, 4 C is not ideal," says Andreazza, whose team is providing a better understanding of mitochondria's role in human health and disease.
"When you transplant them from 4 C to a 37 C human body, you can imagine the clash that would happen."
Working with Cypel, the surgeon at UHN, they found that increasing the temperature to 10 C better preserves mitochondria during EVLP, reducing the risk of rejection following transplant surgery.
A proof-of-concept pilot study, published last year in Science Translational Medicine, found that recipients of transplant lungs stored at 10 C  required a ventilator for less than two days following surgery, on average. They demonstrated no signs of one of the earliest complications of a lung transplant, such as shortness of breath or dry cough, three days after the procedure.
A warmer storage temperature also prolongs the time donor lungs can be safely preserved, from the current maximum of six-to-eight hours, to between 10 and 16 hours. This, in turn, makes international organ transport possible, increasing availability for patients on waitlists.                                            
Looking ahead, researchers at MITO2i are seeking answers to three key questions. Are there better ways to monitor mitochondria? Can unhealthy organs be repaired? And how can mitochondria be improved before organ transplantation?
Mapping the genetic variation of mitochondria 
Enter Erika Beroncal, project manager at MITO2i and a master's student in the department of pharmacology and toxicology in the Temerty Faculty of Medicine.
One of 13 recipients of MITO2i's 2022 Graduate Student Scholarship Awards, Beroncal is embarking on a research project to examine the genetic variance of mitochondria and its importance in lung transplant success. 
She recently presented the project at the second annual MITO2i Research Symposium, a two-day virtual event that brought faculty, students and research partners together to share new developments in mitochondrial research and medicine. 
Ultimately, Beroncal hopes to contribute to knowledge that will open doors for novel therapeutic interventions to enhance lung transplant outcomes.
"By working with people across disciplines to produce knowledge about mitochondria, I'm seeing current developments and learning how it affects real life," Beroncal says.
"Through my research work, I know I'm able to make an impact in this field."
This article is part of a multimedia series about U of T's Institutional Strategic Initiatives program – which seeks to make life-changing advancements in everything from infectious diseases to social justice – and the research community that's driving it.
UTC/Freelance