From wood towers to more efficient mining: How U of T is driving innovation, economic prosperity across Ontario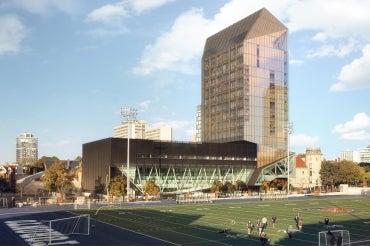 It may be located far from Ontario's northern forests, but the 14-storey, engineered wood-framed tower proposed for the University of Toronto's St. George campus will help to propel mass timber construction in the province.
Mass timber is prized as an innovative building material because of its low carbon footprint, structural integrity, fire-resistant properties and aesthetic appeal. Research and building projects at U of T, including the Academic Wood Tower, are helping to showcase mass timber's potential and spur innovation and job creation in forestry.
It's just one example of how industries contributing to economic development across Ontario are benefiting from research and expertise at U of T.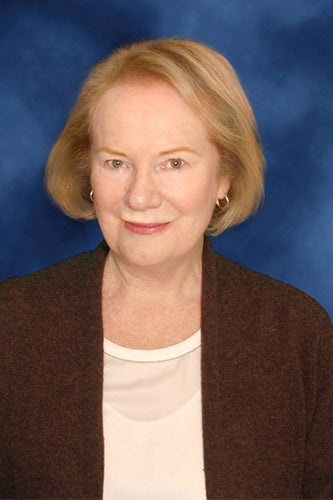 The project is expected to help "communities in northern Ontario find exciting new markets for their forest products," said Anne Koven (pictured left), director of Ontario's Mass Timber Institute and adjunct professor in the forestry program at the John H. Daniels Faculty of Architecture, Landscape, and Design.
The Academic Wood Tower is one project that will be highlighted in Sudbury this week at a roundtable on "Northern Ontario's Innovation Ecosystem." It's one in a series of events across Ontario this fall that will explore how cutting-edge research and talent at U of T are helping open new markets for industry and driving growth in Ontario.
The series was organized by the University of Toronto and the Ontario Chamber of Commerce to examine regional challenges to economic development in the province.
The series moves to Peterborough on Sept. 27 for a panel on "Scaling Up Small Business" and concludes in Hamilton on Oct. 3 with a discussion on "Regional Collaboration in the Greater Toronto and Hamilton Area (GTHA)."
"Ontario's post-secondary institutions play a vital role in driving innovation in both traditional and emerging industries, and the University of Toronto makes a unique contribution across the province through our multidisciplinary research strengths," said U of T President Meric Gertler.
"These roundtables will advance our long-standing collaborations with government and industry to translate ideas into solutions that create opportunites and long-term growth in communities throughout Ontario."
In the province's north, that means harnessing innovation to help traditional industries in the natural resources adapt to sustainability considerations and changing market demands.
Koven, who will be a part of Wednesday's roundtable in Sudbury, says the growing interest in mass timber among architects, engineers and designers is creating a heightened need for research, something U of T is well equipped to supply.
"We need good research because architects, designers and construction companies have experience in building with concrete and steel, not with wood – certainly not with these new wood products," she said. "We believe that U of T researchers are well placed to help this sector with the knowledge that they need."
Koven adds that partnerships – and the "north-south connection" fostered between U of T and its partners in the north – are crucial to the health of the forestry industry. It's a message she's keen to convey at the Sudbury roundtable.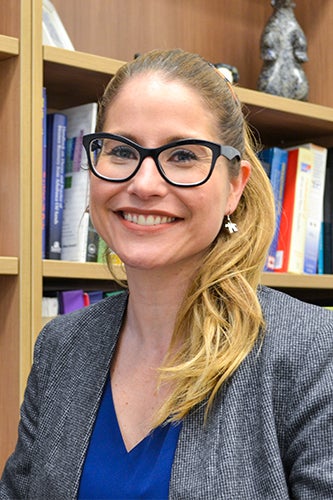 In addition to forestry, Sudbury's economy has also long been synonymous with mining, an industry that faces urgent challenges pertaining to energy consumption and waste management, according to Assistant Professor Erin Bobicki (pictured left) of the Faculty of Applied Science & Engineering's department of materials science and engineering.
Bobicki, who is cross-appointed to the department of chemical engineering and applied chemistry, says the first step in the mining process – the crushing and grinding of rocks to liberate minerals – is so inefficient that only around one per cent of energy put into the process actually goes into breaking rocks.
"My recent calculations, based on data from Natural Resources Canada, showed that we use more energy to break rocks than we do in the entire pulp and paper industry," said Bobicki. "Mining is the most energy-intensive industry in Canada, so we really need to come up with better ways to do this."
To that end, Bobicki is leading a public-private-academic consortium called CanMicro that is researching the use of microwaves to provoke thermal responses in target minerals located in rocks, allowing for more efficient use of energy.
She is also collaborating with mining companies located in Sudbury – including the Brazilian multinational Vale SA, where she began her career as a metallurgist – to find ways to reduce the environmental impact of tailings, which are waste and byproducts left over from mining.
"The vision is that we eventually get to a point where we don't have tailings or anything that will be viewed as waste, but everything will be viewed as a commodity," she said.
Bobicki said the Sudbury roundtable is also an opportunity to highlight obstacles faced by entrepreneurs in the mining industry trying to scale up their business. "If an innovation comes from a small entrepreneur, they often don't have the resources to take on expensive and technically risky projects to demonstrate that their idea works."
That's a challenge ubiquitous across industries, and one that U of T is looking to tackle by building strong ties between its research community and industry partners.
Derek Newton (pictured left), assistant vice-president, innovation, partnerships and entrepreneurship, says U of T currently works with around 300 private-sector partners that include several Canadian-owned small-and medium-sized enterprises.
"We're always looking for companies that have technical challenges and research questions," said Newton. "We connect them to U of T researchers who can help them address their challenges and tackle important research questions together. These partnerships help companies create new products and services that can benefit Ontario."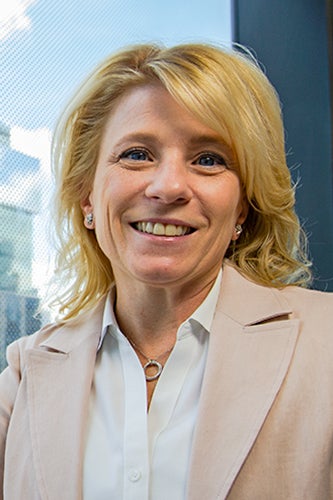 Newton gives the example of Peterborough-based company Charlotte Products, which worked with the labs of Professor Christopher Yip (pictured left) from the Faculty of Applied Science & Engineering and University Professor Shana Kelley (pictured far left) from the Leslie Dan Faculty of Pharmacy to develop novel cleaning products that are fighting the spread of infections in hospitals and care facilities. The partnership was supported by U of T, the company and the federal government.
The Peterborough roundtable on Sept. 27 will see Newton moderate a panel discussion on scaling up small business that will include Diane Richard, Charlotte Products' director of product development, on the panel. Prabmeet Sarkaria, Ontario's associate minister of small business and red tape reduction, will address the group.
The roundtable series will conclude in Hamilton on Oct. 3 with a discussion on how regional collaboration among post-secondary institutions, businesses, government and other organizations can foster collaboration, both in expertise and resources, to tackle key economic challenges in the GTHA.
Few initiatives exemplify this form of collaboration like the Smart Freight Centre, which was established by U of T in conjunction with  Peel Region, McMaster University and York University to spur research and innovation pertaining to the transportation of goods across the GTHA.
The chair of the centre, Professor Matthew Roorda of the department of civil and mineral engineering, will shed light on how the centre's activities – which cover issues ranging from robotics and emissions to transportation policy and solving congestion – stand to boost the economic vibrancy and general quality of life across the GTHA.
UTC