Women with intellectual, developmental challenges have double the rate of rapid, repeat pregnancy: U of T study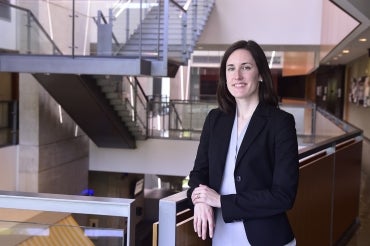 A new study by researchers at the University of Toronto has found that women with intellectual and developmental challenges are twice as likely to give birth again within a year of having a baby.
"This is a cause for concern because rapid, repeat pregnancies are associated with a higher risk of complications, including stillbirth and premature birth," says lead author Hilary Brown, an assistant professor at U of T Scarborough's Interdisciplinary Centre for Health & Society and the Dalla Lana School of Public Health.
Using Ontario health and social services records, Brown and her team found that 7.6 per cent of women with intellectual and developmental challenges gave birth again within a year after a first delivery, compared to 3.6 per cent for women without such challenges.
Women with these challenges have a number of risk factors for poor reproductive outcomes, both at the individual and systemic level, Brown says. Issues with cognition make it more difficult to advocate for contraception, and they are more likely to be young and disadvantaged.  
"There are issues relating to marginalization among this group, including higher rates of poverty and poor access to health care," says Brown, an expert on reproductive health as well as maternal and child health.
One important finding from the study, published in the journal CMAJ,  is that the risk for rapid, repeat pregnancy diminishes drastically after accounting for better economic and health outcomes, says Brown. In other words, while better information and access to contraception are important, she says it's also important to address broader socio-economic challenges facing this group.
Individuals with intellectual and developmental challenges experience cognitive limitations as well as problems with everyday social and practical skills. Common diagnoses include Down syndrome, fetal alcohol syndrome and autism, among others. However, many people with intellectual and developmental challenges have non-specific diagnoses.   
Brown points to a growing body of research that finds fertility and birth rates among women with these challenges are similar to those of their peers as a reason to pay greater attention to the health-care needs of this population.
"There's this assumption that pregnancy is rare among women with these challenges, which is terribly misguided and antiquated," she says.
"What this and other studies show is that pregnancy is an important outcome in this population and it deserves greater attention from health and social service providers." 
It's believed that the increased risk of complications from a rapid, repeat pregnancy is connected to a woman's body not fully recovering from the first pregnancy, specifically replenishing nutritional stores needed for fetal growth. Brown adds that socio-economic factors may also play a role.
Brown's next steps are to look at other indicators of reproductive health-care access among women with intellectual and developmental challenges, including rates of abortion and contraception use.
"Women with intellectual and developmental challenges need to have conversations with their health-care providers about contraception and family planning, and we need to do more in terms of supporting these women" she says.
"We can't keep making assumptions that these services aren't needed among this group."   
The study was supported by the Ontario Ministry of Health and Long-Term Care.
UTSC