Women in House: U of T students see democracy at work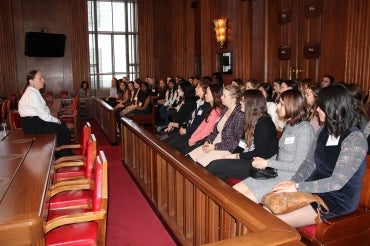 Canada's House of Commons welcomed 50 University of Toronto students for this year's Women in House event, where young women with an interest in politics shadow female parliamentarians.
The program, started in 2013 by Tina Park, a PhD student at the Munk School of Global Affairs, and alumna Carolyn Bennett, now Minister of Indigenous and Northern Affairs, is open to women across U of T. This year's participants included undergraduates and graduates from the international relations program, the master of public policy program, the School of Public Policy and Governance, the master of global affairs program and more.  
"Every year, I believe the 'Women in House' leave better able to understand the role they can play in our democratic institutions," said Bennett. "As parliamentarians, we benefit from learning more about the inspiring young women who are our country's future and its present."
Currently in the House of Commons, there are 88 female MPs out of a total of 338 MPs, and Canada ranks 50th out of 190 countries when it comes to female representation in government.
Janelle Deniset was one of 14 Munk students who participated this year. A second-year student in the master of global affairs program, Deniset says she applied for Women in House because its focus is to increase the participation of women in the political process.
"I believe it's essential to have women play a more substantive role in Canada's decision-making processes," says Deniset, who shadowed MP Rachael Harder. "The total percentage of women in the House is approximately 26 per cent, with women of colour and Indigenous women making up approximately 0.04 per cent and 0.009 per cent, respectively.
 
"In order for our laws and policies to be more representative of a diverse population, we need to include more diversity in the House."
During the day, Deniset attended formal meetings of the Committee on the Status of Women and the Standing Committee on Health. She also spent over an hour receiving advice from Supreme Court Justice Rosalie Abella and sat in on Question Period in the House. 
"This was an incredible chance to observe the hard work that goes on behind closed doors, as well as how issues are discussed in the political forum," says Deniset.
Women in House participants were present for the passing of a bill, tabled by MP Iqra Khalid, which urged the Canadian government to "condemn Islamophobia and all forms of systemic racism and religious discrimination" and to "develop a whole-of-government approach to reducing or eliminating systemic racism and religious discrimination, including Islamophobia." The motion passed by a margin of 201-91.
"To be able to witness history taking place was quite special," says Stephanie Xu, a Munk One student who shadowed MP Jenny Kwan. "To read the news the day after and to think, 'Wait, I was there for that!' was really cool."
"The Women in House event allowed us to see how Parliament functions day-to-day," says Deniset. "As a graduate student who has a bachelor's degree in politics, I thought I had a pretty good grasp on parliamentary processes but the opportunity to live it is something else entirely."
Organizers hope Women in House participants will be inspired to work towards their own career goals, whatever those might be. 
"While Canada has made strides towards equality, the glass ceiling is still a reality for many women," says Deniset. "This event demonstrates that while they are small in number, the women who do represent us in Parliament are strong and determined, and I would consider myself lucky to one day follow in their footsteps."
And what was the students' most valuable takeaway of the event?
"The career that I want to pursue is very feasible," says Xu, who says she is interested in the legal and human rights aspects of policy. "There are going to be limitations because I am a female and a person of ethnic minority, but these women have done it, which means I have the ability to do it."
"Hopefully this event will inspire and encourage more young women to pursue careers in politics and public service," says MP Salma Zahid, one of the participants of Women in House. "It may not be as a member of Parliament, but anything we can do to encourage more young women, especially women of diversity, to enter public life the better off we all will be."
Munk