Women are not advancing their research as much as men during the pandemic, U of T researcher writes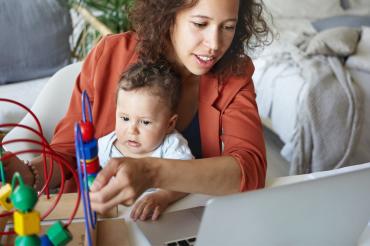 Even before COVID-19, Megan Frederickson had her hands full as the mother of a six-year-old boy and as a tenured professor managing a lab, grants and graduate students. Now, with kids out of school and daycare, things have become even more challenging – and Frederickson suspected she was not alone. 
"The scientist in me wondered whether I could measure the pandemic's effect on the productivity of male and female researchers," she writes in The Conversation.
Frederickson, an associate professor in ecology and evolutionary biology in the University of Toronto's Faculty of Arts & Science, conducted a gender analysis of papers submitted to pre-print servers for researchers in STEM subjects shortly before and during the COVID-19 lockdown. She found that the number of male pre-print authors is currently growing faster than the number of female pre-print authors, suggesting women are not getting as much research done as men during the pandemic.
There are no easy solutions to fixing the gender imbalances in care-giving and domestic labour, Frederickson notes. 
"I will remember to count my many blessings, because a few less papers is nothing compared to the lives and livelihoods lost because of COVID-19," she writes. "But a part of me will always wonder what discoveries women scientists might have made were it not for this pandemic and the setback it is causing to the hard-won progress of women in STEM."
UTC