Without missing a beat, U of T Mississauga residence choir goes virtual during COVID-19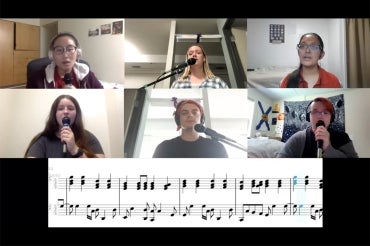 When the University of Toronto Mississauga instituted new COVID-19 protocols on campus, it looked like its residence choir might be silenced indefinitely. But thanks to technology and some creative thinking, The HomeNotes are once again making music together – while staying safely apart.
The HomeNotes have spent the past five years helping students living in residence connect through song. The choir features a mix of trained choristers and newbie singers who gather weekly in the piano room of the Roy Ivor Hall residence to sing a repertoire of pop hits, beloved standards and holiday tunes. In a typical year, the ensemble performs at residence coffee houses and campus events. It also leads singalongs with seniors living at a nearby long-term care facility.
Sydnee Pearce, the choir's communications director, grew up singing in professional choirs in Nova Scotia and says the choir helps find community away from home.
"It's a little intimidating being a first-year student," Pearce says. "But we have fun moments and have become very close as a little family."
"We take all comers – whether you have been in choirs before and whether you think you can or cannot sing. Everyone is welcome."
As a residence don and student leader, HomeNotes head chair Brianna Legere was excited to take on leadership of the choir this year, but says it took some time to figure out how to make it work while following campus safety protocols.
Singing together was out of the question, since the activity is considered by experts to be one of the riskiest when it comes to transmission of COVID-19.
"It was something that we thought would be really important to keep going," Legere says. "How could we engage students living in residence and create something that appeared to be synchronous without actually getting together?"
Singing together over a videoconference platform like Zoom wasn't an option either, according to HomeNotes choral director John Da Re.
"If one person's Internet connection lags, everything is off beat," he says.
For inspiration, the team looked to longstanding projects such as Eric Whitacre's Virtual Choir, as well as new initiatives from organizations like the Canadian Opera Company, which has launched a series of online performances.
In September, the residence choir pivoted from live performances and rehearsal to a virtual platform with a new website to showcase their performances, complete with a virtual forum for singers to connect online.
To solve the problem of time lags, each singer records their part individually by singing along to a pre-recorded track. That ensures everyone stays in time.
Using sound editing software, Da Re mixes the individual recordings with the backing tracks. He also edits video of the individual performances and adds the audio layer.
In lieu of live performances, the choir now shares their recordings at virtual coffeehouses for residence students. This semester, the choir have recorded three songs – "Let It Be" by The Beatles, the Queen and David Bowie hit "Under Pressure" and an arrangement of Leonard Cohen's "Hallelujah." The choir also plans to release a selection of holiday and winter-themed songs.
"We have what appears to be a synchronous choir, when everything was actually done during a three-week window," Da Re says. "We don't have thousands of dollars in professional equipment, so it's all about being flexible and adapting."
The HomeNotes members miss being in the same room together, but Da Re notes there are some unexpected benefits to the new arrangements.
Singers can contribute to the final recording as individual schedules permit. "I can work around it if someone can't be there for a specific piece," he says. "It's not the same as being there in person, but there's a new degree of flexibility that we didn't have before."
Virtual participation is also a friendly way to introduce new singers. "This format gives people who may be intimidated by the idea of singing in front of a group, or doing a live performance, the chance to build their confidence and create music without pressure," says Legere.
Pearce, who finds the choir a welcome change from schoolwork, is glad to see the choir continue. "Living in residence and being on your computer all the time is challenging," says Pearce. "Being in the choir is a break from that. You get to spend time with music that you love, learning different music and spending time with people in the choir. We have some fun little games going in the group chat.
"Having a chance to create and explore new skills is so important. This is one of the perfect ways to do it for people who do not consider themselves singers. Having another group of people that you can have those connections with is so important right now."
UTM