Winston LaRose, champion of Toronto's Black community, receives honorary degree
His name is Winston LaRose, but to countless Torontonians he is known as "Mr. Jane and Finch," a fitting tribute forever connecting him to the community he loves. A dedicated neighbourhood advocate, LaRose is known for standing up for people who lack a voice – many of them immigrants – and helping to address their often-neglected concerns.
Today, for his leadership as a champion of the Black community in the Greater Toronto Area, LaRose receives a Doctor of Laws, honoris causa, from the University of Toronto.
Born and raised in Guyana, LaRose traveled the world before moving to Canada in 1964, where he began his career as a registered nurse for the Clarke Institute of Psychiatry. In Guyana, he had grown up during the independence movement, following the efforts of political leaders across Africa and the Caribbean to free their countries from colonial rule.
Their struggles no doubt informed how LaRose handled his own in his adopted country. In an interview with the Toronto Star, he recalled trying to rent an apartment in Hamilton, Ont. in the 1960s only to have the door slammed in his face. LaRose responded by finding ways to foster pride in Black culture, co-founding the Hamilton Guyanese Canadian Cultural Association.
He has kept this sense of dignity and achievement front and centre in everything he does. "I see myself in Jane and Finch as symbolizing the character of Blackness and the contributions of Black people to world civilization," he said in the Star interview.
A successful entrepreneur, LaRose became the executive director of the Jane-Finch Concerned Citizens Organization in 1994, which helps residents – including many newcomers to Canada – with issues ranging from police brutality to deportation; it also places local youths in internships and job training.
For 25 years, he took public transit from his home in Burlington, Ont. to the organization's office in Toronto's Yorkgate Mall, where he could be seen every day in a suit and tie and his signature flat cap. "I live in Jane and Finch and I sleep in Burlington," he told the Star.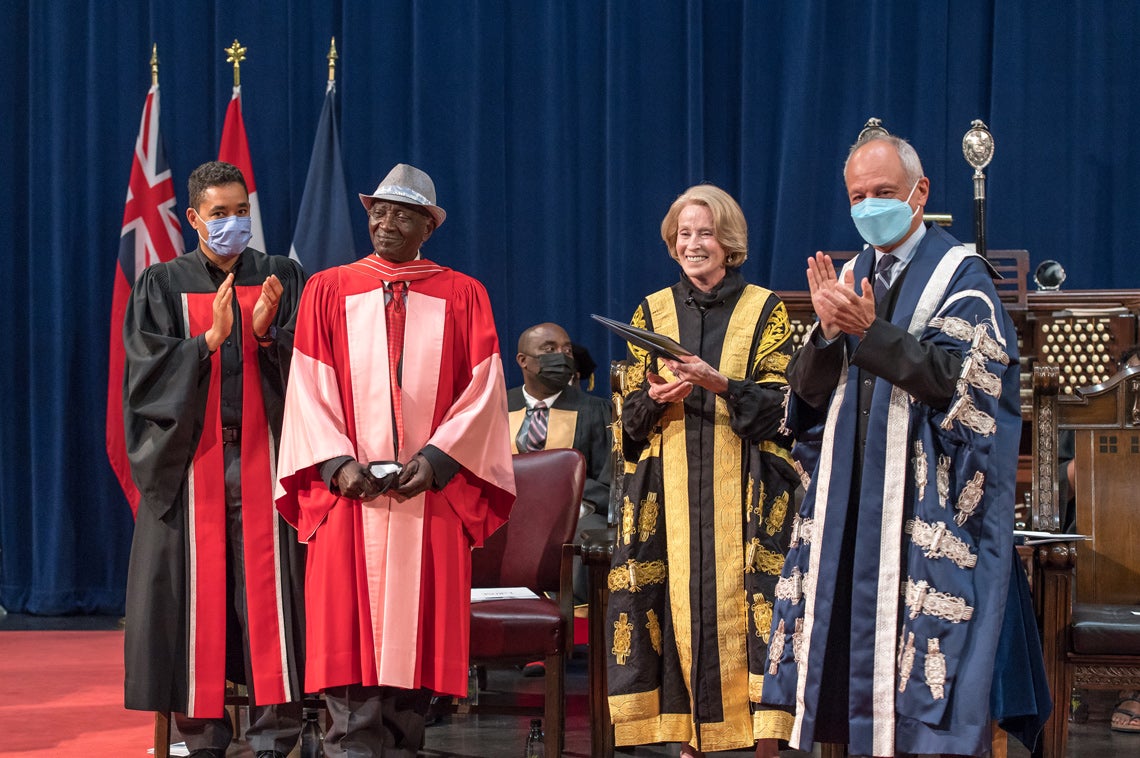 (photo by Lisa Sakulensky)
In his role, he became an unofficial advocate for the community, helping local entrepreneurs, lobbying for educational reform (he was a strong supporter of the Africentric Alternative School) and questioning police procedures.
He dedicated himself to the neighbourhood's development, helping to lead nearly 20 initiatives and organizations rooted in the community.
In addition to his public service, LaRose recorded the experience of many Black people in the community, as well as around the world, compiling nearly 5,000 hours of video footage over five decades. Recently, he himself became the subject of the award-winning documentary Mr. Jane and Finch, which follows his campaign for a seat on Toronto's city council in 2018.
LaRose didn't win, but the election gave him the opportunity to spread his message of hope and neighbourhood strength, and to question how the city deals with the Jane and Finch community's concerns.
He told the CBC that he believed his energy and strong track record would inspire support for his candidacy. "A lot of people underestimate my capabilities because I am 80," LaRose said, "but I'm active, I'm vibrant and I don't stop." (Vibrant indeed: he has won medals at the Ontario Canadian Masters Championships in 100-metre and 200-metre sprints, long jump and high jump.)
LaRose has been recognized with numerous other awards as well, including the Harry Jerome Award for Community Service, the Queen's Diamond Jubilee Medal and the Bob Marley Lifetime Achievement Award.
UTC