William Downe, leading advocate for gender equality in business, receives honorary degree from U of T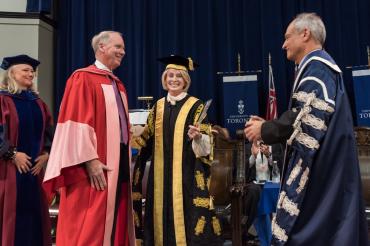 Former BMO Financial Group chief executive officer William Downe has urged the next generation of leaders to engage with people they disagree with, and not dismiss opposing views, in order to make correct strategic decisions.

Speaking at a University of Toronto convocation ceremony on Tuesday, where he was awarded a Doctor of Laws, honoris causa, Downe said that in the current environment, leaders need more than disciplined analytical thinking, but also the "ability to distinguish fact from fiction."
That means "engaging with other people who are asking the same questions and may disagree with you about the answers."

Healthy debate, he said, "is not about separating winners from losers, nor is it an invitation to diminish or demonize individuals who happen to hold opposing views. A proper debate explores both sides of an argument to arrive at truth, or whatever honest people are going to agree as truth."

Downe, who retired last year after 10 years running one of Canada's oldest and most successful financial institutions, spoke to MBA graduates of U of T's Rotman School of Management, along with other masters and PhD graduates in arts and science, and graduates of the diploma course in professional accounting.

Downe said it is clear that successful managers must take into account the needs of all stakeholders – including customers, employees and the community at large – in addition to shareholders.
"The best run companies now are adopting clear standards around social licence, with a defined set of environmental, social, and governance criteria that guide their actions," he said. "A winner-take-all approach to total shareholder return will ultimately destroy the long-term prospects of the firm."

At the same time, he emphasized, companies can't thrive without "growing revenue faster than their competitors, or constantly strengthening their margins by being more productive."

This multi-pronged approach is in sharp contrast with past practices, he said. Earlier generations of business leaders – despite their strong beliefs in ethical behaviour and personal responsibility – were working in an environment where it was widely accepted that "maximizing total shareholder return was the only job of management."

Downe was honoured for his community leadership and philanthropy as well as his business achievements. At BMO, he worked to make the organization progressive and focused on customers, even while steering it through the rough years that followed the 2007-2008 financial crisis. Downe "is a globally respected banker known for his outstanding commitment to enhancing diversity and inclusion in corporate Canada and his steadfast support of education and health care," his citation reads. 

In the community, Downe supported many fundraising campaigns, including those at U of T, St. Michael's Hospital, and the United Way of Greater Toronto.
Rotman Dean Tiff Macklem, who introduced Downe at the ceremony, described him as "one of the leading bankers of his time, not just in Canada, but globally." In addition, Macklem said, he is "a super-intelligent, humble, curious global thinker who is engaged on the most pressing issues of our time."

Downe earned a bachelor's degree in business administration from Wilfrid Laurier University and an MBA from the University of Toronto.

He joined Bank of Montreal in 1983, and spent spent much of his career in the United States, starting as a credit analyst in BMO's Houston operations. He then moved on to Denver, and lived in Chicago for several years. In 2001 he was named chief executive officer of the bank's investment dealer arm, BMO Nesbitt Burns, and deputy chair of the parent BMO Financial Group. Soon after that, he also took over responsibility for all of the bank's U.S. operations.

In 2006 Downe was made chief operating officer of the bank, and in 2007 he moved back to Toronto when he took the top job as CEO.  Early in his tenure he had to deal with the global financial crisis and the subsequent recession. Macklem said Downe dealt with the turbulent era coolly and professionally. "He was focused. He was pragmatic, determined and decisive."

Downe expanded the company's operations in the U.S. midwest, and oversaw substantial growth and an improvement in its financial results. He also effectively handled the challenges caused by the rapid expansion of digital technology and emerging cyberthreats, along with intense competitive pressures in the banking industry.

Downe retired as CEO in 2017, the same year the Bank of Montreal marked its 200th anniversary. Among his many accolades, in 2016 he won the Woodrow Wilson Award for Corporate Citizenship, and in 2017 was presented with the Rotman Lifetime Achievement Award. He is a Member of the Order of Canada.
UTC