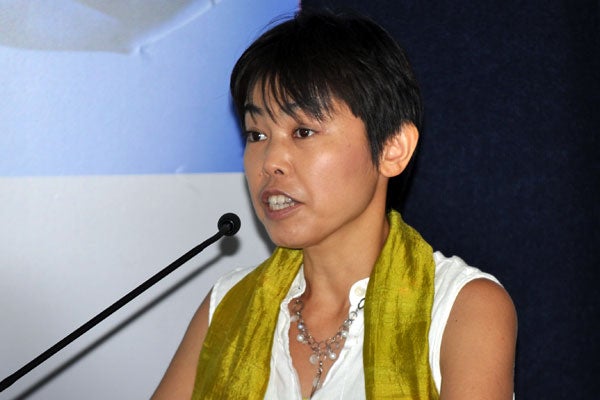 Why "Canadian experience" violates human rights
Understanding the Ontario Human Rights Commission policy
Employers who demand Canadian work experience are discriminating against potential employees, the Ontario Human Rights Commission says.
It's a new policy that research by Izumi Sakamoto, associate professor, Factor-Inwentash Faculty of Social Work at the University of Toronto, helped develop. (Read Sakamoto's OpEd article on this topic in The Toronto Star.)
The policy, unveiled by the Commission July 15, states that a strict requirement for "Canadian experience" is discriminatory, and can only be used in rare circumstances. In a statement, the OHRC said "Employers and regulatory bodies need to ask about all of a job applicant's previous work - where they got their experience does not matter. The policy also tells employers and regulatory bodies how to develop practices, policies and programs that do not result in discrimination."
UofT News asked Sakamoto to reflect on the new policy and the research that informs it.
You have been studying the concept of "Canadian experience" for many years. Tell us a bit about your research.
My research on skilled immigrants in Canada and their settlement experiences suggests that "Canadian experience" is one of the major barriers for immigrant employment. While I lived in the US for several years, I never heard of "American experience" as an immigrant employment barrier. Also it seemed like a terrible situation to me when, by default, immigrants who are new to Canada do not have experience in Canada, but that very experience is needed to get to the job. Since I couldn't find what "Canadian experience" actually meant I started looking into the definition of this idea, which led to a series of research projects dating back to 2007.
In my research, job-seeking immigrants thought that "Canadian experience" is a euphemism about the lack of trust on immigrants – somehow immigrants are less than Canadian-borns and needed to prove their value by assuming volunteer work or lower-skilled jobs than what their credentials deserve. In our arts-based focus group, one Indian-trained teacher created a mask to represent her feeling – to paint the half of the mask with a blue eye and blond hair, and the other half with bindi, a black eye, and black hair. She said she'd have to wear a mask (of a blue eye and blond hair) to be accepted into a job, and by extension, to the Canadian society, because without a job you don't feel you belong. This and other stories like this are consequences of using the term, Canadian experience, as a criteria for immigrant hiring. Listening to stories after stories like this break my heart.
Our research concludes that the "Canadian experience" implied by employers is often not about professional standards, but cultural ones: immigrant workers have no experience at "being Canadian," and don't "fit in" in the workplace. Often people used "Canadian experience" to mean "soft skills" (as opposed to "hard skills" such as education and credentials) – the abilities to work seamlessly in the given Canadian workplace culture. However, these "skills" are ill-defined, so as the "Canadian workplace culture," leaving immigrants feeling stuck. Yet, this requirement is so pervasive, and widely believed to be an important criterion in assessing immigrants' suitability to the given job. 
To reflect the complexity of the term "Canadian experience" and bring people on board to have dialogue about this elusive concept, I have used theatre techniques to elicit implicit assumptions behind this concept and created a theatre performance, with the help of professional theatre specialist Jessica Bleuer, a U of T alumna. The highlight video of this "Theatre of Canadian Experience" and other related materials are available at the Beyond Canadian Experience Project website (a university-community coalition that includes U of T: www.beyondcanadianexperience.com
Employers and human resource professionals struggle with this idea of "Canadian experience", too – they use the term as a proxy for trust and risk aversion in hiring, to see if the job applicant will fit into the organization, and can "hit the ground running". However, there are other ways of hiring and assessing job candidates' competencies. First, it is critical that employers really need to tease out what is really the core of the job requirements. OHRC is preparing learning resources in this regard, and the university-community coalition I lead, "Beyond Canadian Experience Project" will be helping out the initiative. 
The practice of using the "Canadian experience" requirement to reject newcomer professionals in hiring, promotion and accreditation process is not new. As early as 1978, there was a letter to the editor printed on the Globe & Mail: "I am a recent immigrant to this country who is undergoing the pain of obtaining permanent employment here. I have applied for and called in response to many job advertisements, but I am confronted with only one question, 'What is your Canadian experience?' I wish someone would be kind enough to tell me what this Canadian experience is, and how I get it without being given the chance" (June 2, 1978). Sadly, we hear the same refrain some 35 years later. In fact, my collaborators (Rupaleem Bhuyan, Jane Ku, Lin Fang, Daphne Jeyapal and Heidi Zhang) and I are writing a series of manuscripts from the analysis of over 1,000 articles retrieved from print newspapers focusing on how media represents "Canadian experience" and skilled immigrants. (Read more about Professor Bhuyan; read more about Professor Fang; read more about doctoral candidate Jeyapal.)
Having conducted research on "Canadian experience" for long, I feel privileged to have been part of the process of developing the OHRC's new policy on removing Canadian experience barrier. I also feel good about the knowledge mobilization work done out of the SSHRC-funded university-community coalition, Beyond Canadian Experience Project (including UofT, Mennonite New Life Centre, Chinese Canadian National Council Toronto Chapter, Toronto Region Immigrant Employment Council) and feel that we were able to respond to trust received from all our study participants over the years to be part of the movement to change social policy toward ultimately eliminating discriminatory practice in immigrant employment. (Read more about the Factor-Inwentash Faculty of Social Work; read more about Mennonite; read more about the Chinese Canadian National Council Toronto Chapter; read more about Toronto Region Immigrant Employment Council )
What kind of impact is the Ontario Human Rights Commission policy likely to have?
This is the first official position that I know of that states that the use of Canadian experience is discriminatory as a standard for immigrant employment and accreditation. Naming discrimination and providing the guidelines in doing so is a huge step toward correcting social injustice. The release of this policy will undoubtedly raise the profile and awareness of this issue more broadly among employers, accreditation bodies and general public. 
However, OHRC's new policy alone will not eliminate this exclusionary and elusive criterion. We need to raise awareness about how the term, Canadian experience is used, and challenge its meaning whenever it's used around us. In my communications with media in recent months, I was struck time and time again how much people still believe that "Canadian experience" is something immigrants need before they can access meaningful employment. Many immigrants chose to come to Canada for its inclusive social values, myself included. Then, using the criteria of the experience in Canada to exclude immigrants is truly ironic. OHRC's new policy is a much-needed official step to the right direction – the job rests with all of us to make the best use of the policy and make our society truly inclusive to all of us who strive to be part of the mix. 
How does this fit with the situation in other provinces – or with the federal government's approach to immigration?
Other provinces do not currently have an equivalent policy to call the use of "Canadian experience" discriminatory on the human rights ground. At the same time, the situation may be different from province to province, from region to region, given that Toronto is the most popular destination for immigrants' intended residency and that it is also the most diverse city in Canada with half of its residents born outside of the country. I can't say for sure if the use of "Canadian experience" is as common in other provinces as it is in Toronto/GTA. Since "Canadian experience" is used as a code word for immigrant discrimination, there may be different code words. Actually, I hope to be able to explore this question further in our next research project under development!
Despite the move in Ontario to denounce the use of "Canadian experience" as reliable criteria of immigrant employment and professional accreditation, the federal government has recently solidified the use of this term in two of its immigration policies as critical criteria of future economic immigrants. This ignores the increasing critiques by researchers, immigration advocates, and human resource professionals, and many worry that it will affect the future demographics of Canada altogether. Then, OHRC's new policy is all the more significant as a counter voice from a human rights perspective.
What brought you to U of T?
I was in Michigan for my PhD so I just kept moving to the east! U of T stood out against other offers I had because it's a leading university in Canada with rich resources and great colleagues. As I conduct critical qualitative research, academic freedom was also attractive. It seemed that faculty can conduct research that is unconventional and still receive recognition (and attract funding) in Canada. (Read more about critical qualitative research.) 
As a city to live in, I found Toronto appealing because of its diversity in its ethnicity, culture, sexual orientation and many other mixes. Toronto is big enough to have lots going on but small enough to be manageable and comfortable (compared to my native city, Tokyo, which can be too busy at times!).