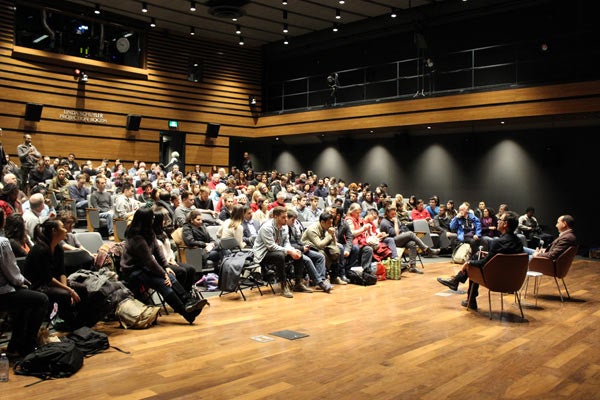 Why Canada needs U of T's Citizen Lab: Ben Wizner, lawyer for Edward Snowden
When it comes to spy agencies, Canada needs independent courts, strict government oversight and "strong civil-society organizations like the Citizen Lab," the lawyer for Edward Snowden says.
Ben Wizner, the lawyer for the exiled American computer analyst and whistleblower, made the comments at a Jan. 26 event organized by the Arts and Science Students Union and the Centre for the Study of the United States at the University of Toronto's Munk School of Global Affairs.
Nearly 250 people packed U of T's Innis Town Hall to hear Wizner in conversation with Professor Ron Deibert, director of Citizen Lab and one of the world's leading experts on digital technologies, global security and human rights. 
Their conversation followed a screening of Citizenfour, the Academy-Award-winning film which takes its title from  the pseudonym Snowden used when he first contacted filmmaker Laura Poitras with explosive revelations about government surveillance.  
After the film, Wizner told the audience that Snowden is still in hiding in Russia and that the U.S. court case against him is unjust.
Audience members wanted to know about Canada's role in covert operations. And Deibert asked Wizner about Canada's Bill C-51 which will increase surveillance by the Canadian Security Intelligence Service and the Communications Security Establishment, both of which are part of the surveillance web that Snowden revealed. 
"We have one retired judge, the CSE commissioner, who once a year does a review to confirm that the CSE is acting in accordance with the government's interpretation of the law," Deibert said. "Clearly this is a faulty system." 
He asked Wizner for advice for Canada and Canadian citizens. 
"The problem is that this fight has to be fought once a generation," replied Wizner, who is also the director of the Speech, Privacy & Technology Project at the American Civil Liberties Union.
Wizner told the audience that countries like Canada need independent courts (not judges who turn a blind eye to mass surveillance) and need strong members of government who have oversight over spy agencies.
"And we need strong civil-society organizations like the Citizen Lab," he added. 
The Citizen Lab at U of T aims to monitor, analyze and impact the exercise of power in cyberspace. 
Deibert said that the packed U of T auditorium showed that people want to know more. 
"This has been absolutely extraordinary," he said of the event. "To see this many people who came out to see that documentary and so many people who actually hadn't seen it before."
Abdullah Shihipar, a fourth-year science student, agreed. He's president of the Arts and Science Students Union, one of the event's sponsors, along with the Centre for the Study of the United States at the Munk School. 
"The event put in perspective how academia and the real world are interconnected," he said. "These issues affect our lives."