'A whole new perspective on life': U of T graduating students learned from volunteering abroad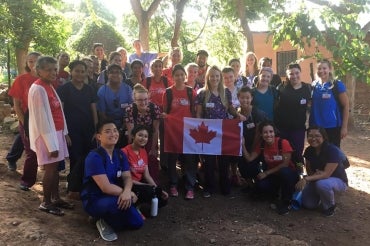 University of Toronto student Jordan Sam had just finished his second year of undergraduate studies when he had an experience that would land him halfway around the globe and provide him with an entirely new worldview. 
The molecular biology student at U of T Mississauga had been involved in student clubs and volunteer activities, and was seeking a new way to give back. He answered a callout from a student group on U of T's downtown Toronto campus and within a few weeks, Sam was on a plane headed for Honduras. He would spend a week with a Global Brigades medical team helping to provide health care to a developing rural community in South America. He returned from the trip determined to bring the cause to U of T Mississauga.
"I had a whole new perspective on life," Sam says of that first trip to Honduras. "I started learning more about the organization and what students are doing across the world. Seeing people who are not as privileged as we are in Canada was really eye-opening and inspired me to contribute more."
Back in Canada, he connected with three other students at U of T Mississauga who had also volunteered on the trip. "We shared the common goal to do more and give back to the community," he says. "We decided to form a Global Brigades chapter at UTM so we could continue to contribute and inspire other students at UTM to continue that work."
Global Brigades is a worldwide non-profit organization that harnesses the power of student volunteers to bring needed services to developing communities. U of T students are involved in several different brigade groups, which provide support for engineering, water, public health, medical and human rights issues.
Sam and his co-founders launched the U of T Mississauga chapter – UTM Global Brigades (UTMGB) – in 2016. Two years later, the group has achieved official club status, doubled its executive team and recruited more than 500 members. The founding members are preparing to hand over the reins to the next generation of student volunteers. Sam, the co-president, Jennifer Kam, external affairs vice-president, and sponsorship vice-president Alyssa Caterina are among several executive members of the student group who are graduating at U of T's spring convocation.
The U of T Mississauga chapter is a medical brigade and supports the programs of Global Brigades year-round. "Our club is active during the school year, and also during the summer," Sam says. "If we're not abroad, we're helping at home."
During the annual brigade to Honduras, student volunteers manage a free mobile health clinic. "The community there doesn't have access to health care professionals, so Global Brigades provides free health care," Kam says. Student volunteers rotate through clinic stations, assisting dental teams, working with pharmacists to fill drug prescriptions, fitting patients with glasses in the optometry station and shadowing doctors in the medical clinics.
"I hadn't done anything like it before," Sam says. "We got to see everything, not just one aspect of the program. You're not just a bystander."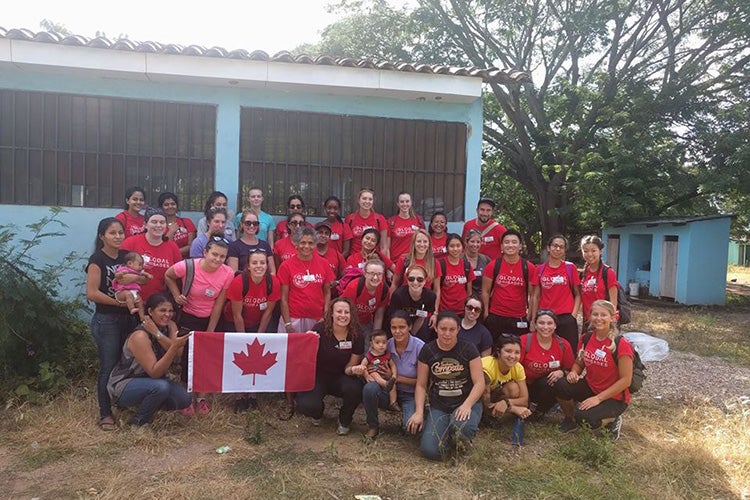 (Photo courtesy of Jordan Sam)
On campus, student volunteers work throughout the year to raise funds and source other donations to support the brigades' various projects. This year, the U of T Mississauga group raised about $9,000, which covers supplies to send to the community, training for local health-care workers and financial sponsorship for those who must travel outside of the community for more serious medical help. 
Food and lodging are provided to volunteers, but brigade members must pay about $1,500 plus the cost of the flight to cover their own expenses. Sam has travelled to Honduras twice and Kam is about to embark on her second brigade trip. Caterina has focused her efforts on supporting the project from Canada, using skills she has developed through previous volunteer experiences with large-scale events such as the Juno Awards, WeDay and the PanAm Games.
"Before getting involved with Global Brigades, I was looking for a way to work with a smaller group for a longer-term project," Caterina says. Learning how to approach local sponsors to solicit funding and donations of supplies helped her learn how to market effectively, "I gained a lot of practical skills," she adds.
The trio agrees that one of the unexpected benefits of the project was learning how to harness the diverse backgrounds and skills that U of T Mississauga volunteers brought to the common cause. "Being part of Global Brigades at UTM helped to introduce me to different people from different programs who I wouldn't have met otherwise," says Kam.
"The project brings together people with different interests to work together for a common goal, and really builds on the community aspect of UTM," she says. 
Kam will graduate with an honours bachelor of science in biology and psychology. She has applied to nursing school and is considering a career in pediatric nursing. Caterina will graduate with a bachelor of arts in political science, sociology and gender studies, and will begin work on a public relations certificate program this fall. Sam will graduate with a bachelor of science in molecular biology and will begin a master's program in medical genomics at U of T's downtown Toronto campus. He plans on a career in medicine, but his experience with Global Brigades also has him thinking about the bigger picture.
"I would like to go into policy, which could change things for many more people. I would like to see how my work could benefit the international community."
UTM