'What type of physician do I want to be?': U of T researcher on bringing a social justice lens to her clinical work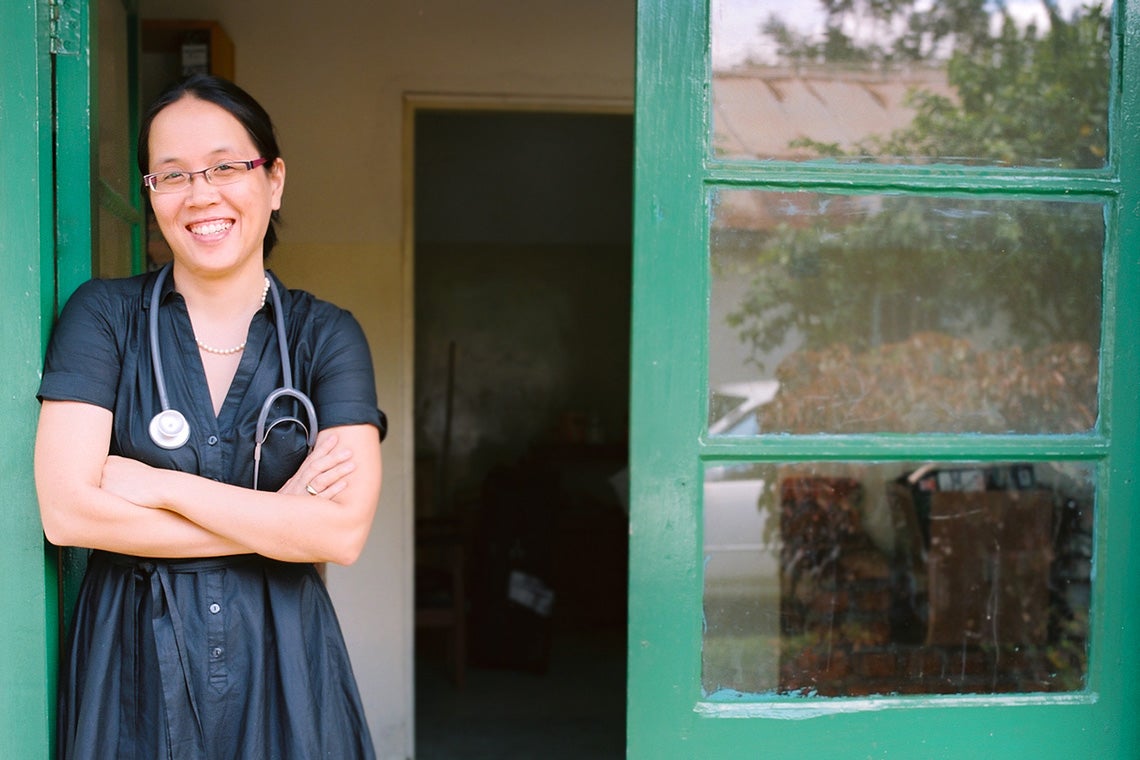 Dr. Adrienne Chan has made a difference to lives around the world. An infectious disease specialist, Chan treated some of Toronto's first SARS patients during the 2003 outbreak when she was a third-year resident. Since then, she has established public health programs in southern Africa and helped get 13,000 patients in Malawi on antiretroviral therapy for HIV. In 2014, she worked with the World Health Organization to provide care to Ebola patients and survivors in Sierra Leone.
Today she is an assistant professor in the Department of Medicine, staff physician at Sunnybrook Health Sciences Centre and the recipient of the department of medicine's inaugural award for humanism in medicine. The award recognizes a faculty member who exemplifies a deep and abiding commitment to humanism in health care. Humanism is understood to be an acknowledgment of other human beings as individuals with autonomy, unique backgrounds, values and perspectives, and a commitment to address issues of inclusion, equity and social justice.
Chan sat down with U of T's Brianne Tulk to talk about how being on the front lines of major outbreaks solidified her commitment to equity and social justice, and how it has informed what humanism in medicine means to her.
---
You've been present for some of the biggest epidemics in recent history. Working with patients affected by SARS, Ebola and AIDS, what has this taught you about patient care?
It taught me how interconnected we are globally and that my role as a physician has to extend beyond patient care, keeping that global framework in mind. All kinds of complex and interconnected social, economic and environmental risk factors contribute to the emergence and spread of disease, and I think we have to actively engage in addressing those factors as part of the care we provide for patients.
Those experiences were particularly eye-opening for me with respect to the extremely negative effects of fear, denial and complacency, as well as the impacts of stigma and resource inequity on patient outcomes. You can't have those experiences and not think deeply about the intersection of health and human rights. In particular, contrasting patient care in the settings where I worked in Africa with those in Canada has taught me the importance of bringing a social justice lens to my clinical work.
You were very early in your career when you treated some of the first patients in the SARS outbreak in 2003. What effect did this have on you?
It had a profound effect on me – to the point where I didn't really talk about it that much for several years afterwards because I was still trying to process what happened.
At the time, I think the serendipity of being on call on the wrong day, at the wrong time, afforded me a unique opportunity that most post-graduate trainees would not have: to actively participate in the health system outside of pure clinical care. Working at the outset of the outbreak in Toronto meant that I was exposed, for the first time, to how organizations make decisions in real time to unique situations, how the public health system interfaces with the clinical care system, and also exposed me to aspects of program management, field epidemiology and outward facing public communication. It was kind of a baptism by fire on how to put out fires, when no one is totally sure about what's causing the fire.
Reflecting in hindsight, it also taught me a lot about the kind of physician I wanted to be, by seeing the unexpected and human ways that both my peers and more senior health-care providers responded. It was probably the first time where I really asked myself: What type of physician do I want to be when an extraordinary circumstance happens? What does being a physician mean to me? How do I manage the effects of decisions that I make when the outcomes of those decisions affect more than just an individual but may affect the community? And how does the answer to all of these questions impact on the people I care about in my personal life?
What does humanism in medicine mean to you?
It's funny because I was just reading an article in the Guardian on design where the designer said that a humanist approach to design takes an "inside-out approach and puts the person at the heart of the space." I think that is a lovely way to also conceptualize humanism in medicine. We are trained to look at patients from the outside in, starting with "inspection" first and then moving by layers inward to make a diagnosis and come up with a treatment plan, using a complex system of pattern recognition. A humanist approach reminds us that, as front-line care providers. we should start instead by considering what well-being or health means to each patient individually and what they value, and consequently to respect that in our recommendations and services.
How would you describe your approach to person-centred care?
I always ask myself – and tell my patients this is what I am thinking – when faced with a clinical decision: Knowing what I know, what would I want to be done for myself or someone I care about?
I have to say that having the time to think about these questions makes me realize that I probably need to be the first person to try harder to take an inside-out approach. I think we all know this intuitively and aspire to practice this way, but in the reality of the busy day-to-day controlled chaos of clinical practice, it is often the first thing we lose sight of because of the mental demands of real-time clinical decision making and also the hectic nature of operationalizing patient care.
What inspired you to pursue a career in infectious diseases?
Definitely some of the patients that I interacted with during my formative years with infectious disease-related clinical issues made a deep impression on me. My experiences with the HIV epidemic just prior to the advent of combination antiretroviral therapy, and the subsequent impact of the introduction of highly active antiretroviral therapy, which happened in my first year of medical school, probably was also an influence. I think also having great clinical teachers in the city-wide infectious diseases division and interesting and meaningful clinical experiences helped consolidate my career choices.
What do you find most rewarding about your work?
Like everyone who provides health care, it's having the opportunity to interact with people at what can be the most challenging times in their lives, and to try to have a positive impact. It's certainly a privilege to have that opportunity, and I think it's something I always remind myself on days where I am feeling a bit frustrated, harried, or stressed out – that the role we have in people's lives is a privilege, and to always remember that.
I also love that my job has allowed me to meet with and work with incredible people – not just in Toronto, but all over the world. Whether it's the nurses who have worked in the Anita Rachlis clinic at Sunnybrook since the beginning of the HIV epidemic, who were treating HIV patients at the beginning of the epidemic when other health-care workers were afraid to care for them, or the remarkable people who responded to SARS in Toronto or Ebola in West Africa, or the amazing team at Dignitas International and the Malawi Ministry of Health who I have worked with for over a decade in Malawi to build a strong national HIV program. I think I have been lucky to have been surrounded by such amazing people, many of whom are close friends as well as colleagues. I really feel fortunate to have colleagues whose compassion, intelligence, and work ethic inspires me to do better every day.
Medicine