What's it like to have your music performed at the White House? Ask this student composer
"Without a doubt he is one of the most successful choral composers anywhere," Christos Hatzis says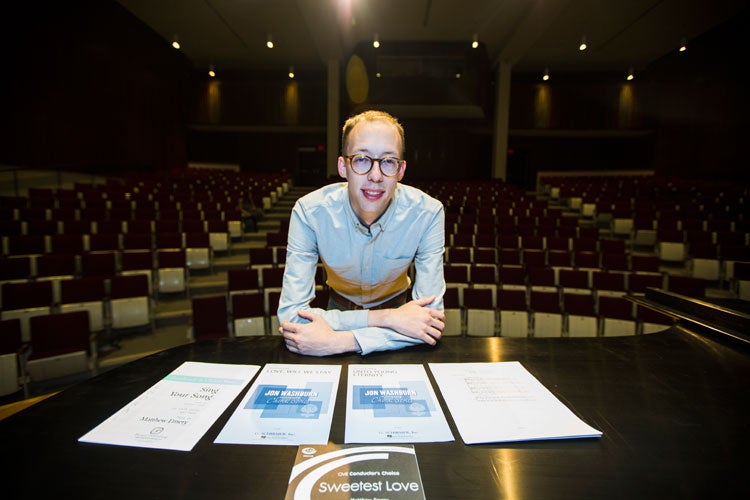 Matthew Emery is off to Washington this weekend to hear the Central Bucks High School-West Choir perform his work (photos by Johnny Guatto)
No one can say for certain how many concert works by Canadian composers have been heard at the White House. 
We do know the University of Toronto's Matthew Emery was surprised in December to learn – after the fact – that he had written one of them.
"I totally would have gone down for that," the master of music student said in the lobby of the Edward Johnson Building.
Emery will be flying to Washington this weekend for another performance by the Central Bucks High School-West Choir, the same ensemble that participated in the Holiday Open House at the White House on Dec. 23. The program in New York Avenue Presbyterian Church includes Earth's Tall Trees, a six-part a cappella motet.
These engagements would be worthy of the resumé of an established composer, let alone a student. At 24, this native of London, Ontario can already claim a corpus of publications by such reputable firms as G. Schirmer and Boosey & Hawkes and performances by sacred and secular choirs across the country.
Emery expects to hit the threshold of 50 commissions in the fall. He is the youngest associate composer of the Canadian Music Centre.
The majority of Emery's creations are short, accessible pieces of the sort that remain in high demand by community groups, schools and churches. "There are a lot of church choirs out there, and they all need music," he comments.
Ola Gjeilo, James MacMillan, Arvo Pärt and the late John Tavener are among the contemporary choral composers from whom he has derived inspiration. Emery pursued his undergraduate studies at the University of British Columbia under Stephen Chatman because he enjoyed singing Chatman's music in London.
Emery thinks highly also of Healey Willan, the late dean of liturgical Canadian choral music, and the Kingston-based composer Mark Sirett. Beethoven's late string quartets fascinate him, although he makes no claim to any stylistic emulation of these lofty works.
Emery grew up in a secular household. Early exposure to choral music was in school and as a member of the Amabile Choirs of London. This organization comprising youth and adult choirs encouraged his interest in composition. Success in competitions followed. One breakthrough was the 2011 Vancouver Chamber Choir Young Composers Competition. A performance the following year by this professional ensemble in a Toronto concert involving the Elmer Iseler Singers and Pro Coro Canada led to expressions of interest by these groups, also professional.
"It just sort of snowballed," Emery says, adding that he has received encouragement from various conductors during his career.
Three years ago he attracted the attention of Joseph Ohrt, director of the ambitious choral program at Central Bucks High School-West Choir in Doylestown, Pennsylvania. Ohrt has invited Emery to lead annual workshops. Emery will undertake an American residency again next week after the Washington performance, working with three school choirs in nine of his compositions.
"Matthew is a gifted young composer who will undoubtedly be a force in choral music on the international scene in the coming decades," Ohrt wrote in an email. John Calderaio, a Bucks Choir member, says Emery's music "touches a place in my heart, and is an inspiration for all of the choir."
There is work to be done also at the Faculty of Music, where Emery is studying with Professor Christos Hatzis.
"Without a doubt he is one of the most successful choral composers anywhere," Hatzis says of his student. "His career trajectory belies his age but none of this success has gone to his head.
"He is modest and strives constantly to learn more about compositional craft and other aspects of musical discourse. He is a real pleasure to teach. Needless to say, we at the Faculty of Music are very proud of him and enthusiastically supportive."
Having proven himself as a miniaturist, Emery is starting to write longer scores. One will be his master's thesis.
"I'm also trying to write faster music," he adds. "A lot of my music is slow and about love."
Emery has written solo art songs. Some have been performed by fellow students. His ultimate goal, however, is to write large works for chorus and orchestra.
Undertaking such a project would be one attraction of applying for a doctoral degree at U of T. Many young composers, on the other hand, have embarked on busy careers on the strength of a master's. "I have some thinking to do over the summer," Emery says. 
Does all this schoolwork and commission-writing leave any room for pastimes?
"I like reading poetry," Emery says. "As a choral composer, it goes hand in hand."
He explains his outlook in five words: "Music is sort of everything."